Announcing Alpha Launchpad - First & Only DeFi Incubator Program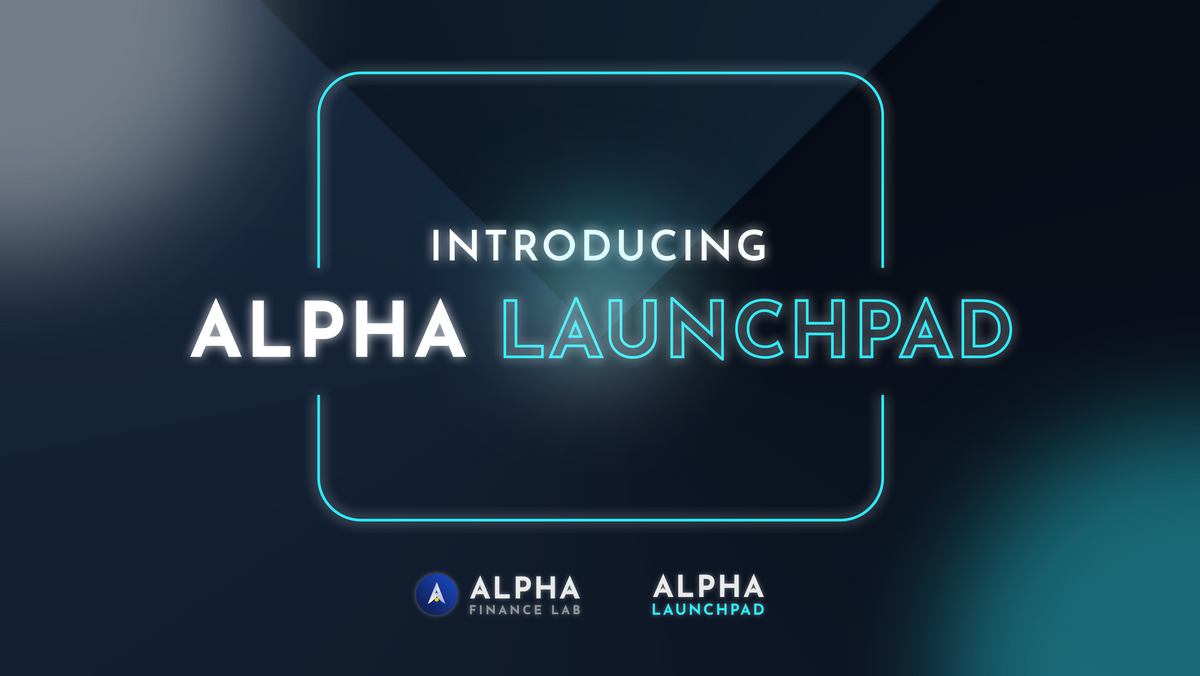 Introducing The Alpha Launchpad DeFi incubator program, the first and only launchpad program created by builders for builders!
Alpha Launchpad is also the only launchpad program that focuses on incubating DeFi projects from the ground up and driving significant growth post launch.
In a nutshell, Alpha Launchpad will:
👉 multiply value accrual to ALPHA stakers 💸
👉 grow the Alpha Universe 🌎
👉 create key building blocks in DeFi 🔧
👉 grow talent and developer mindshare 👩‍💻
How does the Alpha Wolf community benefit from Alpha Launchpad?
Alpha Launchpad incubator program will bring many use cases and value accrual to the Alpha Wolf community.
For those who stake ALPHA tokens, you will not only get protocol fees collected from Alpha products (existing), but will soon get
A share of incubated projects' tokens 👀
A share of incubated projects' protocol fees 📈
For those using Alpha products, you will also unlock new DeFi use cases by leveraging the connected building blocks between products of Alpha and those of the incubated projects.
How do incubated projects benefit from Alpha Launchpad?
Selected incubated projects that pass a thorough screening process will get to work with the core Alpha team to successfully launch and grow their DeFi projects. The areas of hands-on support, mentorship, and advice include
Product-market fit: Fine-tune product ideas for the maximum product-market fit
Tech consulting: Technical guidance, smart contract review, and mentorship pre and post launch for the maximum security and tech optimization
Business & growth hacking consulting: Mentor and train the incubated projects on business, marketing, community building, investors relations, and growth hacking tactics to launch and grow successfully
Token economics design: Innovate on tokenomics design to bring maximum utility and value accrual to the tokens.
Fundraising process: Connect and onboard the right top-tier investors based on the nature of the DeFi  platforms and guide the incubated projects throughout the fundraising process
Launch supported by Alpha: Alpha Wolf community will support the incubated projects at launch through providing support such as marketing, PR, and community building
Be a part of the Alpha Universe: Incubated projects will get to leverage a large user base of the Alpha Universe. Alpha Universe is consisted of Alpha products and other products incubated from Alpha Launchpad
How does the whole DeFi ecosystem benefit?
The whole DeFi ecosystem will benefit from Alpha Launchpad in a number of key areas.
Alpha Launchpad will attract great talent to DeFi and train this workforce to innovate and bring value to the space.
The projects that have gone through a thorough selection process and incubated from Alpha Launchpad will be quality projects that not only have strong product-market fit, but also be led by long-term oriented teams that want to bring value to DeFi.
What is Alpha Finance Lab's Vision & Why Alpha Launchpad?
Alpha Finance Lab aims to be a forefront DeFi lab through building and incubating many DeFi products and ecosystems, products that capture unaddressed demand in an innovative and user friendly way.
Our rationale behind this vision is that we believe that DeFi is here to stay. However, given the nascent stage DeFi is in, the industry will inevitably go through significant changes as it matures and as the global regulatory landscape becomes more clear.
Thus, being able to react quickly to the change in the DeFi landscape and building products that capture unaddressed demand as the industry matures will ensure Alpha Finance Lab continues to play a key role throughout the industry life cycle.
Working towards our vision, Alpha Finance Lab is building the Alpha Universe. Alpha Universe includes the Alpha ecosystem, which consists of Alpha products that interoperate to maximize returns while minimizing risks for users, and other ecosystems incubated through the Alpha Launchpad incubator program.
Alpha Launchpad is created to ensure that as Alpha Finance Lab grows, we bring value to not only the Alpha Wolf community, but also to every participant of the DeFi ecosystem from developers to users to other DeFi protocols.
Closing thoughts
Alpha Launchpad is key to drive the next growth stage at Alpha Finance Lab, grow the talent pool and developer mindshare in DeFi, improve the quality of DeFi products, and drive the speed of innovation in the DeFi industry.
We are excited to share more information about Alpha Launchpad, the 1st incubated project 👀, and how developers and early DeFi projects can apply in the coming days!