Ahead of the upcoming launch of ALPHA tokenomics (staking and Alpha Tiers), we are excited to introduce the new visual Alpha brand for the next growth stage at Alpha Finance Lab!
The New Alpha Finance Lab & ALPHA Token Logo
As we continue to emphasize the relationship between Alpha's design and values, we've integrated our core beliefs into the new Alpha Finance Lab and ALPHA token logo.
Unity and Strength
The interrelated features of Alpha's new logo embodies the unity and strength the ecosystem derives from each interconnected Alpha product. Just as each Alpha product is created with interoperability in mind, every aspect of our latest Alpha Finance Lab and ALPHA token logo is interconnected to symbolize our community. Alpha's community will play an integral role in working to decentralize our project, and we believe Alpha's brand should reflect the vital role our community plays.
Importance of ALPHA token
We also wanted Alpha's new logo to highlight the importance of the ALPHA token in our upcoming growth stage. The left and right wings of the Alpha logo are connected by a yellow circle, which symbolizes how ALPHA tokenomics will act as a bridge - facilitating interactions between all products in our expanding, multi-chain Alpha ecosystem.
Laser-Focused, Yet Agile
Lastly, the particular arrow shape in our logo was designed to symbolize our laser-focussed, yet agile approach to the development of the Alpha ecosystem.
The arrow points in one direction to show how the entire Alpha team and community are marching towards the shared vision of creating an innovative, multi-chain ecosystem at the forefront of DeFi - with the long-term goal of innovating on and integrating with the incumbent financial system.
The curved wings on the arrow illustrate that while the Alpha team and community work towards this long-term goal, we will remain flexible to address market demand as it arises, and innovate accordingly.
The cohesive, directional, and flexible properties of our new logo further signify what's coming next at Alpha Finance Lab!
Website Update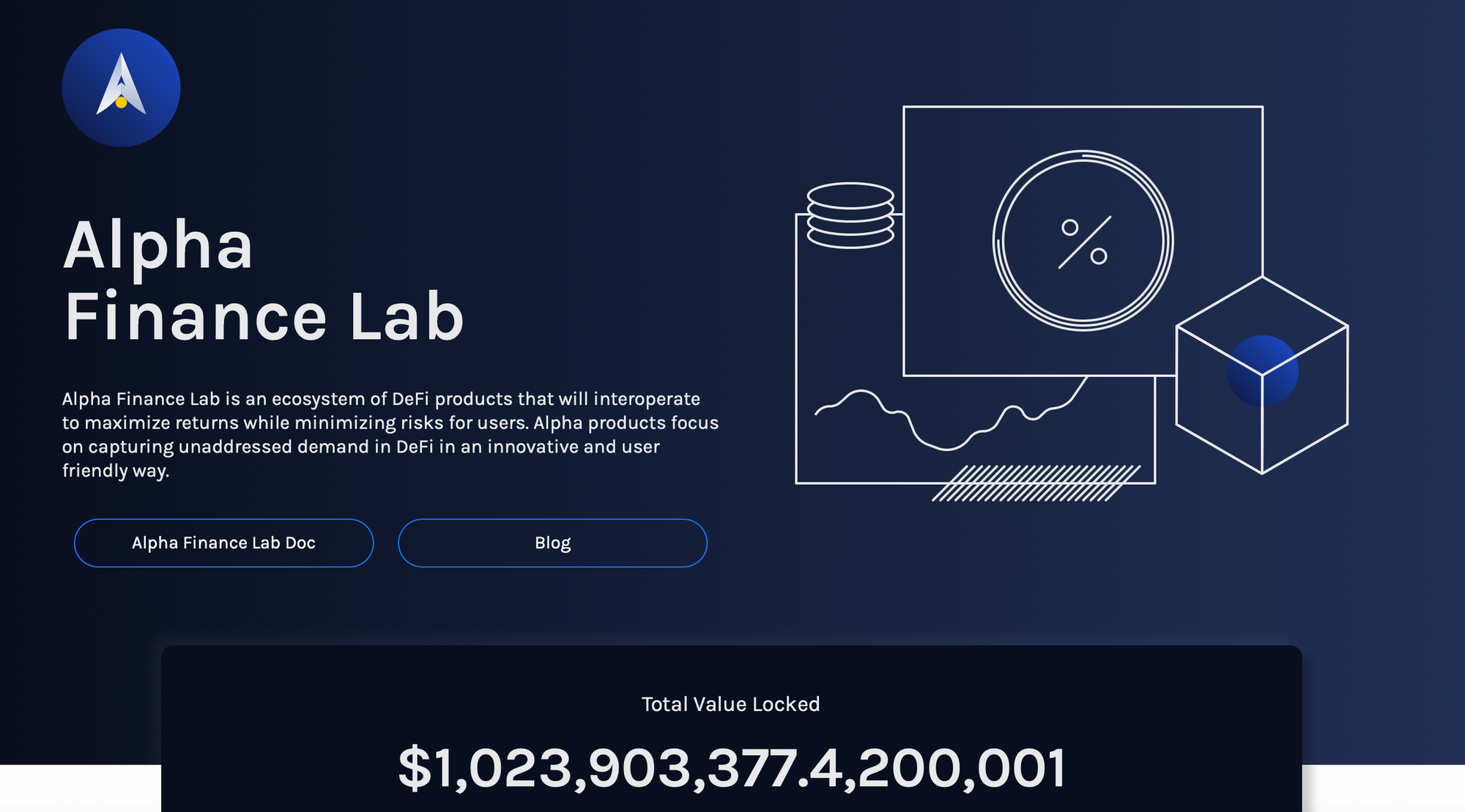 Alpha's new look on the website was similarly designed to align with our brand and core values. All Alpha products are highlighted on the front page to show how Alpha's ecosystem has an interoperable, multi-chain backbone.
To further illustrate the interconnected nature of Alpha's products, and to depict the community's engagement with our products, we've featured the aggregate Total Value Locked figure at the top of the website. Total Value Locked is also split out by product, so the Alpha community always has clear insight into the success, health, and long-term direction of the ecosystem.
dApps Update
Alongside our logo and website, Alpha's dApps were also updated to show our new branding! We wanted to take this opportunity to give a brief recap on each of Alpha's products use-case:
Alpha Homora V1 on Ethereum: Is the first leveraged yield farming and liquidity providing platform product in DeFi that allows users to take leveraged yield farming/liquidity providing position on Uniswap and SushiSwap. Additionally, users can also lend ETH and earn high lending APY. V1 and V2 on Ethereum simplified the normal yield farming mechanisms, as Alpha Homora condenses the process into a few easy clicks for users.
Alpha Homora V2 on Ethereum: V2 on Ethereum is the upgraded version of Alpha Homora V1, enabling leveraged yield farming/liquidity providing on Uniswap, SushiSwap, Curve, and Balancer. For lenders, they can also lend ETH, USDT, USDC, DAI, and more assets going forward. ALPHA stakers will also be able to unlock high leverage on V2 based on users' tier according to the Alpha Tier system.
Alpha Homora V1 on Binance Smart Chain (BSC): V1 on BSC introduced Alpha Homora's multi-chain approach to leveraged yield farming and BNB lending. For lenders, users can use this version to lend BNB on BSC to earn high APY. For yield farmers, users can open leveraged yield farming positions on PancakeSwap or proceed with yield farming without leverage, as Alpha Homora condenses the process into a few easy clicks for users.
Document Update
The Alpha Finance Lab documents have also been refreshed with Alpha's new brand to increase community engagement. Our project documents for Alpha Homora V1 and V2 on Ethereum, and Alpha Homora V1 on BSC, teach users how Alpha's products work, how to use them, the benefits and risks of each product, and much more.
With Alpha's latest brand present, we hope to keep the community as engaged and educated as possible with the inner workings of our products!
To access all of these updated properties, feel free to check out Alpha's entire media kit.
What's Next?
👉 Upcoming ALPHA tokenomics launch.
👉 Continued product building.
👉 Working with the Alpha community towards our shared vision of creating an inventive, multi-chain ecosystem at the forefront of DeFi - with the long-term goal of innovating on and integrating with the incumbent financial system.
---
About Alpha Finance Lab
Alpha Finance Lab is an ecosystem of DeFi products that will interoperate to maximize returns while minimizing downside risks for users. Each Alpha product focuses on capturing unaddressed demand in DeFi in an innovative and user friendly way.
Join our Telegram/Discord for the latest updates, follow us on Twitter, or read more about us on our Blog and Document!