Upcoming Alpha Homora V2 Relaunch! What Is Included?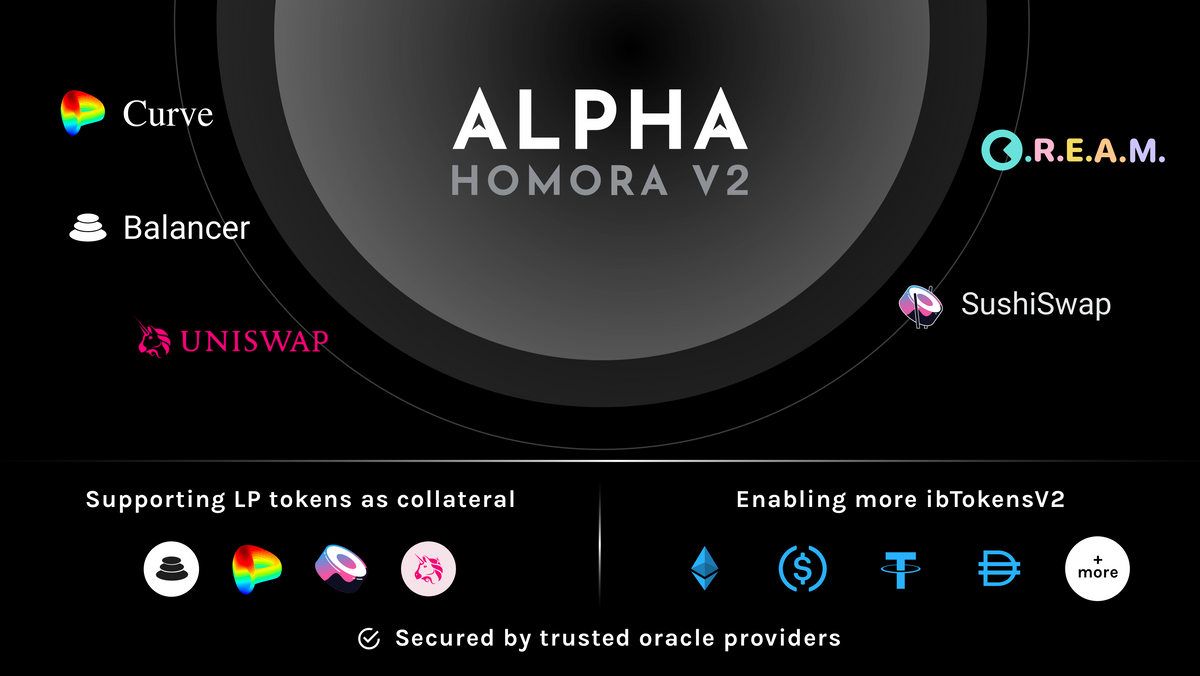 We are ecstatic to announce the long-awaited upcoming relaunch of Alpha Homora V2 on Ethereum!
The relaunch will include many innovative features for all lenders and leveraged yield farmers out there in the Alpha ecosystem. These vital additions will significantly boost:
→ adoption and growth for the Alpha Homora V2 platform.
→ expansion of the Alpha Homora V2 protocol through various partners in the pipeline.
→ accrual of more protocol fees for ALPHA stakers.
Without further ado, let's unpack how Alpha Homora V2's unique features will benefit our users.
What's Included in our Alpha Homora V2 Relaunch?
Alpha Homora V2 going live again will positively impact both yield farmers and lenders on the protocol. Let's start by highlighting the features for yield farmers:
For yield farmers:
1) More leveraged pools
Firstly, the Alpha Homora V2 relaunch will include additional leveraged pools on Uniswap, SushiSwap, Curve, and Balancer so leveraged yield farmers and liquidity providers have even more opportunities to yield farm/provide liquidity on leverage.
The scalable architecture of Alpha Homora V2 means the platform can accommodate more leveraged pools than Alpha Homora v1. Furthermore, these extra leveraged pools will include stablecoin-based pools and many more, meaning leveraged pools will no longer be just ETH-based.
2) More assets available to borrow
Alongside more leveraged pools, the relaunch of Alpha Homora V2 will bring more assets to the table for yield farmers to borrow. In addition to ETH and stablecoins, leveraged yield farmers/LPs will be able to borrow other assets - stay tuned to see which assets will be enabled!
3) Use LP token as collateral
Lastly from the yield farming side, the relaunch of Alpha Homora V2 will allow leveraged yield farmers/liquidity providers to use LP tokens as collateral! The 'Bring Your Own LP' (BYOLP) tokens feature supports LP tokens from Uniswap V2, SushiSwap, Curve, and Balancer.
For lenders:
1) Many ibTokensV2
Users on the lending side of Alpha Homora V2 will also benefit from the relaunch in a few key ways. For starters, users will be able to lend additional assets on top of the ibETHv2 and stable coins (ibDAIv2, ibUSDCv2, ibUSDT) already supported by the protocol.
2) Earn high yield on these additional ibTokensV2
As the Alpha Homora V2 relaunch will increase the number of assets users can lend, there will be even more ibTokens (interest-bearing tokens) for lenders to accrue value with. Lenders will be able to earn high and pure APY on the broad range of assets soon to be supported by the protocol.
3) Opportunities to earn more yield on top of ibTokensV2
As we prepare for the relaunch of Alpha Homora V2, we are also collaborating with various partners to increase the utility of ibTokensV2 so that lenders have even more opportunities to increase capital efficiency.
Oracle Solution
Alongside these unique features for leveraged yield farmers and lenders, Alpha Homora V2 has also innovated on the oracle front.
Alpha Homora V2 will be the first DeFi protocol to build and adopt an oracle aggregator contract, aggregating prices from multiple trusted oracle providers.
As is the case with everything we do at Alpha Finance Lab, we always conduct thorough research and analysis before making any decisions to ensure products we bring to DeFi are 1) real value-adders to the entire landscape 2) tech-focused and innovative 3) and secure to protect our users. Our evaluation and construction of an oracle aggregator contract was no different and adhered to these three core principles.
Stay tuned for more details!
Captured From The Community
Our community - from investors, partners, all the way to users - is just as thrilled as we are about the relaunch of Alpha Homora V2. We're happy to share some of our community excitement in this announcement.
Wangarian from DeFiance Capital shared his perspective below:
"As both an investor and user, I'm ecstatic for the launch of Alpha Homora V2. The introduction of LP tokens as collateral will solve Alpha Homora v1's largest pain point and vastly boost capital efficiency. Users can now maximize the potential that leveraged yield farming provides without obtaining unnecessary short exposure. I am confident that traction for Alpha's products will regain momentum as the market realises the value proposition Alpha Homora V2 offers."
Leo Cheng from C.R.E.A.M. shared his excitement below:
"The return of Alpha Homora V2 as both supplier and borrower will significantly increase liquidity and utilization of the Iron Bank, while further delighting DeFi users across the board with increased yield. As a yield farmer, I look forward to borrowing and shorting stablecoins instead of ETH and BTC. I can't wait to use the much-improved Alpha Homora V2."
0x_b1, who is Alpha Homora's heavy user, shared his view from an institutional perspective
"We can't wait to start using the new leveraged LP strategies and tools Alpha puts forward in the v2 relaunch. Leveraged liquidity providing using both base & derivative tokens is a core tenant of an institutional LP's playbook—these iterations by Alpha Finance Lab are evolving the market."
What's Next?
Once Alpha Homora V2 launches soon, we will start the migration process, migrating positions and liquidity from Alpha Homora v1 to Alpha Homora v2. We will make sure the migration process is smooth and easy for users.
All in all, Alpha Homora V2's upgraded functionalities will provide our users with an enhanced experience, improved security, and more opportunities to lend and yield farm/provide liquidity on leverage in a capital efficient way - both bringing increased growth to the Alpha Homora protocol and the entire Alpha Finance Lab ecosystem.
While this marks a significant milestone for the Alpha Finance Lab project, it is an early chapter on our mission to build and incubate an ecosystem of DeFi products that capture unaddressed demand in the key pillars of the incumbent financial system. As we continue our quest to heighten user yield and experience, the Alpha ecosystem will remain an innovative and capital efficient banking system in DeFi.
---
About Alpha Finance Lab
Alpha Finance Lab is a DeFi Lab and on a mission to build an ecosystem of DeFi products (the Alpha ecosystem), consisting of innovative building blocks that capture unaddressed demand in key pillars of the financial system. These building blocks will interoperate, creating the Alpha ecosystem that will be an innovative and more capital efficient way to banking in DeFi.
Alpha Homora is Alpha Finance Lab's first product and DeFi's first leveraged yield farming product that captures the market gap in lending, one of the key pillars of the financial system.
Join our Telegram/Discord/Blockfolio for the latest updates, follow us on Twitter, or read more about us on our Blog and Document!