Homora V2
1-Click Automated Leveraged Farming, Starting with Aperture Finance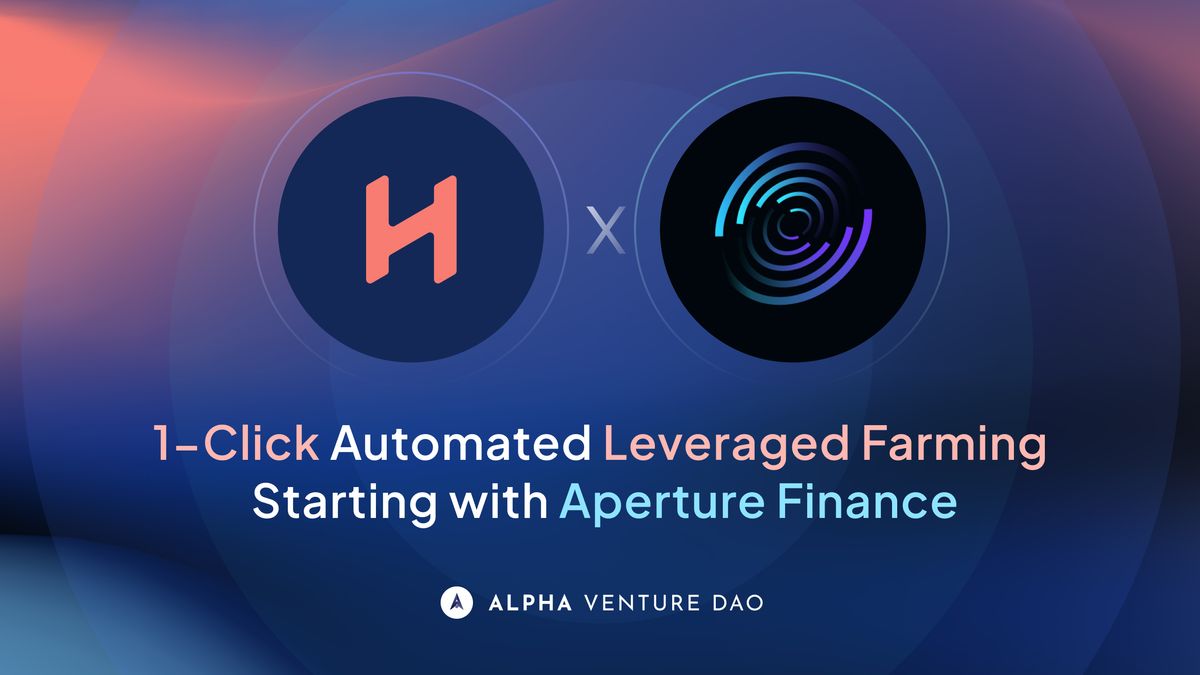 The current market condition has weeded out many protocols in the DeFi space but those staying will be coming out stronger with higher resilience and bring new yield opportunities to users.
To this, we are excited to announce that Aperture Finance, one of our integration partners, will be making an official debut tomorrow to make farming even easier with their one-stop solution built on top of Homora V2. This is only the beginning.
To celebrate the launch, we will be having a joint Twitter Spaces with Aperture Finance on November 30th, 2:30AM UTC. Bookmark your calendar: https://twitter.com/i/spaces/1yoJMZmRWNdxQ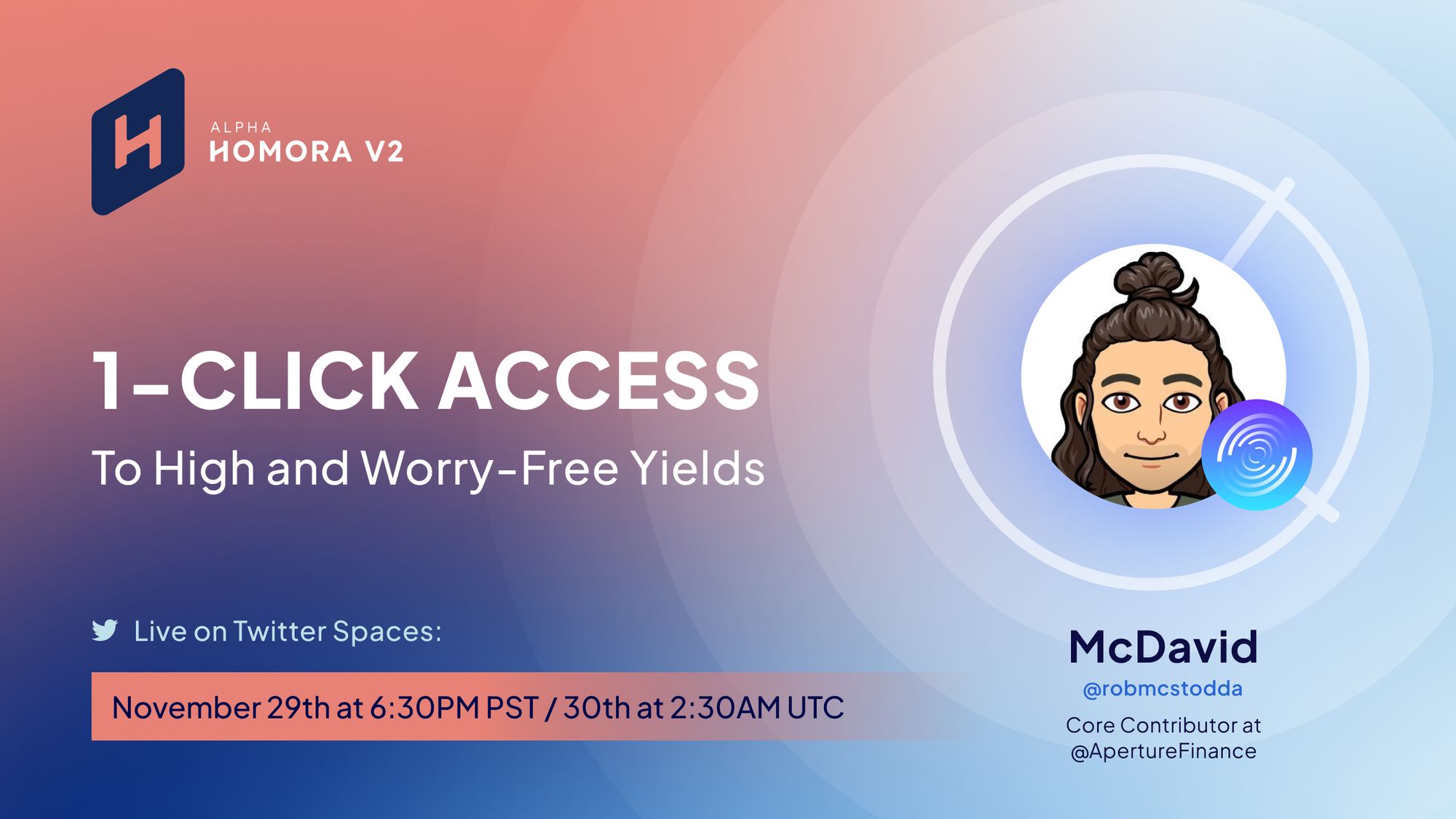 Launching PDN strategies on Avalanche with Aperture Finance
Aperture Finance will be bringing new ways for users to farm by simply depositing into their market-tested vaults with a single asset. These vaults will perform pseudo-delta neutral strategies where users can earn sustainable yields regardless of market conditions. As the crypto market has remained relatively stable over the past few months, Aperture Finance's strategy will work especially well when assets are in a period of lower volatility. They will be opening up new yield opportunities starting with the Avalanche chain.
What Will Be Offered
These PDN strategies will all be built on top of Homora V2, doing 3X leverage LP on underlying DEXes (Trader Joe and Pangolin). Users will be able to choose from various numbers and types of vaults, including pools with volatile-stablecoin and volatile-volatile pairs. Each vault has been backtested and will have a different rebalance threshold that optimizes returns for users.
By farming in the vaults, users can expect a high APY return from auto-compounding the accrued trading fees and additional farm tokens ($PNG in Pangolin pools) while rebalancing whenever appropriate to minimize IL and keep a close to neutral exposure on underlying farming assets.  
Aperture will be offering two slightly different variations of pseudo-delta neutral farming strategies for users with different market outlooks on volatile assets: Crab Market Leveraged Farming (CMLF) and Bull Market Leveraged Farming (BMLF). Users will be able to start farming with a simple 1-click on the dapp's UI.
To learn more, users can read more details on their types of strategies here.
Moving Forward
As the crypto market volatility and uncertainty increased, it became much more complex for users to earn yields that are sustainable. To counter this, our team has been working with multiple integration partners to offer ways to raise the ease of leveraged farming to another level. The wariness users have at this time thus became the perfect opportunity for us to double down on what we're good at while exploring ways to make leveraged farming on Homora V2 more approachable with minimal risks. Homora V2 will continue to evolve and become the backbone of DeFi by enabling higher capital efficiency through leveraged liquidity providing. More yield strategies and vault partners are coming soon. Stay tuned & WAGMI!
Start Farming Now With:
Homora V2: https://homora-v2.alphaventuredao.io/
Aperture Finance: https://app.aperture.finance/
---
About Alpha Venture DAO (Previously Alpha Finance Lab)
A Builders' DAO. We explore and innovate at the fringes of Web3 and drive significant value to Web3 users, and ultimately, alpha returns to the Alpha community. Join our Telegram/Discord for the latest updates, follow us on Twitter, or read more about us on our Blog and Document!