Others
Alpha Finance Lab to be the next project on Binance Launchpad and Launchpool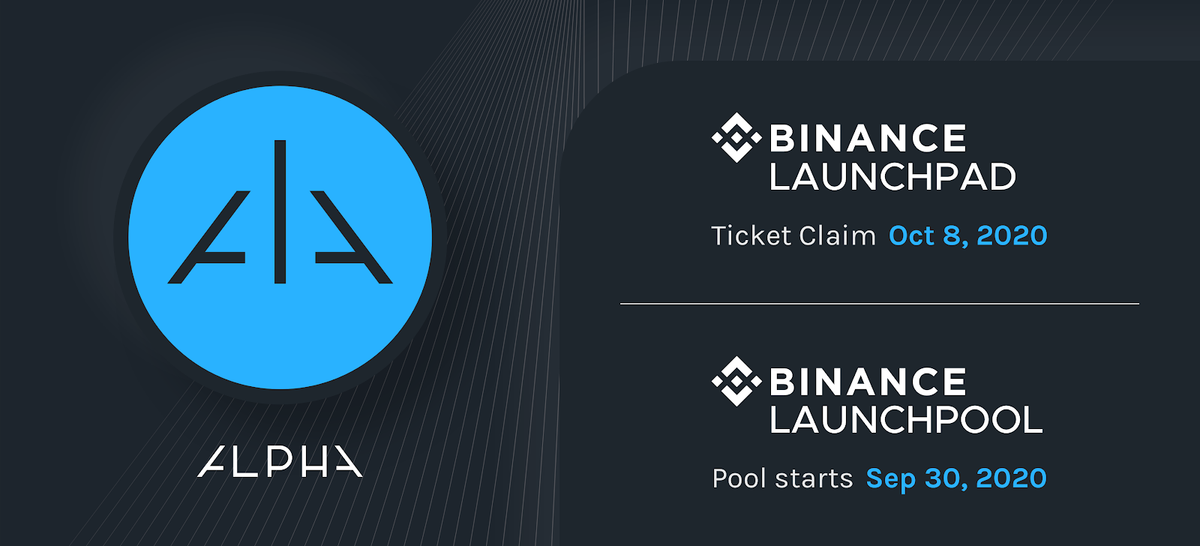 Alpha Finance to Launch IEO and Liquidity Mining on Binance
We are very excited to announce that Alpha Finance Lab will be the next project to launch on Binance Launchpad and Launchpool!
Alpha Finance Lab is focused on building an ecosystem of automated yield-maximizing Alpha products that interoperate to bring optimal alpha to users on cross-chain level starting with Binance Smart Chain and Ethereum. The upcoming launch is the culmination of months of development, product scoping, testing and protocol design of the current and upcoming Alpha products.

We take on two core strategies when building Alpha products:
1. In-depth research and analysis to build products that solve prominent problems in DeFi. Some of the problems we are solving are:
Sustainable yield-generation
Impermanent loss
Privacy-preserving token swap
Lending with fixed interest rates
2. Quick iterative approach to building DeFi products to serve the currently unaddressed demand

Alpha Lending, the first Alpha product currently on Binance Smart Chain (BSC) testnet, is a decentralized lending protocol with algorithmically adjusted interest rates. The product will serve as an important building block for DeFi applications on the BSC.

Family of Alpha-generating products. We are currently developing more products that will enhance yield and solve prominent problems in DeFi. They are currently in stealth mode and will be announced when it's ready to be deployed in production.

We are already working with multiple industry leading partners to leverage Alpha Lending as a gateway to drive cross-chain DeFi and cross-chain liquidity, and will continue to expand integrations and partnerships with more industry leading DeFi projects. Reach out to us for partnerships and collaborations!

We look forward to the upcoming token offering on Binance Launchpad, and are excited to use this opportunity to reach the broader ecosystem with the help of Binance and grow our community even further. We are moving at a rapid pace, so we encourage everyone to join our Discord for the latest updates, follow us on Twitter, or read more about us on our Blog!