Others
The Re-design of Alpha Discord: Introducing New Rooms and Power Wolves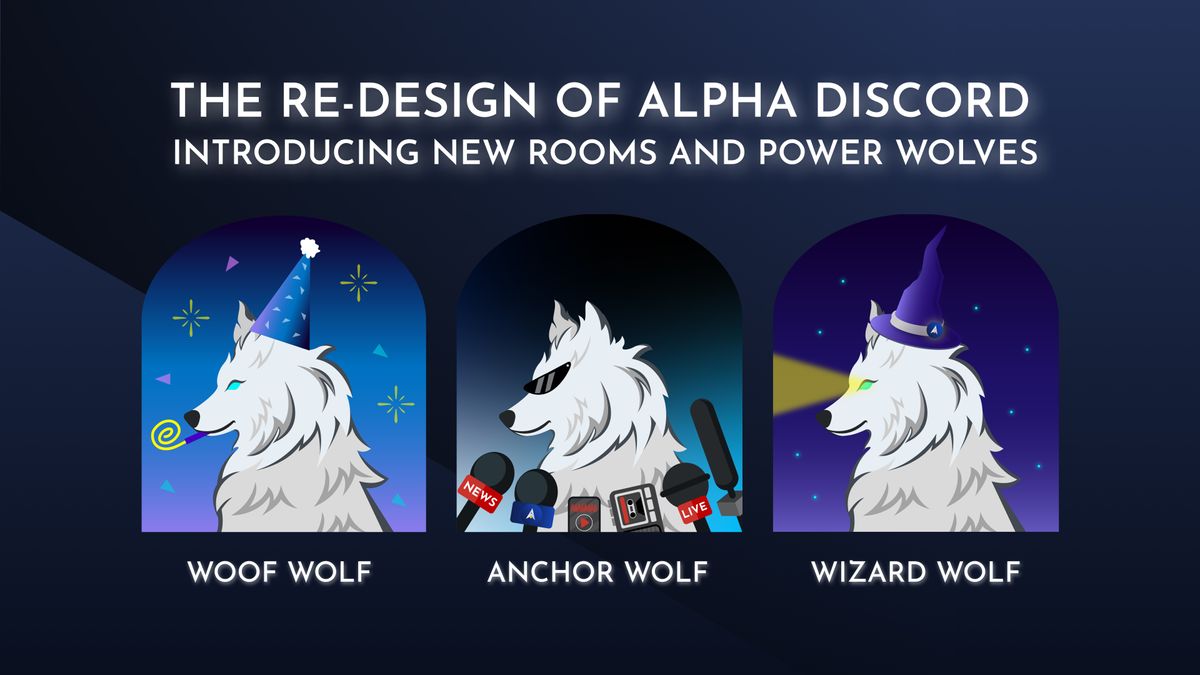 The year 2022 will be the year that Alpha advances its visibility by becoming more decentralized and involving the Alpha Wolves community more than ever. The initial phase of the transition into Alpha DAO is to give our community more chances to govern how we work and take on leadership positions inside the community. We believe that the fundamental action in constructing this DAO foundation is to build a strong sense of community via our Discord server. This blog will elaborate on the key elements, highlighting the new rooms that help boost community engagement and Power Wolves, leadership roles that the Alpha Wolves community can take part in and earn rewards.
This Blog will elaborate on:
1. EXP System
2. Rooms and Roles
3. Power Wolves
4. Reward Program for Power Wolves
5. Volunteer Channel  
EXP System
Let's start off with the basics: experience points (EXP), a new currency for the Alpha Wolves community. This allows our server to track the engagement level of every member and reward them with EXP accordingly. Similar to the gaming system, the more EXP you have, the higher level you climb, which will give you further privileges for each level, such as special roles with unique perks. Anyone who has joined and verified on our server will start off as a Puppy wolf. With more engagement and contributions, members can level up and grow into Teen Wolf. With this job, you will have the option of continuing on the path to take on the role of Power Wolves; more on this below.      
Rooms & Roles and Their Privileges
Before we move on to the Power Wolves, let's take a look at the new rooms and roles we created. These new rooms will not only provide members with more visibility to exclusive content from the core team, but also allow users to utilize those rooms to collaboratively organize events or craft content or products and publish them to the public. However, not everyone will have access to these rooms; only the most engaging contributors will be eligible via leveling up and manual selection.
Power Wolves
If you want to contribute and make real changes to the Alpha protocol, then these roles are designed for you. After leveling up to Teen Wolf (LVL 5), you will gain access to the '🌳Sacred Forest', where  you may speak directly to the core team on which Power Wolf roles you wish to have and why, if you choose to do so. The qualities we look for in members for each of the following roles are listed below:
Woof Wolf - If you like to talk and engage with others on topics about anything (on or off topics), then this role is for you. With this badge, you can do more than just engage; you can host events, like game nights, talk sessions, and meme competition. You will also have the privilege of accessing the '🍖 Hidden-Bar', where Alpha Ambassadors will be present to help support you with any enquiries regarding hosting events.
Anchor Wolf - If you love the spotlight and creating online content, then this role is for you. Anchor Wolf will get the most up-to-date information on Alpha, our incubated projects, and even the crypto landscape research data from the '📝Craft-room' so that you can create any kind of content you like from them. Don't worry about the exposure issue, because we have it prepared for you via '🎥 News-room' and Twitter account(s)!
Wizard Wolf - This is a perfect chance for you to show off your expertise. If you love reading white papers, programming codes, and finding various ways you can profit from DeFi, then this role is for you. Take on this role and help spread your knowledge to the Alpha Wolves community. With the private mentorship from the Alpha Devs in the '🏰 Secret-library', you will be able to create tools like profit calculators and useful resources for the Alpha Wolves community.
Reward Program for Power Wolves
To welcome the first batch of Power Wolves, we will be congratulating them by airdropping 200 ALPHA to the first 15 Power Wolves, regardless of any roles.
Apart from the ALPHA airdrop to the first 15 members, anyone who takes on the role of Power Wolves will receive a unique NFT as a digital badge that they can keep. Moreover, we will also be airdropping additional ALPHA to Power Wolves every time Alpha reaches a certain milestone. This can be from followers milestone on the Twitter account to TVL on Alpha products and Alpha Tokenomics. Level up to the Power Wolf roles to learn more about this reward program!  
Volunteer Channel
We know that engaging on Discord can be harder for some members due to time differences. Hence, we introduced the Volunteer Channel, which allows members to claim rewards for completing jobs. Every job is rated according to its difficulty, ranging from 1 to 5, in which tasks rated at 5 will require the most effort and time. Once the job has been completed, it will be taken down from the Volunteer board, so everyone can easily track which job they want to fulfill. Though the current job only gives out EXP as rewards, in the future we may expand to giving tokens as rewards as well, so stay tuned!
Closing Thought
This is only the first update on our discord server; therefore, you can expect more updates to come in the future. We have planned various opportunities for our community members to contribute meaningfully down the line and take leadership roles in shaping our protocol. Nonetheless, these Power Wolf roles will be the first fundamental step for you to take to become an important member of our Alpha Wolves community! 🐺 🐾
---
About Alpha Finance Lab
Alpha Finance Lab is a blockchain Lab, and on a mission to build Alpha Universe. Alpha Universe includes the Alpha DeFi ecosystem (Alpha Homora, AlphaX), Alpha Metaverse (Alpha Buy Wall, Provably Rare Gems), and Alpha Launchpad (incubator program).
Join our Telegram/Discord for the latest updates, follow us on Twitter, or read more about us on our Blog and Document!