Others
Announcing Alpha DAO & The Upcoming Alpha DAO Phase 1 Launch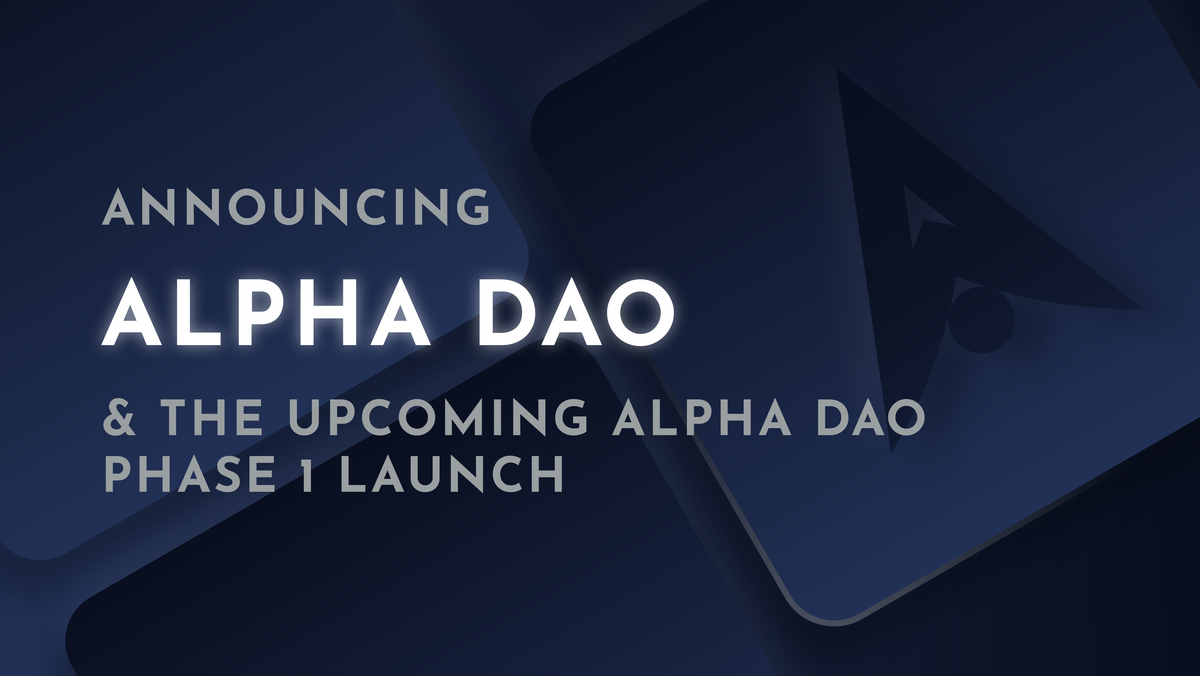 Announcing Alpha DAO and more details behind the upcoming Alpha DAO phase 1 launch this August 2021!
Alpha community is one of the most important aspects of Alpha Finance Lab. Whether you are using Alpha products (Alpha Homora v1, v2, vBSC), developing integrations, strategies and tools for the products, staking ALPHA tokens on Alpha Tokenomics, or simply holding ALPHA tokens, you are all considered a part of the Alpha Wolf Pack.
It is very important for Alpha Finance Lab to decentralize itself to scale and become the leading decentralized DeFi lab and decentralized DeFi incubator in the space. To make sure we transition smoothly, we will launch Alpha DAO in multiple phases, with Phase 1 launching this August 2021.
Overview of Alpha DAO Phase 1
For phase 1 of Alpha DAO, we will focus on enhancing transparency and engaging more with the community on product developments, partnerships, product release plans, new product ideas, and more. The goal of this phase 1 is to include the Alpha community in the process of making and shipping innovative Alpha products as well as incubating new quality projects from Alpha Launchpad.
To ensure a smooth transition, submitted grant proposals will be voted by temporary designators for Alpha DAO in phase 1. Temporary designators will include a few Alpha team members and Alpha community members, or Alpha Wolves, who have vested interest in Alpha Finance Lab and are committed to bootstrap the Alpha community going forward. For future phases, temporary designators for Alpha DAO will be replaced by Alpha DAO Delegates elected by ALPHA stakers.
What Can the Alpha community Expect for Alpha DAO Phase 1?
Alpha Forum
Alpha Forum will be open to the public, allowing Alpha core developers, 3rd party developers, 3rd party protocols, and Alpha Wolf Pack or Alpha community members to discuss various developments, ideas, and collaboration opportunities.
Bi-Weekly Call with Active Alpha Wolves
This will be a space for any Alpha Wolves to contribute, ask, and discuss various topics with the core Alpha team and other Alpha Wolves. These topics can also be proposed on the Alpha Forum
Alpha Podcast
The podcast will serve as a primary tool for not only discussing the upcoming Alpha products, use cases, partners, and usages, but also highlighting key discussions on the Alpha Forum and updating the community on all the moving pieces in the Alpha Universe. Active Alpha Wolves can also look out for an invitation to join the Alpha Podcast!
Closing Thoughts
August is a busy month here at Alpha with a number of key launches and events coming up. These include:
Beta Finance, the first Alpha Launchpad project, is launching phase 1 of their product
ALPHA stakers who stake since August 18th, 2pm UTC will receive BETA tokens when they unlock
Phase 1 of Alpha DAO will go live this month
In addition to these, Alpha community can look forward to more updates on the second Alpha Launchpad project this month as well!
---
About Alpha Finance Lab
Alpha Finance Lab is a DeFi Lab, and on a mission to build