Others
Launching Alpha Buy Wall for NFTs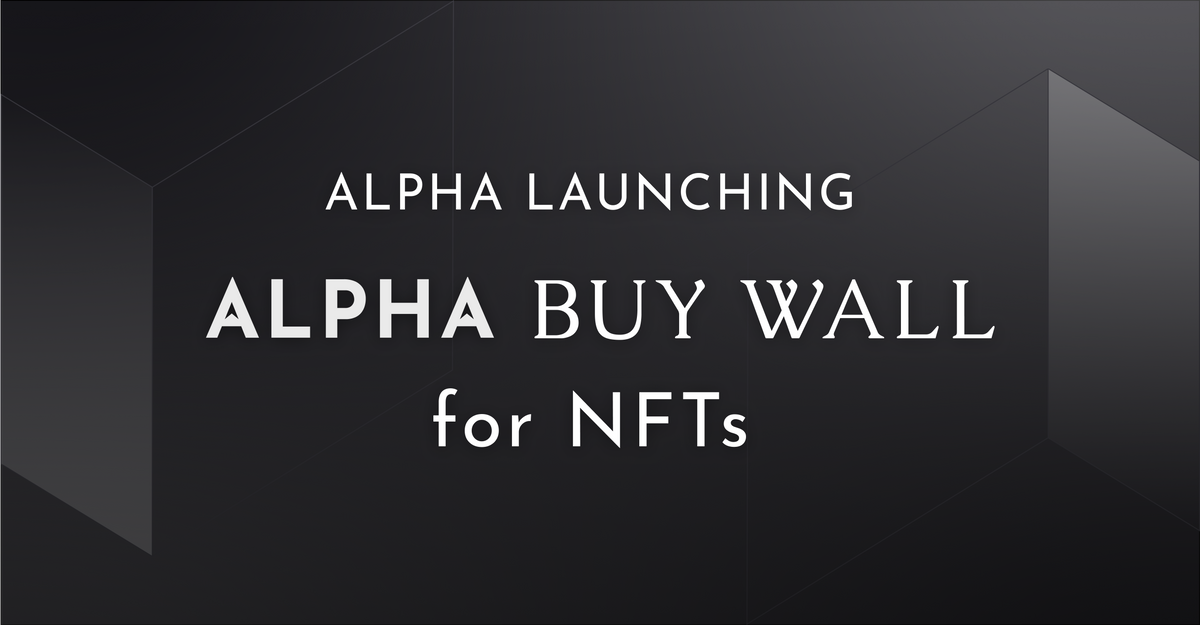 Introducing the Alpha Buy Wall, a smart contract that allows any users to bid for any NFT of a particular collection, essentially providing a price floor for that NFT collection.
The name 'Alpha Buy Wall' was derived from the fact that this product will create a buy wall for NFTs, allowing sellers to access liquidity instantly without slippage. Let's be honest, who doesn't like buy-walls?
At launch, Alpha Buy Wall now supports 6 NFT collections: Loot, Bloot, Pudgy Penguin, 0N1 Force, Cool Cats, and Mutant Ape Yacht Club.
How does Alpha Buy Wall benefit the community?
NFT Price floor: Due to the nature of Alpha Buy Wall, each NFT collection will have its own price floor (Current Highest Bid).
Instant Liquidity: Once there are bids on that specific NFT collection, sellers can access instant liquidity when they choose to sell their NFT at the highest bidding price. This is similar to how Market Sell works in normal markets.
No Slippage: Sellers will receive the highest bid amount without any slippage.
On-chain Orderbook: The order book is completely on-chain, providing transparency and a fair market for all users.
No fee: Bidders and sellers don't have to pay any fee apart from the gas fee.
No fake NFT: Because Alpha Buy Wall contract is linked to the address of the NFT collection, bidders can guarantee they will receive NFTs from their desired collection on Alpha Buy Wall if their bids are matched.
How does Alpha Buy Wall work?
Alpha Buy Wall will require bidders to use ETH to place bids on NFTs. The exchange process will consist of two parties, a bidder and a seller.
Bidders
Deposit ETH, which will be locked on Alpha Buy Wall contract, to bid for floor NFTs. If matched, you will exchange your locked ETH with an arbitrary NFT of the given collection.
3 simple steps for bidders
Go to Alpha Buy Wall and click Set Buy Wall for the NFT collection you want to place a bid for.

2. Let's say you want to bid on any 0N1 Force, simply click on Bid Now. On this page, you can also see the active buy wall or other bids placed by other bidders.

3. That's it! Once you place a bid, your active bid will be shown here. You can also place more bids or cancel the existing bids here. If your bid is the highest bid and the seller decides to sell the NFT at that bid price, Alpha Buy Wall will exchange your ETH with an arbitrary NFT of the given collection.

Sellers
Sell NFT for instant ETH liquidity at the highest bid price. Alpha Buy Wall will match and conduct the exchange process.
Go to Alpha Buy Wall and click Sell Now for the NFT collection you want to sell.

2. Let's say you want to sell 0N1 Force, you can check the highest bid price in Buy Wall section. If satisfied with the highest bid price, you can click 'Sell to highest bid' in the Sell section.

3. Once you click Sell to highest bid, the pop-up below will appear. In this step, you can input the minimum acceptable bid to prevent having this NFT sold at a price too low in a case that the highest bidder cancels the bid at the moment you are about to sell.

That's it! Alpha Buy Wall is simple and easy to use for both bidders and NFT sellers.
How is Alpha Buy Wall different?
The current NFT space does have some existing solutions for buyers/bidders and sellers of NFTs, but these functionalities are fragmented across platforms and do not come as a whole package.
Why not NFTX?
NFTX is an elegant solution to provide price floor and instant liquidity to sellers, but there are a few issues.
Slippage: Currently you can't buy 1 PUNK token to claim a floor punk without paying 10% or more price impact. In Alpha Buy Wall, there is no slippage.
Supply-side requirement: Every NFTX PUNK token requires someone to lock PUNK making. If there are not many PUNKS locked, there would not be many PUNK tokens in circulation, leading to high slippage. In Alpha Buy Wall, there's no such requirement.
Why not Fractional Art?
Fractional Art is another creative solution that provides pricing for a particular NFT, but there are also some drawbacks.
No instant liquidity: NFT holder needs to first fractionalize the token and set the desired reserve price. This process requires matching from the demand side, hence not instant liquidity.
No price floor: Each NFT is separately fractionalized, and each fraction has its own reserve price. No price floor for the entire NFT collection can be derived here.
Why Alpha Buy Wall?
Alpha Buy Wall solves these problems by providing instant liquidity without slippage to sellers by matching sellers of NFTs and the already existing bidders forming the 'Buy Wall'. The highest bid is essentially the price floor, and sellers can immediately 'Market sell' their NFTs at the floor price.
Looking Forward
Alpha Finance Lab started out as a DeFi lab when the main use case of blockchain technology revolved around financial applications. However, the blockchain industry is evolving fast with the expanding use cases and community to NFTs and the Metaverse, disrupting the entertainment industry. We will not limit ourselves to only innovating in the DeFi space, but will move together with the broader blockchain industry to build, innovate, and disrupt other industry segments that blockchain technology touches upon.
Alpha Finance Lab is officially venturing into the NFT and Metaverse universe. We will continue to grow and innovate the Alpha DeFi ecosystem while expanding and experimenting in the up and coming industry segments, namely NFTs and the Metaverse.