Others
The New Alpha Product, AlphaX, Is Live On Beta Private Testnet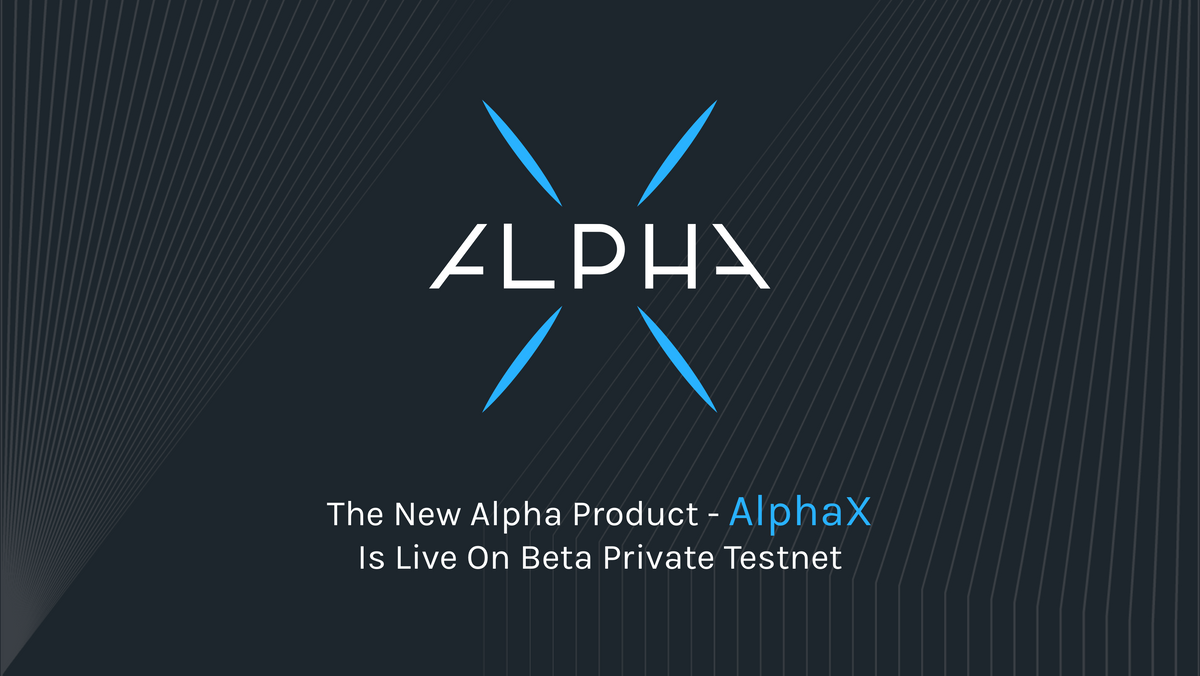 Alpha Finance Lab team is excited to announce that our perpetual swap product called AlphaX is live on beta private testnet!
👉 What is AlphaX and how is it different from other decentralized perpetual swap products?
👉 What is beta private testnet and how do you get access to it?
👉 Why are we building AlphaX?
👉 When is AlphaX going to be ready for public use?
👉 What is the mission of Alpha Finance Lab?
Read on to learn more!
What is AlphaX?
AlphaX is the new Alpha product built by the Alpha Finance Lab team. AlphaX is a decentralized non-orderbook perpetual swap product that will allow anyone to take leveraged long or short positions of any asset without needing to hold that asset.
Alpha Finance Lab team has come up with a unique engineering and implementation design that will make AlphaX uniquely different from other perpetual swap products in the market.
Notable features include:
Non-orderbook markets on any asset that has a non-manipulatable price feed
Up to 10x leverage available for traders
Funding rate baked into the quoted spot price (no explicit funding events)
Tokenized long and short position tokens (your positions can be used as collaterals or traded on secondary markets)
Bot-less, automatic on-chain liquidation mechanic
We have developed a proof-of-concept (PoC) version of AlphaX to start collecting feedback and iterating on the protocol design. Soon we will be ready to bring the solution to the public after our beta private testnet is concluded.
What is beta private testnet and how do you get access to it?
The core Alpha development team is actively testing AlphaX internally to double down on security and iterate on making the product as user friendly as possible. With beta private testnet, we will be releasing the current iteration of AlphaX to a selected group of community members to test and give feedback on.
To get access to AlphaX beta private testnet, simply fill out the form here. Alpha team will give access to you in the coming weeks!
Why are we building AlphaX?
AlphaX is a product of its own kind that is in a different market from Alpha Homora. While AlphaX will capture its own target users in the perpetual swap trading sector, it will also bring clear synergy to Alpha Homora by enabling leveraged yield farmers/liquidity providers to hedge their leveraged positions on Alpha Homora (typically shorting ETH as you are borrowing ETH to yield farm/provide liquidity) and enter into a market neutral leveraged position. Thus, as Alpha Homora works to maximize your returns, AlphaX will help minimize your downside risk.
When is AlphaX going to be ready for public use?
At the current implementation, AlphaX is in a proof-of-concept stage in which we are testing the viability of our perpetual swap market design. Much like any other products from Alpha Finance Lab, we will continue to test and make sure that our solution is valuable to the target users and that it is solving their pain points before releasing to the public. If you are passionate about building a decentralized solution that aims to be adopted by a wider crypto audience, let us know. We are always recruiting!
What is the mission of Alpha Finance Lab?
Alpha Finance Lab is building a number of innovative DeFi products to capture unaddressed demand and market gaps. While each product will capture its own market and user base, all Alpha products will work together to achieve the overarching goal of maximizing returns while minimizing downside risk for our users. This synergy among Alpha products will help grow not only each Alpha product itself, but also the overall Alpha ecosystem.
---
About Alpha Finance Lab
Alpha Finance Lab is an ecosystem of cross-chain DeFi products that will interoperate to bring optimal alpha returns to users. Alpha products focus on capturing unaddressed demand in DeFi in an innovative and user friendly way.
We are moving at a rapid pace, so we encourage everyone to join our Telegram / Discord for the latest updates, follow us on Twitter, or read more about us on our Blog!
We are also looking for passionate community members who are looking to contribute to the Alpha ecosystem. If you are interested, please feel free to reach out to @tascha_panpan on Twitter.