Alpha Academy
Things I Wish I Knew When Starting a Crypto Company (Part 1)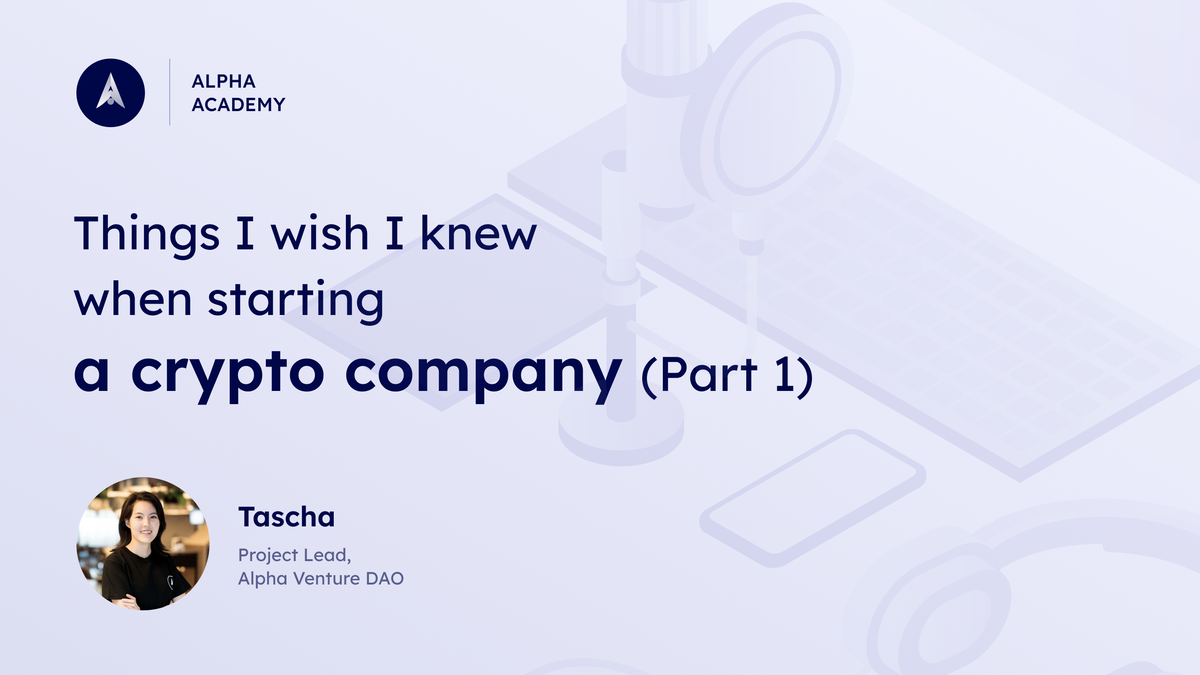 Welcome to Alpha Academy, a cryptopedia for builders. In this article, we'll be summarizing the key takeaways from our podcast on 'Things I Wish I Knew When Starting a Crypto Company (Part 1)', with Tascha, Co-Founder & Project Lead from Alpha Venture DAO.
Haven't listened to our Podcast? Check it out now on Spotify and Youtube!
If you are new to Alpha Venture DAO and want to learn more about our universe, read here!
Key Takeaways:
There are quite a number of challenging processes that first-time founders will have to go through when starting their own project. Some of this includes finding product-market fit, legal, fundraising, community building, tokenomics, and listing tokens.
Choosing the right business idea and finding the product-market fit:
The key is to really live and breathe in the industry to see what people are looking for, what people are talking about, and what can be the key solutions to the main problems that often get the most attention. These things will give you an edge in product-market fit.

Develop a lot of industry knowledge to be able to react quickly and get that hunch in your product ideation, then validate your idea by talking to investors, small groups of people that you know, target user groups, or key individuals you already know in your life.

Focus more on experimenting and testing it out, as opposed to waiting for the perfect product, as multiple months of ideating will be too late in the crypto space. The entire process of building Homora, a leveraged yield farming and lending product from identifying the market gap to launching took a month or even less.
Legal:
Because there's no concrete way of doing things, it's more of taking all the information and then weighing the pros and cons, weighing the risks, so consult different parties and make the decisions on your own.

Choose a law firm based on the geographical area you're in and ones that are more crypto savvy. In Thailand, there's no law firm that's crypto savvy, so Tascha looked beyond Thailand and expanded into Southeast Asia to see which law firm could guide her the best.

Everything is a risk. Not only the founders or the operators that have to think of the risk, but everyone involved in this industry because it's so new and the whole regulations and everything haven't caught up. From the founder's perspective, just making sure that you don't intentionally do the gray stuff is going to be the best way.
Fundraising:
More often than not, projects are raised with just tokens and not equity because it's easier to manage from the paperwork side of things to the operational side of things. However, it may also be equivalent, because tokens can get liquidated on crypto exchanges so there's no real downside to raising funds through tokens as well as through equity.

Some projects also raise funds on their equity because their geographical location may not allow them to have a token, for instance, in the U.S. so they use equity as a way to get around that.

It is very crucial to follow a lot of the VCs and individuals in the VCs on Twitter, or even read blogs on their VC websites and see which ones resonate with you the most, what kind of value they provide, and whether it aligns with the value that you are looking for. The more active the VCs are, the more likely they are to be active when they invest in your project.

Branding and the name itself are not everything. Founders need to know what the real value is they're bringing. Ask the people you know to help make connections or make references, and then go from there.

To prepare for pitching, really ask the questions like; if there is this product, how would the industry change? how would the industry look differently? If the product can influence how the industry will look differently, then there's a lot of potential for growth for your product and investors or partners will be willing to invest in or work with you.
Start a project on your own versus being in Alpha Venture DAO incubator program:
Alpha Venture DAO ecosystem consists of the Alpha team, incubated projects from the past, community members of Web3 and Alpha Network, which includes a number of experts in the community, like VCs, founders and angel investors. Once you join the incubator program, you will get hands-on mentorship with the key people that will move your project to the next step. These mentors are everyone in the ecosystem that we have shortlisted as being valuable. It is like a springboard for your project to move to the next level.

The things that really move the needle when building a crypto project are the things that only experienced builders will be able to determine. Since there is no fixed way of doing things, if you haven't been a builder before, it will be almost impossible to give advice to other founders.

Alpha has been living and building in this industry for some time, so we know who is really adding value to what area. Hence, we're able to shortlist the right people to join our Alpha Network and make sure that they mentor in that particular area.
At the end of the episode, Tascha shared that the most important thing for building a successful crypto company is to be long-term-minded. People who are short sighted tend to do things the hacky way, and may get into trouble later on. Being long-term minded can apply to almost everything, from company building, being transparent with the community, getting the product audited before launching, etc. With this mindset, it will impact the decisions you make and hence the outcome.
Closing Thoughts
That's it for today! Stay tuned for the summary of the key takeaways of our next episode on 'Things I Wish I Knew When Starting a Crypto Company (Part 2)!
Follow us on Spotify and subscribe to our Youtube channel for more updates and information from Alpha Academy!
Apply to the Alpha incubation program here.
Until next time Alpha Wolves! 🐺
---
About Alpha Venture DAO (Previously Alpha Finance Lab)
A Builders' DAO. We explore and innovate at the fringes of Web3 and drive significant value to Web3 users, and ultimately, alpha returns to the Alpha community.
Join our Telegram/Discord for the latest updates, follow us on Twitter, or read more about us on our Blog and Document!