Alpha Summary
Alpha Finance Lab Rebrands & Expands Into Alpha Venture DAO To Disrupt Web3 Ecosystem
Alpha Finance Lab is rebranding and expanding to Alpha Venture DAO, a community of daring individuals who shape the future of Web3 by reinventing how decentralized applications (dApps) are built, contributed, and owned. Together with you, we will build and incubate Web3 innovation in order to become a massive ecosystem of dApps that captures value regardless of which chains or sectors dominate Web3 in the future.
We welcome both builders and Web3 users to join us. Alpha Venture DAO will be a one-stop station for Web3 builders to kickstart their projects and the gateway for Web3 users to contribute meaningfully and "truly" own high-quality Web3 projects.
Most importantly, Alpha Venture DAO brings more than 50 global firms, thought leaders and top-minds in Web3, who serve as Alpha Network, to support Web3 builders in building and launching their projects. These include AVA Labs, The Spartan Group, DeFiance Capital, Multicoin Capital, SCB10X, Jason Choi, Darryl Wang, Luigi (Avalanche), AlphaLab Capital, and individuals from Sequoia Capital, Coinbase, Bitmex, Crypto.com Capital, SIG, 1kx, Band Protocol, Acala Network and many more. Moreover, projects will also receive exclusive technical and infrastructure support from our partners: Amazon Web Services and Terraform Labs. This is just a glimpse of the support we provide to builders, be on the lookout for more to come!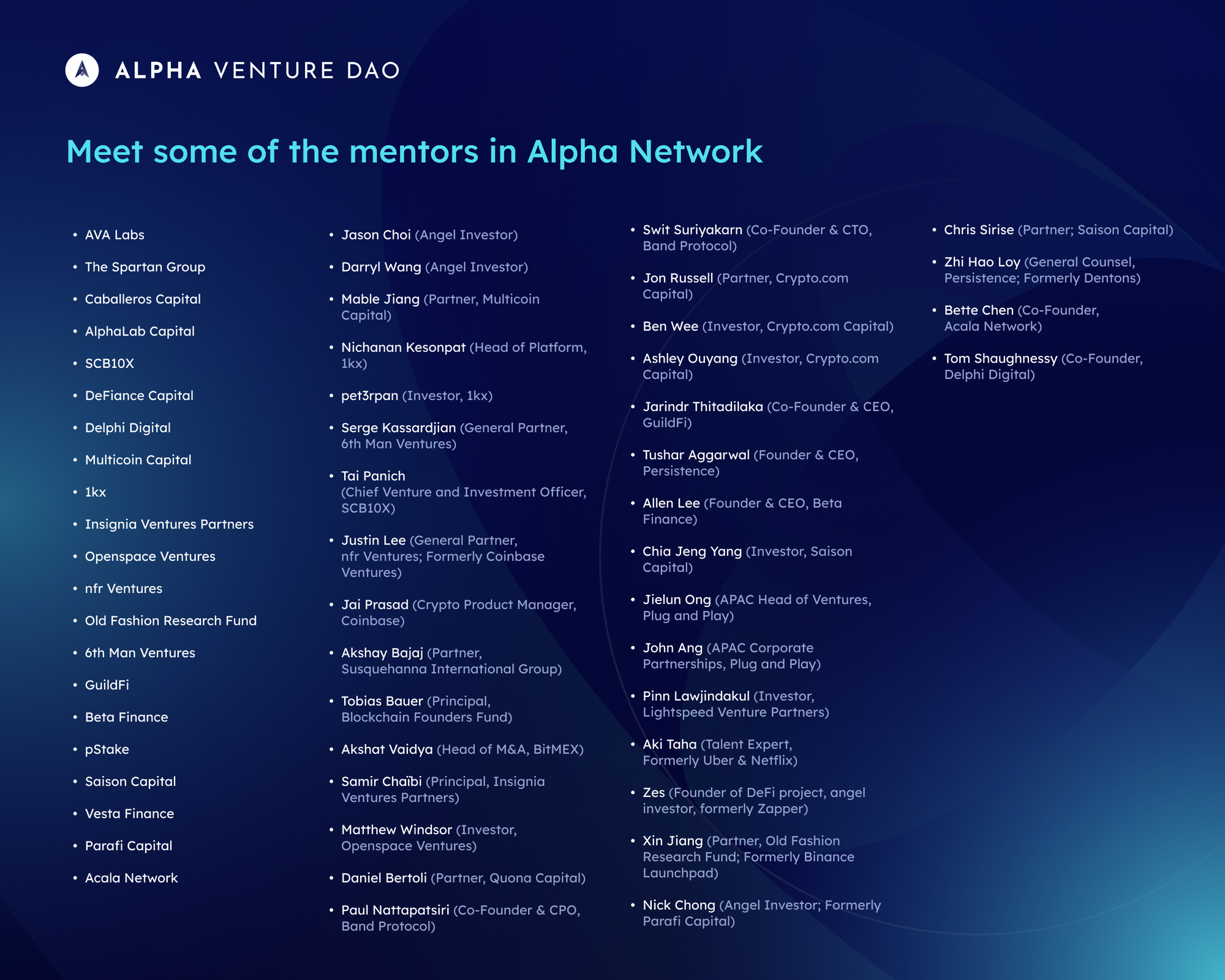 How It All Started
Starting in 2020, we established Alpha Finance Lab with the goal to build a DeFi ecosystem that interoperates to maximize returns while minimizing risks for users. Our products capture unaddressed demands in DeFi in an innovative and user-friendly way. That's how Homora, the world's first leveraged yield farming platform, was born and attracted more than $1.8 billion in total value locked.
Since the Web3 industry is still in its infancy, we believe that it will go through multiple phases of growth. In order to remain agile and flexible in creating and capturing value, we don't limit ourselves to only building in-house products, but also to incubating external projects in order to become a full-fledged multi-chain dApp ecosystem.  
As a true believer in Web3, we are actively driving the growth, adoption, and value creation of Web3. With this in mind, we are taking a crucial step forward to expand Alpha Finance Lab into Alpha Venture DAO and welcome the community to join us on our journey of expanding the boundary of Web3 use cases.
How It Works
The Alpha Venture DAO ecosystem is made up of 2 parts: build and incubate.
The Alpha team will continue to "build" cutting-edge products that have synergies and dominate their corresponding markets across multiple chains and verticals. This allows us to stay relevant with the landscape, be connected with the right people, and know exactly what other builders need to launch and grow successfully despite the continuous change in Web3 landscape.

The incubator arm of Alpha Venture DAO will "incubate" new innovations and new projects to the crypto space. Ultimately, we will work with the community to mentor these incoming high quality Web3 projects to grow from 0-to-1 and 1-to-100.

Alpha Academy is another section in Alpha Universe that produces content on building a crypto company for builders to utilize as a resource when building their own projects aka a cryptopedia for Web3 builders.
By being a part of Alpha Venture DAO, anyone can build, contribute, and own Web3 innovation. We make it easier for enthusiasts to access new Web3 innovations and contribute to promising projects. In the future, the community will also be able to contribute to Alpha products and vote on the DAO governance through the ALPHA token.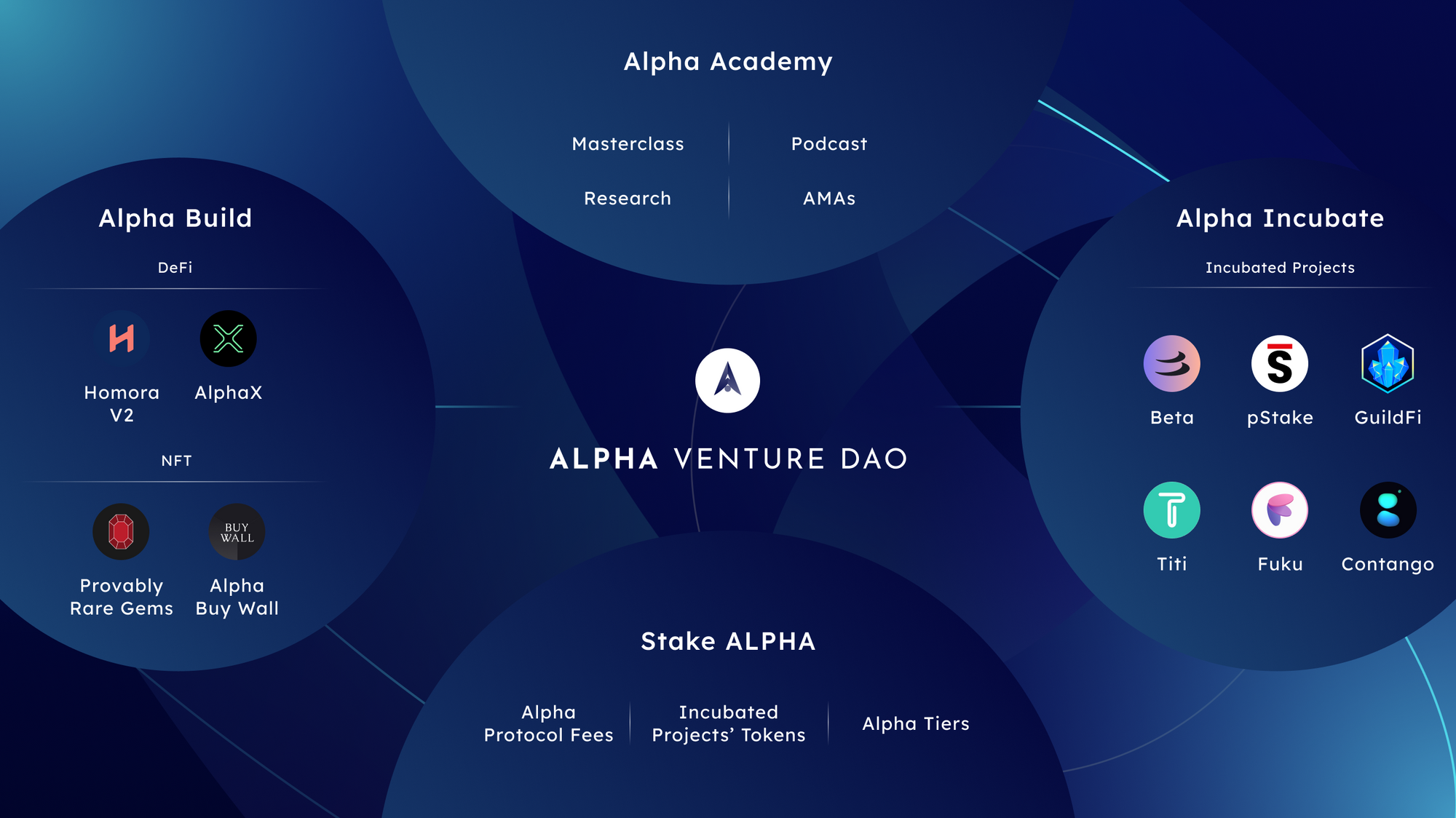 What It Means to Web3
As builders with a track record of building a billion-dollar-product and incubating a billion-dollar-project ourselves, we offer builders tactical and strategic advice and an active and growing community of more than 100K Web3 users for builders, like you, to kickstart your project.
There are multiple things that are unique to building in Web3 from tokenomics to community building, and the industry keeps evolving at a breakneck pace making experience obsolete. By continuing to build products alongside you, we ensure our advice and community remain relevant for you across diverse circumstances.
Building a community for new projects, especially ones with niche products, can be difficult. Bootstrapping the community is a pressing challenge for decentralized projects. However, with years of building, living and breathing in the blockchain space, we are able to provide projects with a replicable playbook for building and launching projects and the real Web3 community of users from day 1.
In short, we help:
Support builders by being a one-stop shop for them to build and launch their Web 3 projects. Builders will get insightful knowledge from experienced builders, thought leaders, and veteran investors.

Provide access for Web3 users with expertise in any fields, such as UX/UI, fullstack, content creation, community building, marketing, etc., to contribute to Web3 projects. With your skillset and talent, you can become contributors of Alpha Venture DAO and 'own' high-quality projects ahead of anyone else.
Why it Matters to You
By being a member of Alpha Venture DAO, you will have unprecedented opportunities to build, contribute, and own Web3 innovation. We are a community where builders and the community come together and create the 'real alpha.' Here are the perks you will gain by becoming a part of the Alpha Venture DAO:
By staking ALPHA tokens, you will be eligible to receive the tokens from incubated projects. Consequently, own these promising Web3 projects with the rights to govern or use new products before anyone else.

You will have the opportunity to contribute to promising projects. The more you contribute and show your expertise, the more rewards you'll get from being an early user and evangelist for promising projects. Additionally, you'll get shortlisted to join the Alpha Network, a community of top-minds in Web3.

By using Alpha products, you can unlock exclusive features and earn special rewards. As the Alpha Venture DAO ecosystem expands, the utility for ALPHA will also increase.
Closing Thoughts
This is another vital step for us Alpha as we expand ourselves to become Alpha Venture DAO with a focus on pushing the innovative boundaries of Web3 innovation and supporting the builders and community who believe in Web3. If you believe in Web3 innovation, then Alpha Venture DAO is the place for you. The ALPHA token is no longer a token of a single product or project, but rather a proxy to Web3 innovation.
Can't wait to join this adventure with us? Join us on our Discord and our Twitter to echo the ethos of Web3. Stay tuned for more information on how you can engage with Alpha Venture DAO and our incubator arm next week!
---
About Alpha Venture DAO (Previously Alpha Finance Lab)
A Builders' DAO. We explore and innovate at the fringes of Web3 and drive significant value to Web3 users, and ultimately, alpha returns to the Alpha community.
Join our Telegram/Discord for the latest updates, follow us on Twitter, or read more about us on our Blog and Document!