Yesterday (October 10th) marks Alpha's 1-year birthday! As we all know, 1 year is a long time in crypto, so thank YOU again for the continued support. Alpha would not be the Alpha we all know today without you!
Now, let's take a quick trip down the memory lane before buckling up for a ride into the next growth stage with our Perfect Square Strategy.
Quick trip down the memory lane
Alpha Finance Lab, a blockchain lab that is on a mission to build innovative and high demand products on blockchain, came up with the leverage yield farming concept and built Alpha Homora, the first leverage yield farming product.
Alpha Homora was expanded quickly from Ethereum to Binance Smart Chain, and later Alpha Homora V2 was launched as a more scalable and better version. Currently, the total value locked across all Alpha Homora products is hovering around $1B.
Shortly after, Alpha Tokenomics was launched to allow ALPHA stakers to capture value and growth from everything in the Alpha Universe while providing an additional security layer for Alpha products. Value accrual includes ALPHA protocol fees, Launchpad tokens, and Alpha Tiers to unlock special features.
To leverage know-how and experiences we have gained to benefit other builders and Alpha community the most, we launched the Alpha Launchpad incubator program to advise and mentor other high quality blockchain projects that will distribute a portion of their tokens to ALPHA stakers. As a result, this paves the way to grow Alpha Finance Lab exponentially in a scalable way.
As the blockchain industry has evolved rapidly since the beginning of Alpha, from DeFi to the Metaverse and NFTs,  Alpha sees this opportunity as a way to innovate and be the first mover in these high growth areas. So we launched Alpha Buy Wall, the Provably Rare Gems, and the Summoners' Market.
What's as important as our tech and products is the community governing it. We launched Alpha DAO phase 1 to increase transparency and to start decentralizing the project. For this reason, we established the Alpha DAO phase 1 with Alpha Temporary Delegators, Alpha Forum, governance voting with sALPHA, Twitter Spaces, Alpha Podcast, and Alpha Youtube to drive transparency and decentralization.
Lastly, our newest development and product, AlphaX, also tackles the derivatives market with a completely new concept: The Strike token. With the Strike Token concept, AlphaX is a DeFi-native way to trade derivatives and in a capital-efficient way.
The Perfect Square Strategy Powering The Next Growth Stage 🚀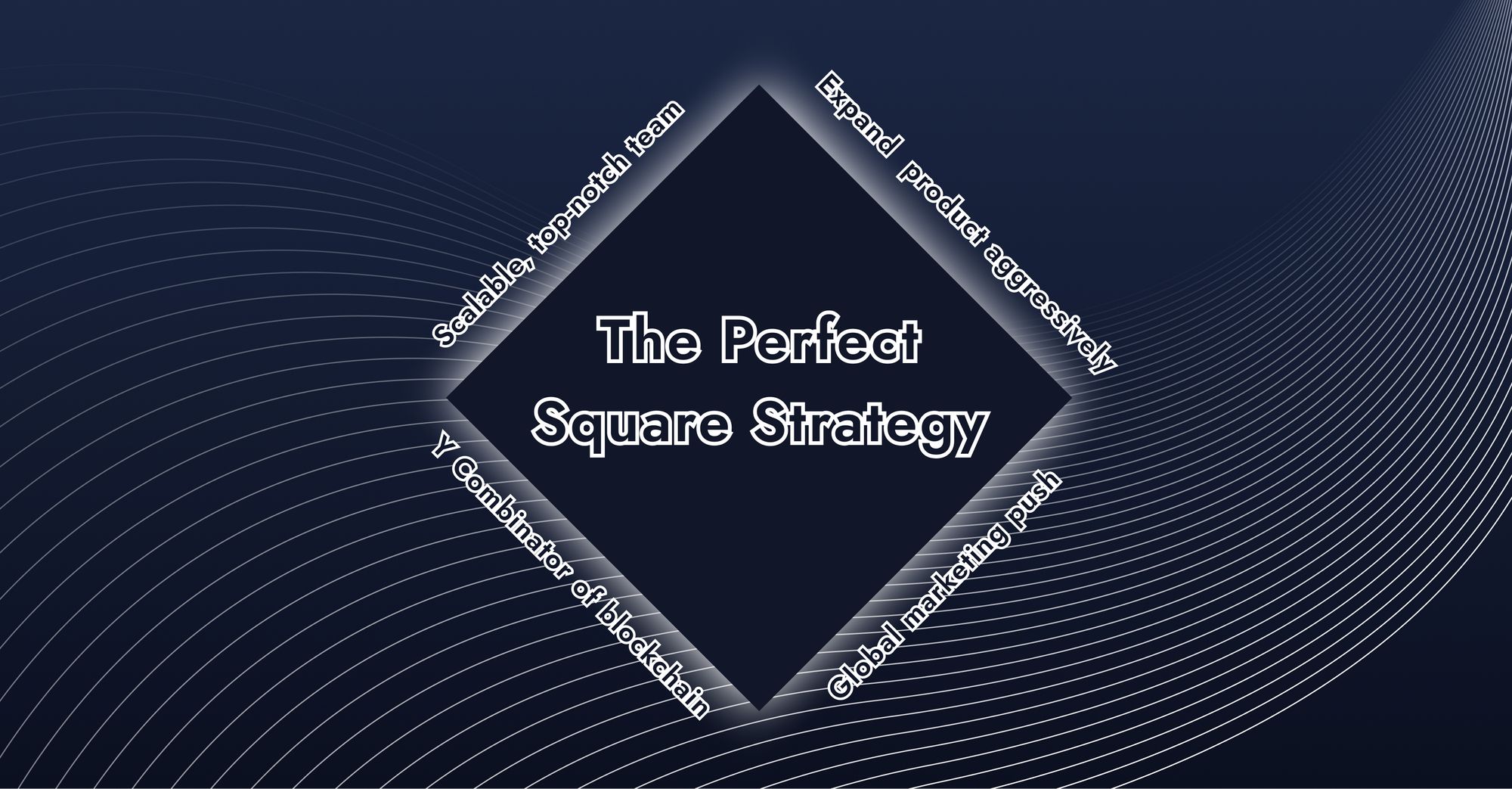 We are not aiming for a few percentage growth, but at 10x growth from here. It is not a question of whether we will get there, but a question of how soon.
What do we have installed? We call it The Perfect Square Strategy.
1. Scalable, top-notch team
Aggressive hiring of top candidates and internal reorganization to build a scalable structure of a top-notch team that will enable 10x growth from here. This transformation will not happen overnight, but it has already begun.
2. Expand each product aggressively
Each product, Alpha Homora, AlphaX, Alpha Buy Wall, Provably Rare Gems, and Summoners Market will be expanded aggressively to be the top and go-to product in their segment.
Alpha Homora - Leverage yield farming and lending.
AlphaX - Derivatives trading and hedging instrument.
Alpha Buy Wall - NFT bidding platform.
Provably Rare Gems - Boosting power in the metaverse.
Summoners Market - Metaverse items trading platform.
3. Scale Alpha Launchpad to be the Y Combinator of blockchain
The real capability of Alpha Launchpad can be seen from Beta Finance, the first Alpha Launchpad project and the first to launch both product and token. Beta Finance joined Alpha Launchpad as an early stage project. Through months of mentoring and advice from Alpha Launchpad, Beta Finance successfully launched their high-demand product on Ethereum and token on Binance. We have been scaling and continue to scale Alpha Launchpad incubator program such that we can replicate the support we've given Beta Finance, pSTAKE, and other projects we have onboarded (but have yet to announce) to future Alpha Launchpad projects in a scalable way.
4. Global marketing push
There are many moving pieces in Alpha Finance Lab. We will simplify the narrative such that everyone will understand and realize the real 'alpha'. Then, we will push a button and roll out a global marketing push. ALPHA will become a household name.
Now, buckle up for a ride into our next growth stage! 🚀
---
About Alpha Finance Lab
Alpha Finance Lab is a DeFi Lab, and on a mission to build