Others
Alpha 1 Year Old Birthday Gift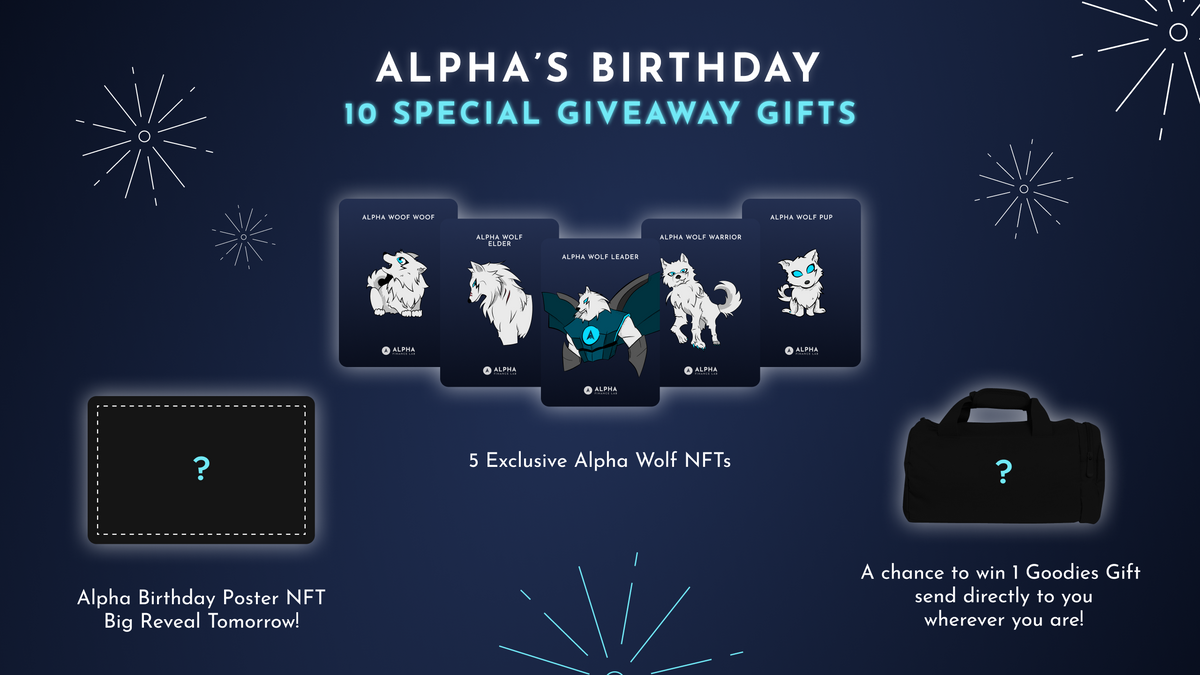 Happy Birthday day to you...Happy Birthday to you!
It is time to sing a Happy Birthday song to Alpha Finance Lab and the Alpha Wolves community since we are going to be officially 1 year old tomorrow!
Alpha Finance Lab has been a place for our community to experiment and collaborate. It is the fusion of everyone's work and ideas, combining them into a product that can answer both technical and market demands. The Alpha Team and the Alpha Wolves Community each put in their part to construct the Alpha Finance Lab into the product of today.
Tomorrow, Alpha will have spent 365 days orbiting around the sun, while operating as a place for us to work together and invent projects that change the face of the blockchain landscape. Our enormous work made us grow much beyond our age!
Birthday Present
With this celebration, let's share our story with the world about what Alpha Finance Lab has given you.
Starting now until Monday, October 11th, 2pm UTC, we will be giving away 5 exclusive NFTs, produced by our Alpha Wolves, and 1 surprise Alpha Birthday Banner NFT to each winner (Free Minting, no gas fee). If that is not enough, what about an actual Alpha goodies bag sent right to your doorstep?
To compete for these prize rewards
🎁 Follow @AlphaFinanceLab @Alpha_DeFiLab @Alpha_Launchpad @Alpha_Metaverse
🎁 Navigate to this post on Twitter
🎁 Retweet it by quote tweeting and say
1. Why do you love Alpha?
2. What do you see Alpha becomes in 1 year from now?
🎁 Include #AlphaBD and tag @AlphaFinanceLab in your retweet
We believe that every story is valuable in its way, but only the top 10 retweets will be selected as winners. In these 10 winners, only 1 will be selected randomly to win the exclusive Alpha goodie bag sent to their location wherever you are! Winners will be announced by Tuesday 2pm UTC.
Why 10 you may ask..? Well, we're not implying anything...but does 10 looks good with ALPHA, don't you think?
Let me jump-start this competition by going first.
@AlphaFinanceLab The reason why I love Alpha is that I can still remember the early days when Alpha Finance Lab was still in Hogwarts and everything was in Harry Potter spell language LMAO. But as time went by, our community gave us a new identity, a new sense of belonging, a member of the Alpha Wolf Pack. We helped each other along the way, like how I was amazed when our community created our Telegram Alphy Bot for us! Thank you my Wolf Pack, one year from now, ALPHA shall be orbiting around the moon, why let's shoot for the moon together! #AlphaBD
Closing thoughts
We have made so much progress this year, but let's use these achievements as a goal to beat for our next year. Please stay on board the ship as we are launching to the moon shortly, where we can look down to all the progress we have been through. Thank you Alpha Wolves, and Happy Birthday to you!
---
About Alpha Finance Lab
Alpha Finance Lab is a DeFi Lab, and on a mission to build