Monthly Summary November - December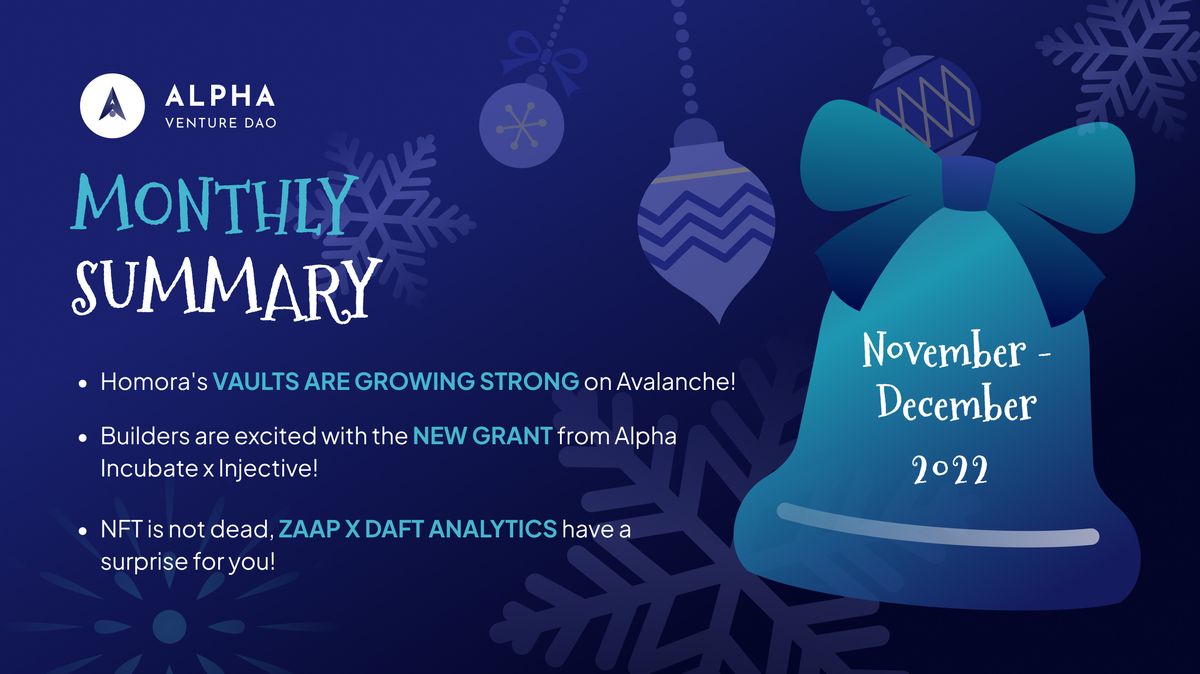 Read this article also in:
CN - EN - TH
Hey Alpha Wolves, 2023 is just over the horizon! Are you excited for what's waiting in 2023? We are thrilled to share what we are cooking for our holders in our upcoming yearly blog, so stay tuned! But before that let's take a look at what we've achieved over November and December.
Offline Event
Homora
ZAAP
Read Below to Know What's Next for ZAAP
Alpha Incubate
Alpha Academy
Bonus Read
---
Alpha Homora
This month for Homora V2, we have been working on launching big updates on the Avalanche chain and internal improvements.
On Avalanche, we have listed new pools from Pangolin V2 as well as new lending assets for farmers and lenders. Currently, leveraged yield farmers can expect APR of up to 60%. We have also been working closely with several integration partners to provide alternative ways for farmers to earn sustainable yields during such market conditions. During a side-way market where we expect the overall market volatility to be much lower, vaults and short farming can be a very profitable strategy. As a result, we have worked with Aperture Finance to officially launched their PDN vaults built on top of Homora V2. For more details, you can check out the recap we had with their team on our Twitter Spaces.
On the internal side, we worked on implementing a new ticketing system and optimizing our dapp. The ticketing system will be exclusively available on Discord where users will be able to raise issues they encounter and receive faster, personalized assistance from our team members. Our team has also improved various aspects of our website to help make our dapp load much faster than before, optimizing farming experience even further.
On Optimism, lenders can still participate in the on-going LM period. The latest period has begun and will continue until December 15th. Users can always refer to our gitbook for the most updated information.
That's all the big updates we have for the month of November! As we approach the end of 2022, our team has been putting the majority of the efforts on the big infrastructural change that we plan to launch in Q1 of 2023. All we can say is, this will be one of the biggest updates yet. Stay tuned!
ZAAP
During November - December, ZAAP team is focusing heavily on both providing a growth opportunity for Thai artists we've onboarded to our platform and forming partnerships with notable NFT projects/communities (more about that below).
Stunning Art Gallery ⚡️
Recently we visited an art gallery of one of ZAAP Artists, Pramaul T. Our team was amazed by how beautiful the Beyond Face paintings look IRL. We tried our best to capture the elegance of the artwork through this post, though if you have time and are currently in Bangkok, Thailand, we would really recommend you to endure it yourself at River City, 3rd Floor. Nevertheless, we've also prepared a virtual scene of how these paintings will look like decorating your home. If you like it, why not purchase Pramaul's NFTs on ZAAP and get these paintings delivered to your place without any cost?
Upcoming Roadmap 🗺
We have been communicating closely with various parties, such as Daft Analytics, to collaborate on building new utilities with NFT technology. Not a lot can be said officially at this stage, but multiple notable individuals in the NFT space are hyping for this creation. Stick around for more updates soon in 2023!
Alpha Incubate
November is the month where we focused on expanding our network of ecosystem partners to enhance the incubatees' experience at Alpha Incubate. Aside from our official partnership with Polygon and Sei, we've joined hands with Injective to help our incubatees effectively build on the fastest blockchain built for finance. We've also formed tech partnerships with Moralis, QuickNode, Amazon Web Services (AWS), and Band Protocol to further step up our incubation game and bring the program up to the highest standard.
Ever since we've launched Alpha Incubate in 2021, we've consistently received lots of love and support from members of the Alpha Network, our partners, and last but not least, all of you Web 3.0 builders. We'd like to take this opportunity to officially thank everyone who has supported us since day 1!
Please note that the application for Alpha Incubate is now closed. Stay tuned for further information from us. We hope to see you all again soon!
Alpha Academy
It's almost the end of the year, and so we wanted to do something different for you all. Hence why we decided to talk about the Web 3.0 incubator landscape and how Alpha Incubate differs from others!
In this blog, we discussed:
Web 3.0 native programs that follow batch structure
Traditional programs that intake Web 3.0 startups and follow batch structure
Web 3.0 native programs that follow an advisory approach
Read on to learn more about each of them here!
Closing Thoughts
We have finally reached the end of 2022. This year was filled with the most extreme ups and downs the crypto industry had ever encountered, quite a rollercoaster ride. Nevertheless, if you made it here you can make it anywhere! Trust us when we say WAGMI! Our team at Alpha Venture DAO would like to wish you and your loved ones a Merry Christmas and a Happy New Year. See you again in 2023, and never stop building!
---
About Alpha Venture DAO (Previously Alpha Finance Lab)
A Builders' DAO. We explore and innovate at the fringes of Web3 and drive significant value to Web3 users, and ultimately, alpha returns to the Alpha community. Join our Telegram/Discord for the latest updates, follow us on Twitter, or read more about us on our Blog and Document!