Introducing the 'Auto-Stake' feature for users of Alpha Homora V2!
Users will now be able to stake their ALPHA rewards onto Alpha Tokenomics directly from Alpha Homora V2. This feature depicts a form of composability and synergy between Alpha products in the Alpha Universe.
Alpha emphasizes the importance in making products that are seamless and easy for users to use, with additions of features such as these.
Positive Feedback Loop
The positive feedback loop that Alpha achieves, arises from the synergistic nature of the products that we have built and are building.
What do we mean by 'Positive Feedback Loop'? Here's an example: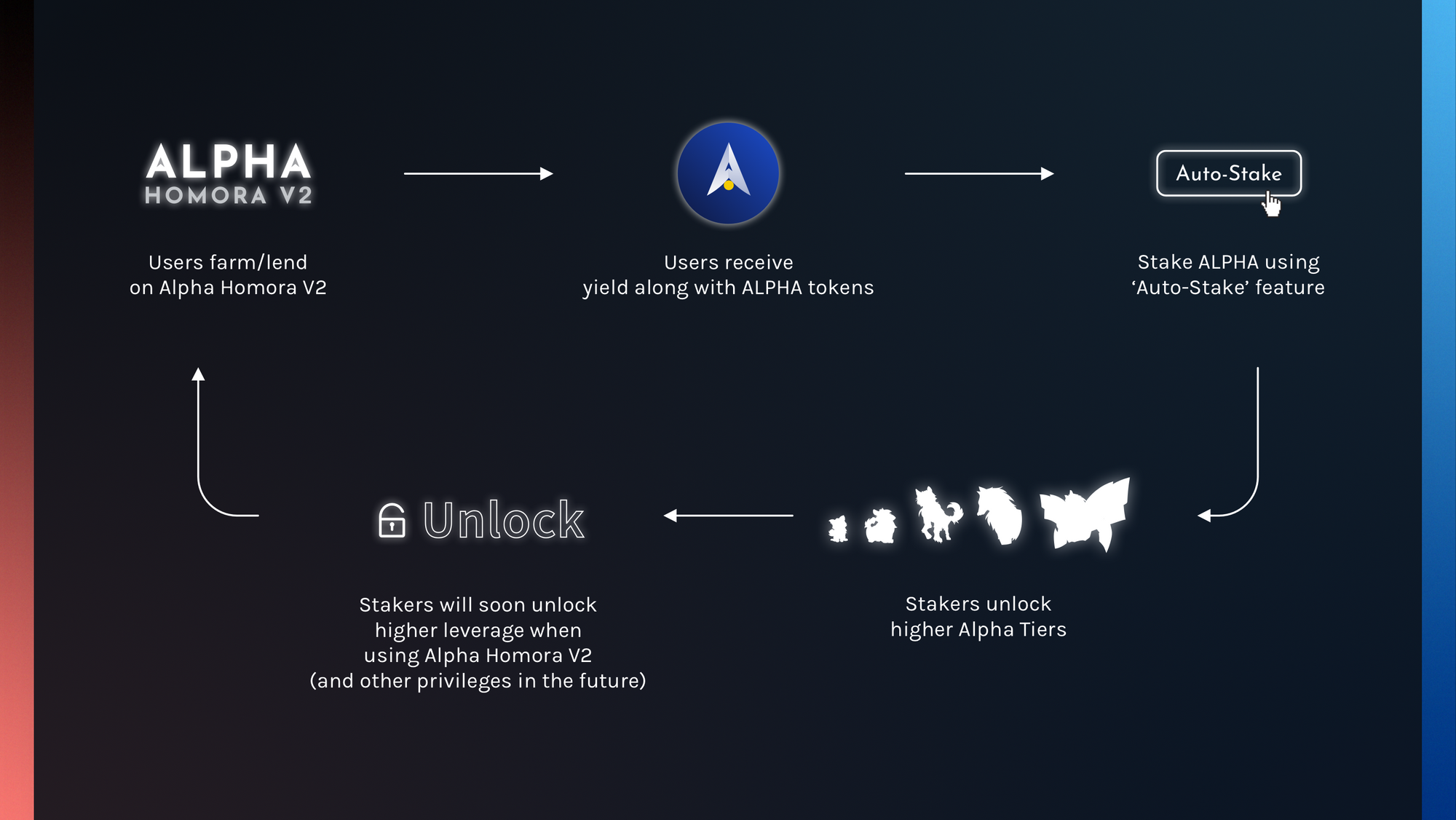 Users farm/lend on Alpha Homora V2 -> Users receive yield along with ALPHA tokens -> Stake ALPHA using 'Auto-Stake' feature -> Stakers unlock higher Alpha Tiers -> Stakers will soon unlock higher leverage when using Alpha Homora V2 (and other privileges in the future) -> Users farm/lend on Alpha homora V2 (Back to step 1 & positive feedback loop continues).

The composability between Alpha products allows them to work together and amplifies the value accrued to users and ALPHA stakers. As we continue to build and incubate more products into the Alpha Universe, the positive feedback loop will also continue to grow, increasing the total value created.
Auto-Stake ALPHA Feature
Here's an image showing the new rewards section pop-up:
With the new feature, users can click 'Claim & Stake' as seen in the image above and it will take you through 2 to 3 transactions on your crypto wallet, depending on whether the user has staked on Alpha Tokenomics before.

The feature will claim ALPHA rewards for users on Alpha Homora V2, approve token for users if they have not staked on Alpha Tokenomics before, then stake ALPHA tokens for users in the third transaction.
Closing Thoughts
At Alpha, we take pride in building products that make the user journey easy and seamless for our users. When we build and incubate a product into the Alpha Universe, it almost always complements the other products within and adds to the positive feedback loop in some way or another.
Optimizing efficiency whilst keeping seamlessness is one of the key points that we aim to keep whilst building products moving forward. ALPHA stakers can definitely look forward to seeing the positive feedback loop create more and more value for them.
---
About Alpha Finance Lab
Alpha Finance Lab is a DeFi Lab, and on a mission to build Alpha Universe. Alpha Universe includes the Alpha ecosystem, which consists of Alpha products that interoperate to maximize returns while minimizing risks for users, and other ecosystems incubated through the Alpha Launchpad incubator program.
Alpha Homora is Alpha Finance Lab's first product and DeFi's first leveraged yield farming product that also captures the market gap in lending, one of the key pillars of the financial system.
Join our Telegram/Discord for the latest updates, follow us on Twitter, or read more about us on our Blog and Document!