Homora V2
Alpha Homora V2 Avalanche First Product Integration with GRO Protocol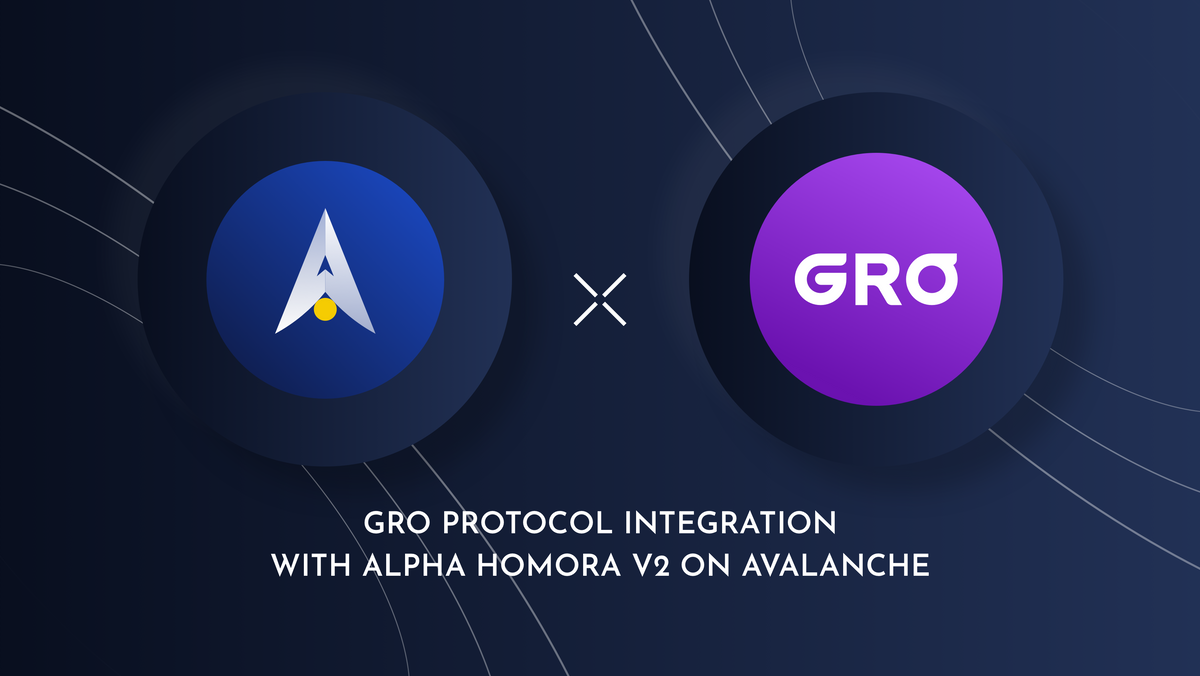 Introduction
We are pleased to announce that we have partnered with Gro Protocol to use Alpha Homora V2 on Avalanche as Gro's first, go-to strategy built on their newest product, Gro Labs. This new feature will be available beginning early December. This partnership will allow managing leverage yield farming position on stable coins even easier.
Alpha Homora was Alpha Finance Lab's first DeFi product and we have since then launched on Ethereum, BSC, and now Avalanche to bring better technology and functionalities that we believe will benefit our users the most.
Gro Protocol is a DeFi yield optimizer that balances risk and offers leverage and protected savings through its tranching mechanism. It offers different products to match your personal yield and risk profile. They are currently available on Ethereum and will be deploying on Avalanche for the first time with Gro Labs.
Alpha Homora V2 x Gro Protocol Integration
Leverage yield framing is a concept coined by Alpha Finance Lab and has introduced a new way to earn an even higher yield farming and trading fees APY than the maximum that the traditional way offered.  
The first version of Alpha Homora has introduced only a little over a year ago, but we have seen very high adoption and success through the exponential growth in TVL. Since then, Alpha Homora has already surpassed 1B TVL on all the combined. As for the latest Alpha Homora V2 launch on Avalanche, it only took roughly a month to surpass a TVL of 250M, noting that this has not even included any additional incentives yet on our product!
With such achievement over a short period of time, we firmly believe that our product has brought new earning opportunities to many DeFi users. On the other hand, our partnership with Gro Protocol further demonstrated Alpha Finance Lab's ability to bring quality and innovative DeFi products to blockchain. Gro will be a money lego built on top of Alpha Homora V2 and act as a position managing protocol for users. Users only need to deposit stablecoins on Gro, and Gro will use the fund to open leverage yield farming positions in Alpha Homora V2 on Avalanche. In the meantime, if the asset price swings, Gro will also automatically make position adjustments and harvest gained rewards to guarantee position health at all times.  
If you would like to learn more about GRO Protocol, you can do so with the links below:
GRO Website: https://www.gro.xyz/
GRO Twitter: https://twitter.com/groprotocol
What's Next?
We're excited and looking forward to this kind of partnership that has been different from before. This is only the beginning of a partnership that builds on top of our product. Moving forward, we are always on the lookout for potential collaboration whether it be protocols or developers to further enhance the experience for end-users and increase use cases with Alpha products. Alpha Finance Lab's vision is to make DeFi and blockchain stay, and if we can support that by working together with other protocols then we can help speed up the adoption of DeFi and make it more accessible.
---
About Alpha Finance Lab
Alpha Finance Lab is a blockchain Lab, and on a mission to build