Homora V2
Alpha Homora V2 on Avalanche: First Week Recap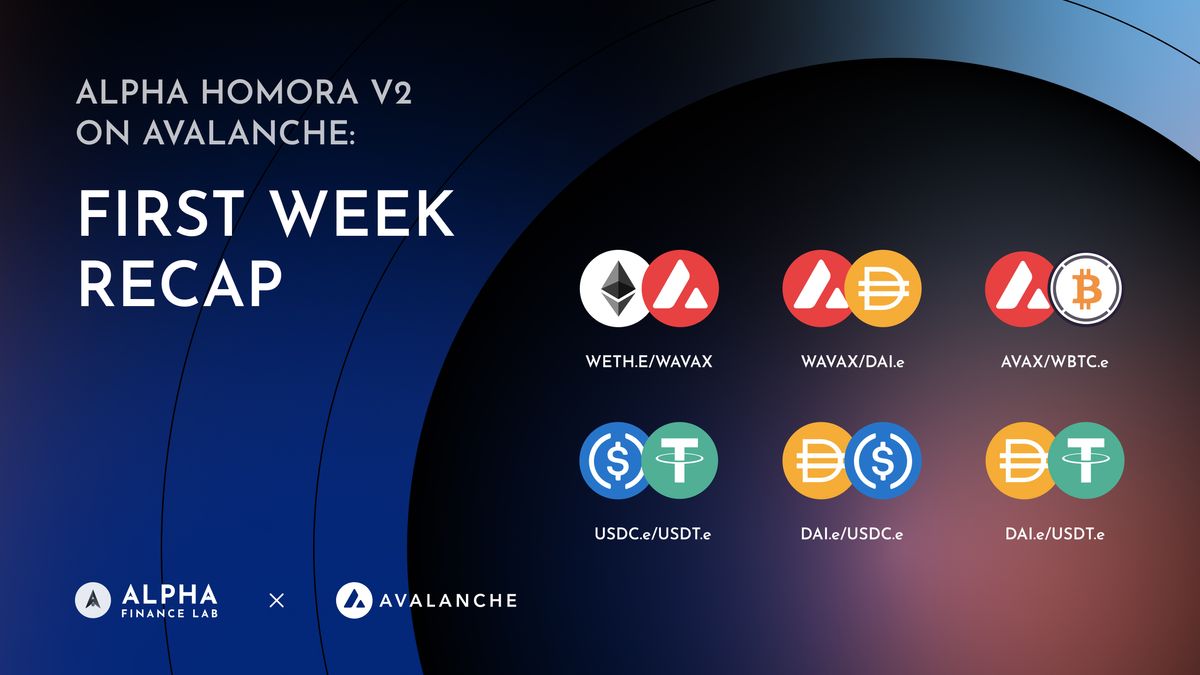 "Pssst… have you heard about the new farm pools that have APY of 200-350%"?! "What? Tell me more!"
Last week, Alpha launched Alpha Homora V2 on Avalanche with a huge success and continues to grow exponentially with more users coming to yield farm. We hope by breaking the gas fee obstacles for many users, new users can enjoy leverage yield farming using Alpha Homora V2 on Avalanche. Within the first week of the launch, we have seen a high adoption rate with the number of current positions reaching more than 50% of the positions on the Ethereum chain.
Here are some key metrics we'd like to announce so that we can revisit them together again as Alpha continues to bring more values to our users on Avalanche. Be sure to keep an eye out for more assets, pools, and rewards!
As of October 28, 2021 5:00 UTC
1. Total Value Locked
2. Number of Positions
On Avalanche: ~290 positions
On Ethereum: ~535 positions

Introduced Lending Assets
Our launch of Alpha Homora V2 on Avalanche has been smooth and without a lot of hiccups. For lenders on the new chain, there's definitely new assets to be expected. Across the week, we have introduced 6 assets to the lending pool. Here's a quick recap:
AVAX
USDT.e
USDC.e
WETH.e
DAI.e
WBTC.e
New Farming Pools
For the leverage yield farmers, fear not! There's definitely new opportunities created with the pools we added on Avalanche. During this whole week, we have been seeing very high APY that have maintained in the range of 200-300% consistently. If I were you, I'd better hop on to be the early riders on this Avalanche rocket ship. More pools will definitely follow but as of this past week, we have introduced a total of 10 new pools from Trader Joe and Pangolin combined. Here's a quick recap:
1. Trader Joe
AVAX-USDT.e
USDC.e/AVAX
WETH.e/AVAX
AVAX/DAI.e
USDC.e/USDT.e
WBTC.e/AVAX
USDC.e/DAI.e
USDT.e/DAI.e
2. Pangolin
Next Milestone
In a span of just over a week, Alpha Homora V2 on Avalanche have already garnered over $78M in TVL and seen over 290 new positions being opened in pools that have breached 350% APY. This feat could not have been accomplished without the tremendous support from Alpha and Avalanche community, which represents a big milestone for us on the launch. Moreover, this is only the beginning as the achievements are only from pure farm pools with no additional incentives added yet. For Alpha users, we will continue to push out more upgrades to the protocol including more farm pools, lending assets, and new rewards given to users. Looking back at the success of Alpha Homora V2 launch on Ethereum, we will ensure to keep the strengths and experiences we had to hone and make Alpha Homora V2 on Avalanche even bigger and better.
Try out Alpha Homora V2 on Avalanche today: https://homora-v2.alphafinance.io/
---
About Alpha Finance Lab
Alpha Finance Lab is a DeFi Lab, and on a mission to build