Incubated Project
Alpha Incubate Demo Day: Bringing You to the Forefront of Web 3.0 Innovation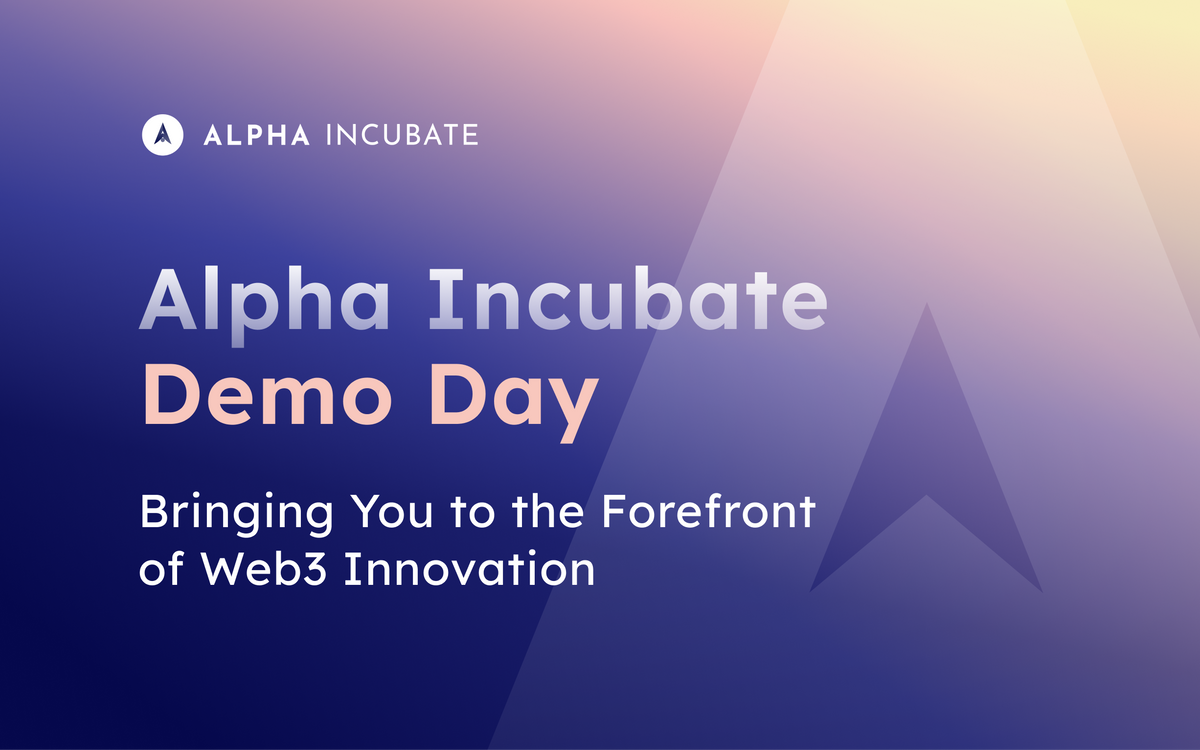 It's time we start counting down to Alpha Incubate Demo Day!
This year, Alpha Venture DAO brings you to our first ever Demo Day. 🎉
From 260 projects evaluated by the Alpha team, here are the top 4 projects that made it into our Alpha Incubate program and will be presenting on Demo Day to an invite-only audience of investors.
Daft Analytics (DaftDogz)
- NFT Analytics
Metaforo
- SocialFi, DAO Tooling
Sharpe
- DeFi (Decentralised Structured Investment Products)
Fuku
- NFT Options Marketplace
Be the first to discover these upcoming startups that have been incubated by us before anyone else, and have the first opportunity to set up private meetings with the startups after Demo Day!
The event will be held online on Wednesday, August 24th, 2022 (9:00-10:00 AM ICT)
To receive an invitation, please register at this link. The Alpha Team will review all applications and send out the invitation upon approval.
Can't wait for the event? Here's some more about the startups and how they got here!👇

These projects are part of the first batch of Alpha Incubate and have aced through our high-standard evaluation process, demonstrating that they are of high-quality, have a strong product-market fit, and bring real value to Web 3. In addition, with mentorship from Alpha Network, a growing community of Web3 thought leaders, these high-potential projects are fine-tuned to achieve their highest quality for long-term success.
FAQ
What is Demo Day?
On Demo Day, our incubated projects' founders will present their protocol to specially selected investors. The Demo Day will be a 1-hour event on Wednesday, August 24th, 2022. Investors will have the chance to schedule a call with our incubated projects that they're interested in following the session.
Demo Day is a private, invitation-only event. If you are selected to join, you will get a confirmation with the event link sent to your email by August 23th, 2022.
Why didn't I receive an invitation after I applied?
We wish to limit access to these high-quality projects only to our special guests so that they are the first to get in touch with them. Hence, we have limited spots available for the event.
All registrations will be reviewed by the Alpha team, and only qualified applications will receive an invitation.
When's the latest I could apply?
We will stop taking applications after Tuesday, August 23rd, 2022 (00:00AM ICT).
Can I share my invite with someone else who is interested in seeing the projects?
The invitation to Demo Day is only for you. It is not transferable and cannot be used for multiple people.
How is Demo Day structured?
Demo Day will be a 1-hour session that takes place virtually on August 24th, 2022. The founders of each project will present for 5 minutes, followed by 5 minutes of Q&A to allow you to ask any burning questions you might have. After that, you will have a chance to express your interest in any of the projects you want to schedule a call with. The attending investors will have access to the live stream, be the first to access the startups information, and have the opportunity to connect with each one of them.
Alpha Incubate team will be the one to connect investors and startups directly after the event.
Can I get information on which companies will be presenting?
We don't share details of the projects in advance of Demo Day. Only investors attending the event will get access to these startups during pitching on the day. However, you can keep an eye on our Twitter account for posts related to these projects.
If you have any further enquiries, please email us at incubate@alphafinance.io.
---
About Alpha Venture DAO (Previously Alpha Finance Lab)
A Builders' DAO. We explore and innovate at the fringes of Web3 and drive significant value to Web3 users, and ultimately, alpha returns to the Alpha community.Join our Telegram/Discord for the latest updates, follow us on Twitter, or read more about us on our Blog and Document!