As we approach the year-end, let us share with the Alpha Wolves community the roadmap we have installed for 2021. Though year-end is right around the corner, we continue to stay focused on key milestones that will push Alpha Universe to the next growth stage.
The roadmap will be broken down into Alpha product (Alpha Homora, AlphaX, Alpha Buy Wall), Alpha Launchpad incubator program, and finally Alpha Tokenomics.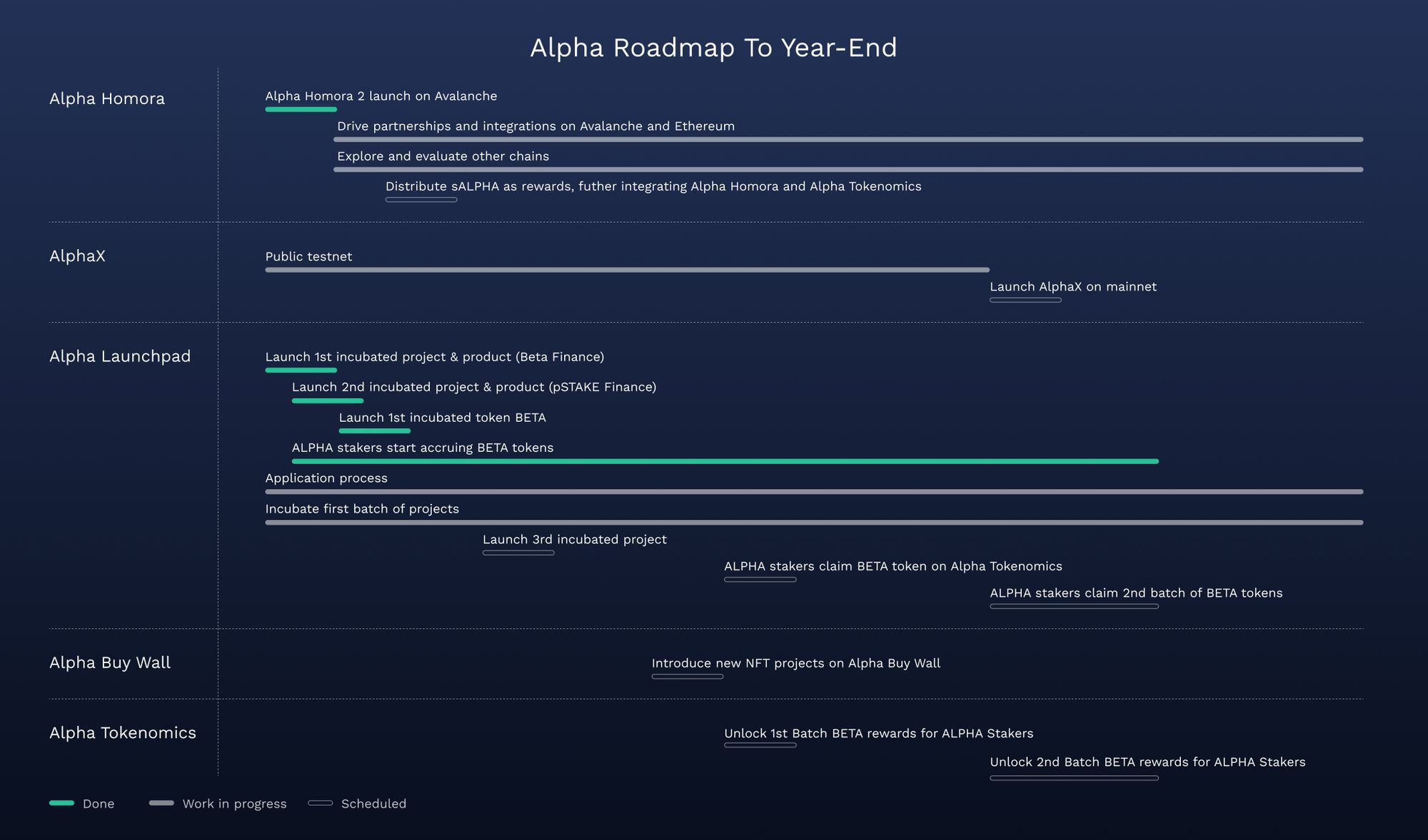 Alpha Homora
Having our users in mind, we will continue to drive more partnerships and integrations for Alpha Homora V2 on both Ethereum and Avalanche for the rest of this year to expand the usability and rewards for our users. In parallel, we will continue to locate and capture the demand to lend and leverage yield farm on other chains and L2 solutions.
For Alpha Homora V2 on Ethereum, the product will be integrated with Alpha Tokenomics to create a positive feedback loop for both users and stakers on Ethereum. As rewards from Alpha Homora V2 will be auto-staked, users will accrue more rewards from staking ALPHA, benefit from the growth of Alpha Universe including Alpha products and Alpha Launchpad, and be able to unlock higher leverage on Alpha Homora V2 product.
Alpha Homora V2 launching on Avalanche was a success that brought more than ~$90M in TVL without additional incentives needed.
We have been intensely testing the AlphaX testnet with our community members. This allows us to implement many practical tools on the DApp that gives a better experience for our users when we launch it on the mainnet in Q4, 2021. Furthermore, we know that AlphaX will be a product that is gas-fee sensitive, so AlphaX will not be launched on the Ethereum network to remove the burden on users' end. We will disclose this in full detail in the coming days on our Twitter!
To further boost the usage of Alpha Buy Wall, we are planning to launch more NFT projects that our community voted to the marketplace in Q4, further growing Alpha's presence in the metaverse.
Ever since we launched the Alpha Launchpad incubator program, we have been actively searching for and evaluating high-quality projects that will innovate the blockchain and Web3 industries while capturing significant market demand. Accordingly, we have accepted selected high-quality projects to further advise and incubate under Alpha Launchpad. Two of these projects (Beta Finance and pStake) have been launched and one of these projects (BETA) has an active token that is currently allocating to ALPHA stakers for users to claim in Q4.
In Q4, the Alpha Wolves community can expect to see the 3rd Alpha Launchpad incubated project to be announced, so stay tuned! This will also be a part of the Alpha Universe where ALPHA stakers can also claim an allocation of their native tokens.
The first Alpha Launchpad project, Beta Finance, has been distributing BETA to ALPHA stakers who have in turned become heavy users of Beta Finance dApp and long-term investors of BETA. Moving forward, November 18 will be the first day for ALPHA stakers to claim the 1st batch of BETA allocation. This will be followed by the 2nd batch in December, January, and February (divided equally among 3 months).  
We hope that this roadmap gives our community more clarity and transparency on what we aim to achieve by year-end. As always, we will continue to push out more updates throughout November and December!  
Work is calling, time to build again, talk to you next time Alpha Wolves!
---
About Alpha Finance Lab
Alpha Finance Lab is a DeFi Lab, and on a mission to build