It's crazy to think that Alpha Finance Lab was launched less than a year ago (our birthday is on October 10th)! Though Alpha is a billion dollar fully diluted valuation project, we will continue to innovate and move at the pace natural to the blockchain industry.
We have built the Alpha DeFi ecosystem, the Alpha Metaverse, and the Alpha Launchpad incubator program, in less than a year. All of these ecosystems bring value accrual back to Alpha community as well as ALPHA stakers who stake on Alpha Tokenomics.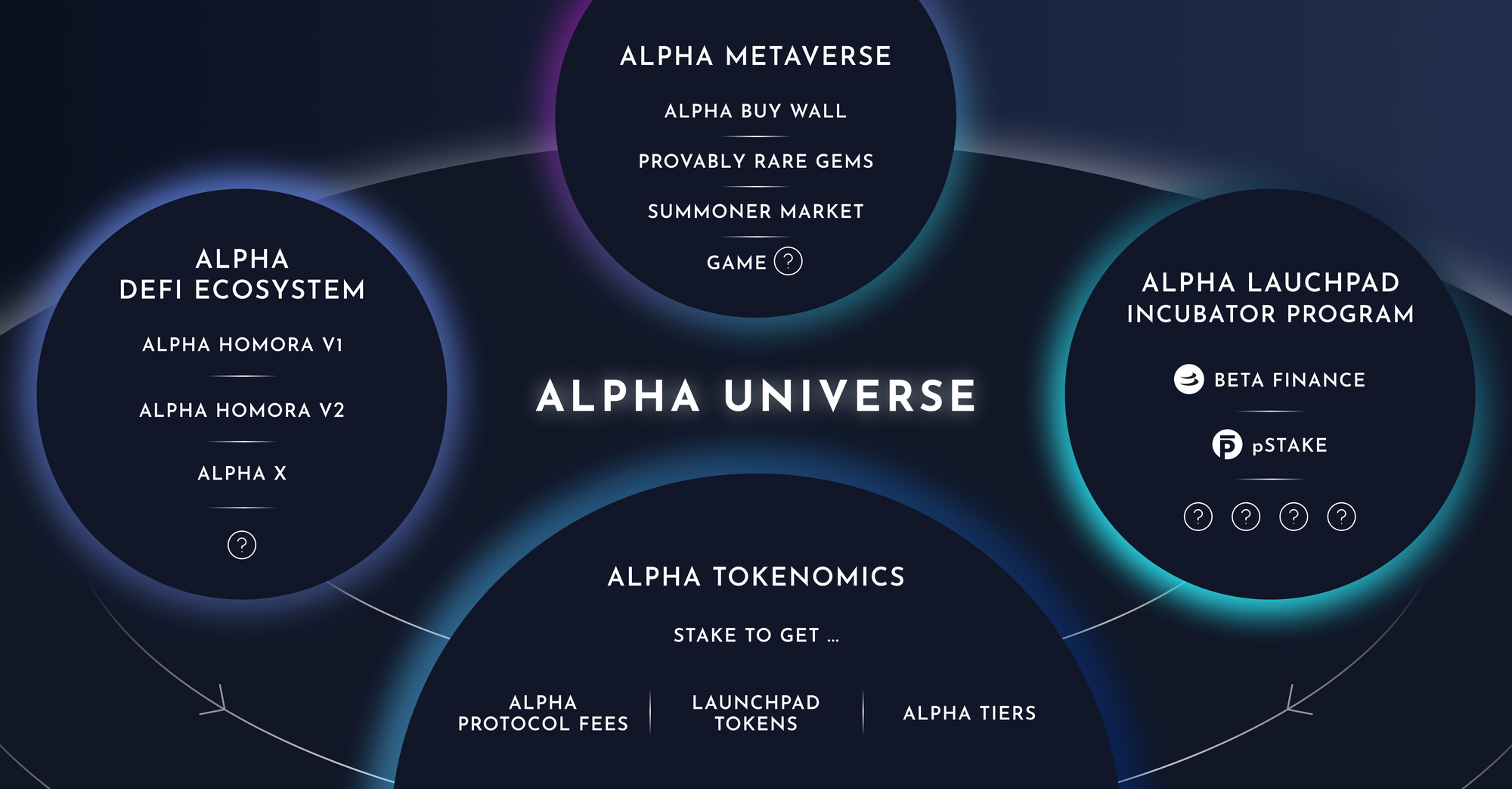 Each ecosystem will continue to grow and branch out. Therefore, we are officially launching separate Twitter accounts for each ecosystem!
Follow Alpha DeFi Ecosystem Twitter here
This is the place to be for those who are interested in the financial system of the Alpha universe and aim to earn more tokens and maximize yields!
We will announce and share what we are building in DeFi, including expanding Alpha Homora V2 to other chains and L2, upcoming AlphaX, and more Alpha DeFi products.
Follow Alpha Metaverse Twitter here
This is the place to be for those punks/loots/bloots/summoners and many more out there who are ready to join the Alpha Metaverse!
We will share the most updated development on Alpha NFT ecosystem, such as Alpha Buy Wall and Provably Rare Gems as well as new developments such as Alpha Games (shhh... don't tell anyone about this yet).
And for those mining the GEMs from Provably Rare Gems, be sure to join the Discord group here to meet other miners and GEMs holders!
Follow Alpha Launchpad Twitter here
This is the place to be for innovative founders of blockchain projects and Alpha Wolves who want to get insights on how we evaluate projects, what value we bring to projects, why we think these projects are special, and how each incubated project works.
Now, let's take a closer look at each ecosystem.
Unwrapping the Alpha DeFi ecosystem
Alpha DeFi ecosystem started out with Alpha Homora on Ethereum. We continued to expand the product line with Alpha Homora V2 and vBSC, building a whopping TVL of over $1B in a short amount of time. After setting a proper infrastructure for Alpha Homora V2 to scale effectively, we're expanding onto the other chains and Layer-2s.
Alpha DeFi ecosystem is now expanding further with AlphaX, which will play a key role in derivatives and perpetual swaps area. We have completed 2 rounds of security audits and are working on the front-end development now.
Finally, we will definitely keep an eye out for unaddressed market demand and market gaps and launch more DeFi products that will capture these gaps.
For the community to get the latest news on the Alpha DeFi ecosystem, follow the Alpha DeFi twitter account here.
Unwrapping the Alpha Metaverse
Blockchain technology and the cryptocurrency industry has evolved rapidly since the beginning of Alpha, growing beyond DeFi and into the realms of the Metaverse and NFTs. The Alpha team sees huge amounts of untapped potential and growth in the Metaverse and its communities, which is why we launched Alpha Buy Wall and Provably Rare Gems, ensuring that Alpha moves along with the market.
Alpha Buy Wall is an NFT bidding platform that creates a price floor for NFT collections. With Alpha Buy Wal, we will be able to build many applications on top of the NFT price floor created from this product.
Additionally, we also launched Provably Rare Gems, which introduces the brand new concept of "Provable Rarity", a new concept to the entire world. We have already expedited the growth of this product, launching it on Fantom today and will be integrating with Andre Cronje's Rarity, allowing the gems to partake as one of the elements in his game.

These products will provide us with a foundation to expand further into the Metaverse, exploring the possibilities of building a game to support the application and use-case of these Gems and other Alpha Metaverse products.
So, if you are interested in following the Alpha Metaverse, follow our Alpha Metaverse twitter here.
Unwrapping the Alpha Launchpad incubator program
Alpha Launchpad is an incubator program to advise and incubate great projects on blockchain. Beta Finance, the first Alpha Launchpad project, was recently launched with more than $200M in TVL already. Beta Finance aims to address the market demand for a one-stop short selling tool in a permissionless market that supports any crypto asset.
Beta Finance is only the first project that has been launched, and there are actually five more projects in the pipeline that we have onboarded. These projects are not limited to DeFi, as they are also in the NFT and Metaverse side of things.
Join Alpha Launchpad Twitter here, to follow our highlights on how we evaluate projects, what value we bring to projects and also why we think these projects are special.
Closing Thoughts
Though Alpha Finance Lab started out as a DeFi lab when the main use case of blockchain technology revolved around financial applications, the blockchain industry is evolving fast with the expanding use cases and community to NFTs and the metaverse, disrupting the entertainment industry. We will not limit ourselves to only innovating in the DeFi space, but will move together with the broader blockchain industry to build, innovate, and disrupt other industry segments that blockchain technology touches upon.
---
About Alpha Finance Lab
Alpha Finance Lab is a blockchain Lab, and on a mission to build Alpha Universe. Alpha Universe includes the Alpha DeFi ecosystem (Alpha Homora, AlphaX), Alpha Metaverse (Alpha Buy Wall, Provably Rare Gems), and Alpha Launchpad incubator program.
Join our Telegram/Discord for the latest updates, follow us on Twitter, or read more about us on our Blog and Document!