Others
AlphaX Mainnet: See What We've Improved From the Testnet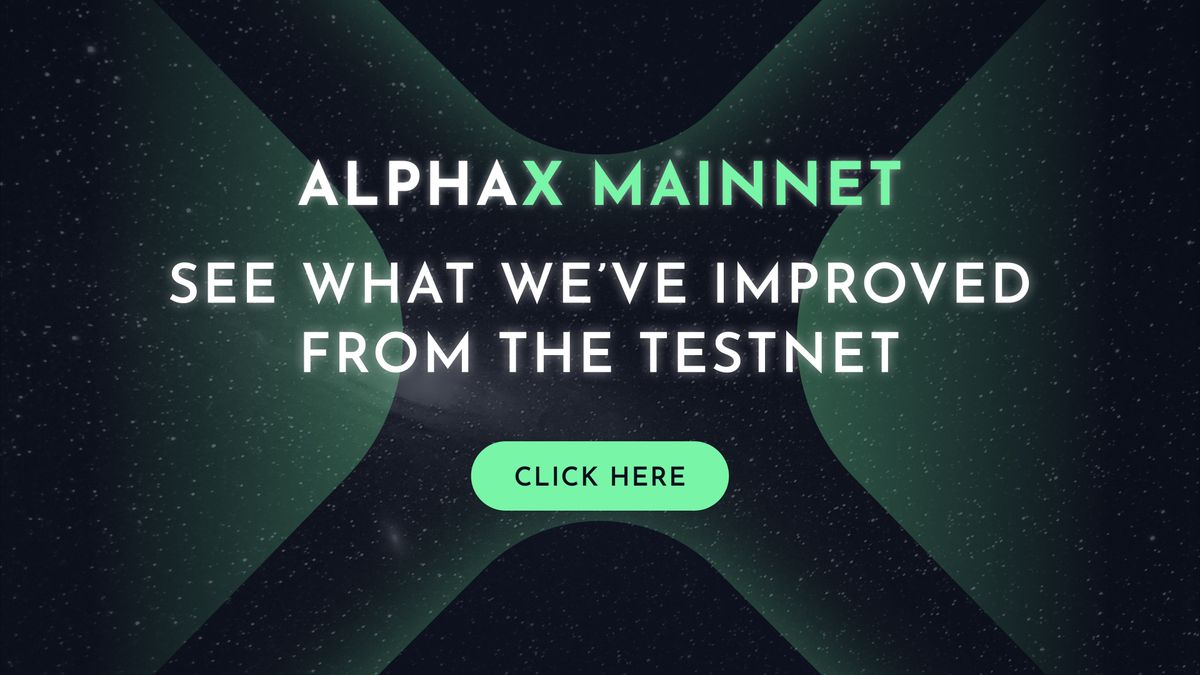 It's finally here, AlphaX mainnet! In less than 24 hours AlphaX will be available for you to SHORT or LONG an asset in the most capital-efficient way. If you are new to AlphaX, you can read in more details here.
After launching the AlphaX testnet on September 30th, 2021, we've been collecting feedback from our users to improve the final product to be as perfect as possible, from both technical and user experience points of view. We listened to our users and held several Alpha Team brainstorming sessions to fine-tune the final product to suit the market demand as much as we can. So, let's dive deeper into what we've improved on the new AlphaX mainnet.
Improvements and Changes
We try to make AlphaX as user friendly as we can. As we know that the concept of derivative trading can be challenging for many, we decided to revamp the original HOME page to a new AlphaX Landing Page. Like its page's name "HOME", it contains all the information necessary for anyone to navigate around AlphaX. For instance, the information about TVL, available Strike Tokens on the Market, APY for Strike Token/USDC liquidity pools, etc.
Since the "HOME" page originally served as a display page, showing all available Strike Tokens on the market, where is this shown now? We created a separate page called the "MARKET" page to display all this information instead. Moreover, on the testnet, Strike Token's liquidity pools are displayed on the same page at the very bottom, which can be hard to find and ineffectively impact users' experience. Hence, we moved it to another sub-page where users can switch between Strike Tokens Market and available Liquidity Providing Pools.
Moving on to the small details we've added to make our users' experience as pleasant as possible. First, the Alpha mainnet will remember the asset you previously selected on the "MARKET" page, therefore, you don't have to keep switching the chosen asset every time you visit the "MARKET" page. Secondly, on "MY PAGE", you can view the number of active and liquidated Strike Tokens from the number in the brackets.
Get your First Strike Token
Tomorrow, December 8th, 2021, at 14:00 UTC, the AlphaX mainnet will go live with 2 different underlying assets: AVAX and WETH.e, each with 6 different Strike Tokens, but we would like to stress that this is only the beginning. Similar to the pool launches of Alpha Homora V2 on Avalanche, we will continue to add more assets to the AlphaX as usage grows. So, what asset do you want us to list on the AlphaX mainnet, tell us here!
---
About Alpha Finance Lab
Alpha Finance Lab is a blockchain Lab, and on a mission to build Alpha Universe. Alpha Universe includes the Alpha DeFi ecosystem (Alpha Homora, AlphaX), Alpha Metaverse (Alpha Buy Wall, Provably Rare Gems), and Alpha Launchpad (incubator program).
Join our Telegram/Discord for the latest updates, follow us on Twitter, or read more about us on our Blog and Document!