Announcing Alpha Launchpad's first incubated project - Beta Finance
What is Beta Finance?
Beta Finance aims to offset crypto volatility and brings about market stability through a short-selling tool coupled with a permissionless money market.
In traditional finance, short-selling, or borrowing the asset to sell immediately at the inflated value and buying it back at a more reasonable value, has been adopted prominently as a countering force to offset market volatility by traders, financial institutions, and banks. This mitigates the overly upward pressure and allows the market to function efficiently.
With Beta Finance, DeFi users will be able to short any crypto asset with just a click of a button. Beta will borrow tokens users looking to short on Beta money markets and carry out the short position for users. On the other hand, holders of any crypto tokens may create a money market on Beta to lend and get high lending APYs in return.
This comes at a time in which users cannot short the crypto assets they want to short, as these assets are not supported by any existing money market in DeFi. Even if the shorted asset is supported by an existing money market, Beta will remove the need for users to interact with various DeFi protocols and paying gas fees on multiple transactions.
Alpha Launchpad x Beta Finance
The extreme price volatility ever-present in the current landscape, causes unpredictability to investors, both retail and institutional. The precariousness of token prices that climb exponentially within a short period of time leaves many of these investors vulnerable to huge price exposure, and we believe this is where the short-selling feature of Beta Finance will fit in perfectly.
We chose Beta Finance as the first Alpha Launchpad project because it addresses a gap in the market which has been unsolved in DeFi - a one-stop shop for short-selling of any crypto asset. We believe Beta Finance is a critical piece of financial infrastructure to bring about market stability, a product offering that is needed and absent in DeFi.
For more information on Beta Finance, check out their launch announcement here!
The Beta Finance team will also be joining us tomorrow, 9th of July for a Ask-Me-Anything (AMA) session on the Alpha Finance Lab Discord channel for anyone and everyone to find out more about Beta Finance!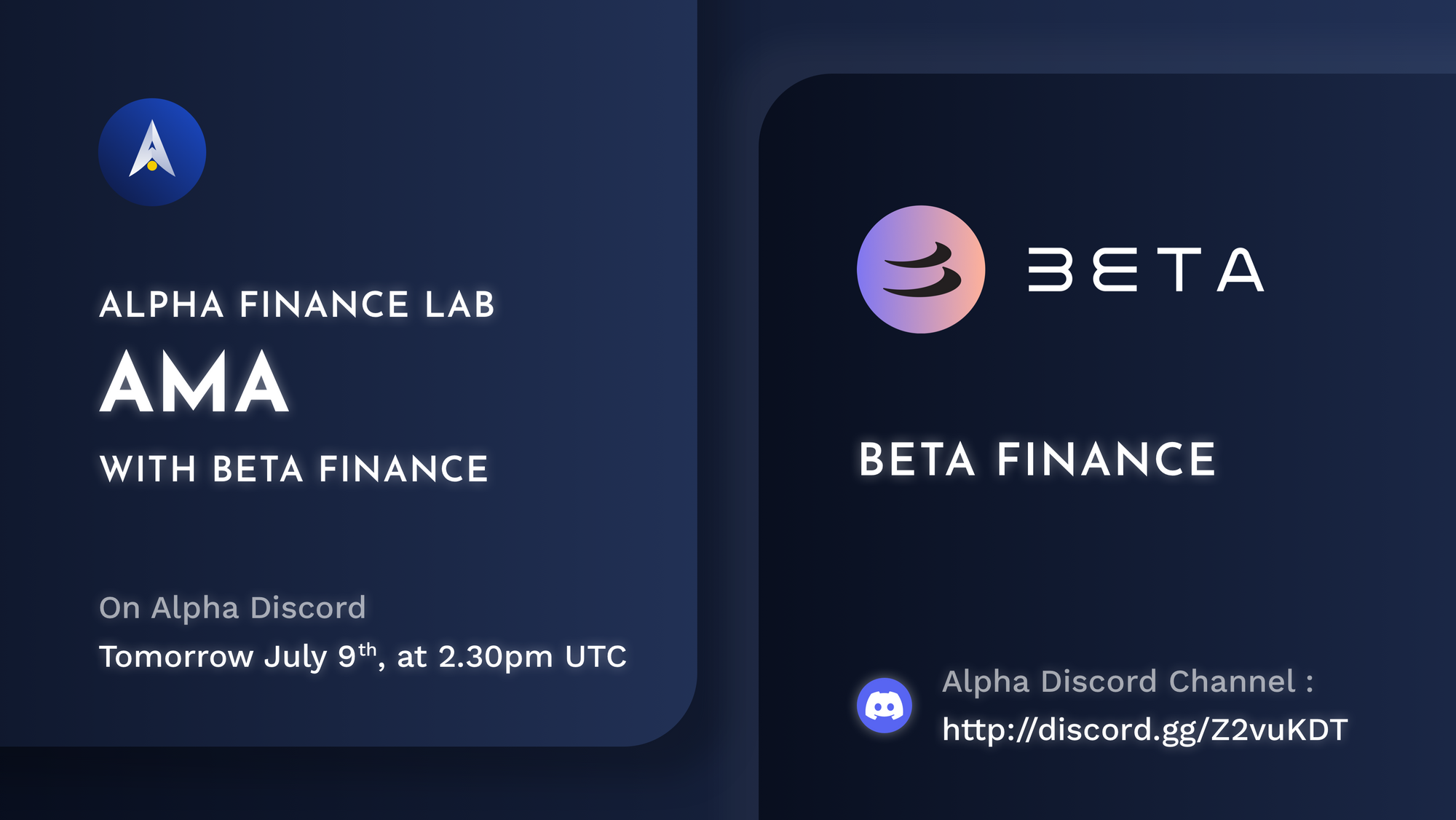 Closing Thoughts
Alpha Launchpad's incubator program was set up to ultimately grow the Alpha Universe and bring more value accrual to ALPHA stakers by incubating key building blocks of DeFi, with the first being Beta Finance. The support and guidance provided by Alpha through the Alpha Launchpad will act as a catalyst for DeFi teams to push their projects forward, be it in terms of product-market fit, tech work and even fund-raising strategies. Interested DeFi teams should check out the application process here.
---
About Alpha Finance Lab
Alpha Finance Lab is a DeFi Lab, and on a mission to build Alpha Universe. Alpha Universe includes the Alpha ecosystem, which consists of Alpha products that interoperate to maximize returns while minimizing risks for users, and other ecosystems incubated through the Alpha Launchpad incubator program.
Alpha Homora is Alpha Finance Lab's first product and DeFi's first leveraged yield farming product that also captures the market gap in lending, one of the key pillars of the financial system.
Join our Telegram/Discord for the latest updates, follow us on Twitter, or read more about us on our Blog and Document!