Introducing the 3rd Alpha Launchpad project, GuildFi! GuildFi 'interconnects' the ecosystem of games, NFTs, and communities into one place. With GuildFi, players can discover quality GameFi, acquire NFT, join guilds, and access gaming tools to maximize benefits and rewards across the metaverse. As GuildFi is an Alpha Launchpad incubated project, this opens more doors for Alpha Finance Lab to expand into the Metaverse. Moreover, Alpha Wolves community will also be claiming these expansion benefits as well by obtaining GF token through staking ALPHA on Alpha Tokenomics, when GF token is live.
GuildFi will be allocating 1% of their total genesis supply, or 10,000,000 GF tokens to ALPHA stakers. As GF token launch approaches, we will share more details on the unlocking and vesting schedule of the tokens for ALPHA stakers.
The blockchain industry is expanding beyond DeFi products and engulfing the gaming industry by each day, creating a new world called the Metaverse. However, this space is still in its experimental phase and lacks a fundamental institution to support current players for maximizing their rewards and future players to enter the space risk-free.
Hence, GuildFi becomes an important element that sets the strong foundation for the Metaverse to exist and flourish by providing essential core features that every GameFi gamers need.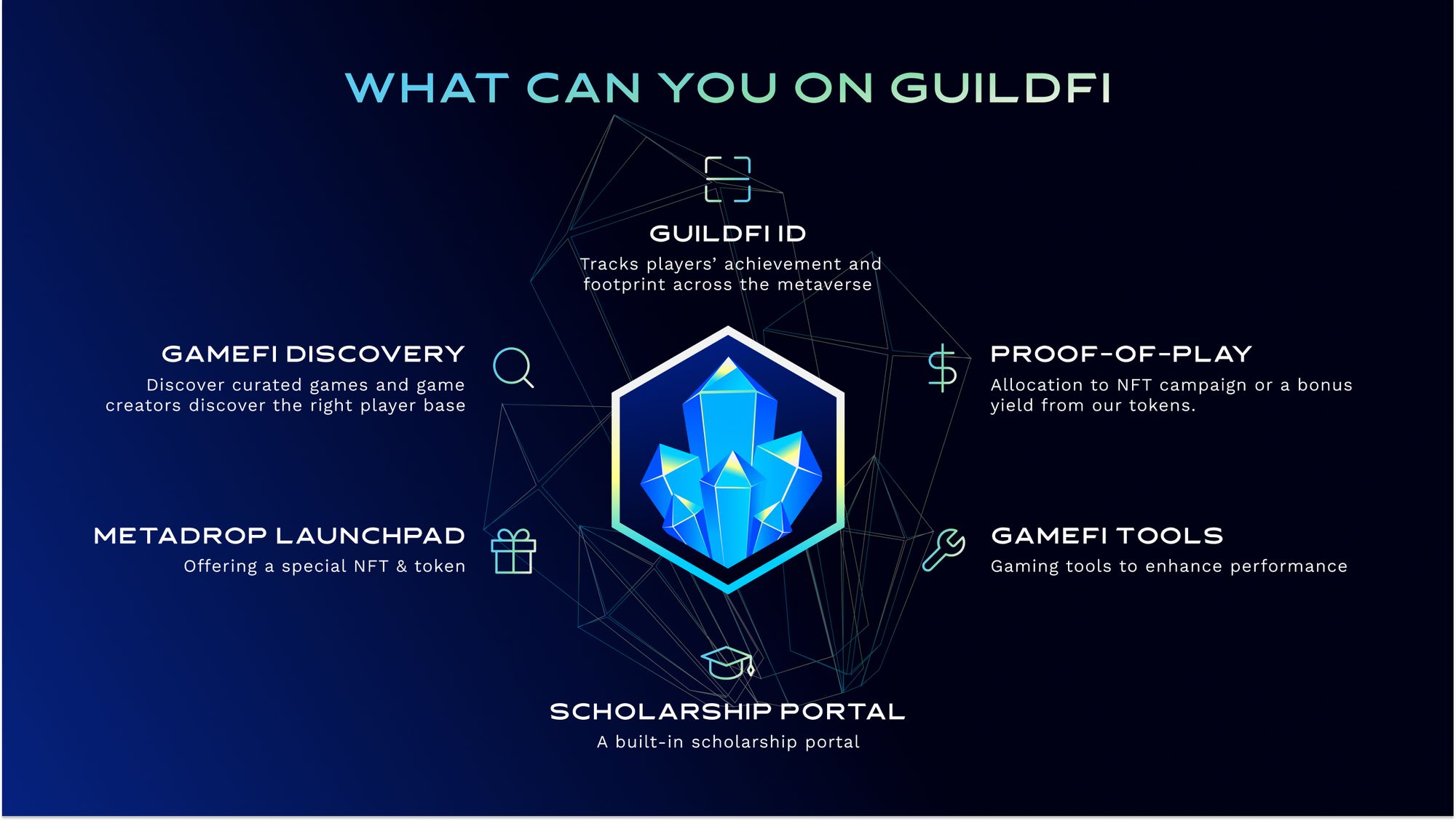 GuildFi helps current players to stay on track and compute all their achievements and rewards across the Metaverse into one place with the help of GuildFi ID. With this, no rewards will be left unchecked or limited to the scope of the game. In addition, as GuildFi tracks players' activities, it also establishes Proof-of-Play Rewards that analyze players' lifetime activities and give the right benefits to the effort given by players. This is further enhanced with Metadrop Launchpad, an allocation of NFT and Tokens to players according to their ranking on GuildFi.
In equivalent, new players also benefit from GuildFi's core features as well. Through Game Discovery players can discover curated games that match their interests. After you have chosen the right game, GuildFi also goes beyond and supplies GameFi Tools that enhance players' performance with gaming tools. Lastly, GuildFi helps reduce the barrier to entry for many players by providing Scholarship Portal that allows players the opportunity to enter the Metaverse with a minimal fee.
Alpha Launchpad
Every project incubated from the Alpha Launchpad has to go through a 'high standard of evaluation process'. This process warrants the quality of projects incubated by Alpha Launchpad, vets that projects have a strong product-market fit, and ensures that projects bring real value to the blockchain ecosystem. GuildFi absolutely aced through all the evaluation and undoubtedly would answer many demands in the GameFi industry. Currently, it has been powering hundreds of guilds in Thailand and Vietnam with its ecosystem tools and offering more than 1500+ axies scholars, which grows at an exponential rate.
Alpha Finance Lab is excited to take you on a journey into the Metaverse through with GuildFi, which will open many doors to high-quality games to the Alpha Universe. We are ready to use the knowledge we obtained from DeFi landscape to help construct something big in the GameFi space.
Closing Thoughts
The Alpha Launchpad incubator program provides every incubated project with an effective business plan from all dynamic angles, whether it's the product-market fit, tech advice, or even fund-raising strategies. We would do our best to advise and incubate projects that bring real and long-term value to our community, whether in DeFi, Proof of Stake, NFT, Metaverse, or other segments. Lastly, Alpha Launchpad projects also bring value accrual to ALPHA stakers by distributing their tokens to the stakers who support our ecosystem. For any teams interested in applying for Alpha Launchpad, check out our application process here.
---
About Alpha Finance Lab
Alpha Finance Lab is a blockchain Lab, and on a mission to build Alpha Universe. Alpha Universe includes the Alpha DeFi ecosystem (Alpha Homora, AlphaX), Alpha Metaverse (Alpha Buy Wall, Provably Rare Gems), and Alpha Launchpad incubator program.
Join our Telegram/Discord for the latest updates, follow us on Twitter, or read more about us on our Blog and Document!