"Creativity is thinking up new things. Innovation is doing new things." - Theodore Levitt
JOIN NOW
Join one of the biggest Terra-focused hackathon today! Alpha Venture DAO is partnering with Terra and many more protocols from the Terra blockchain to create this amazing hackathon for #Lunatics!
Home your Buidl skills, get the training you need to turn yourself from builders to founders, and get the financial support to take your projects to the next level.
No matter who you are, this hackathon is for you (as long as you are #Lunatics at heart):
Frontend & backend developers
Visual and UI/UX designers
Business development and marketing experts
Apart from taking classes with well-known crypto thought leaders, you will also meet like-minded people from diverse backgrounds and talents, who are connected by one shared passion for Web3 innovation. We do not require prior crypto-experience, as long as you know how to build and are willing to share these skills with your team, you are welcome to find a team and join this hackathon!
The total prize pool is $300,000 with 15 winners in total. Unlike any other hackathons, participating teams and winners will have an opportunity to join Alpha Venture DAO's incubation program or to receive grants or funding from Terraform Labs. This is not a one-off event, but a chance to launch your product into the real market and become a real crypto project founder(s). Are you ready?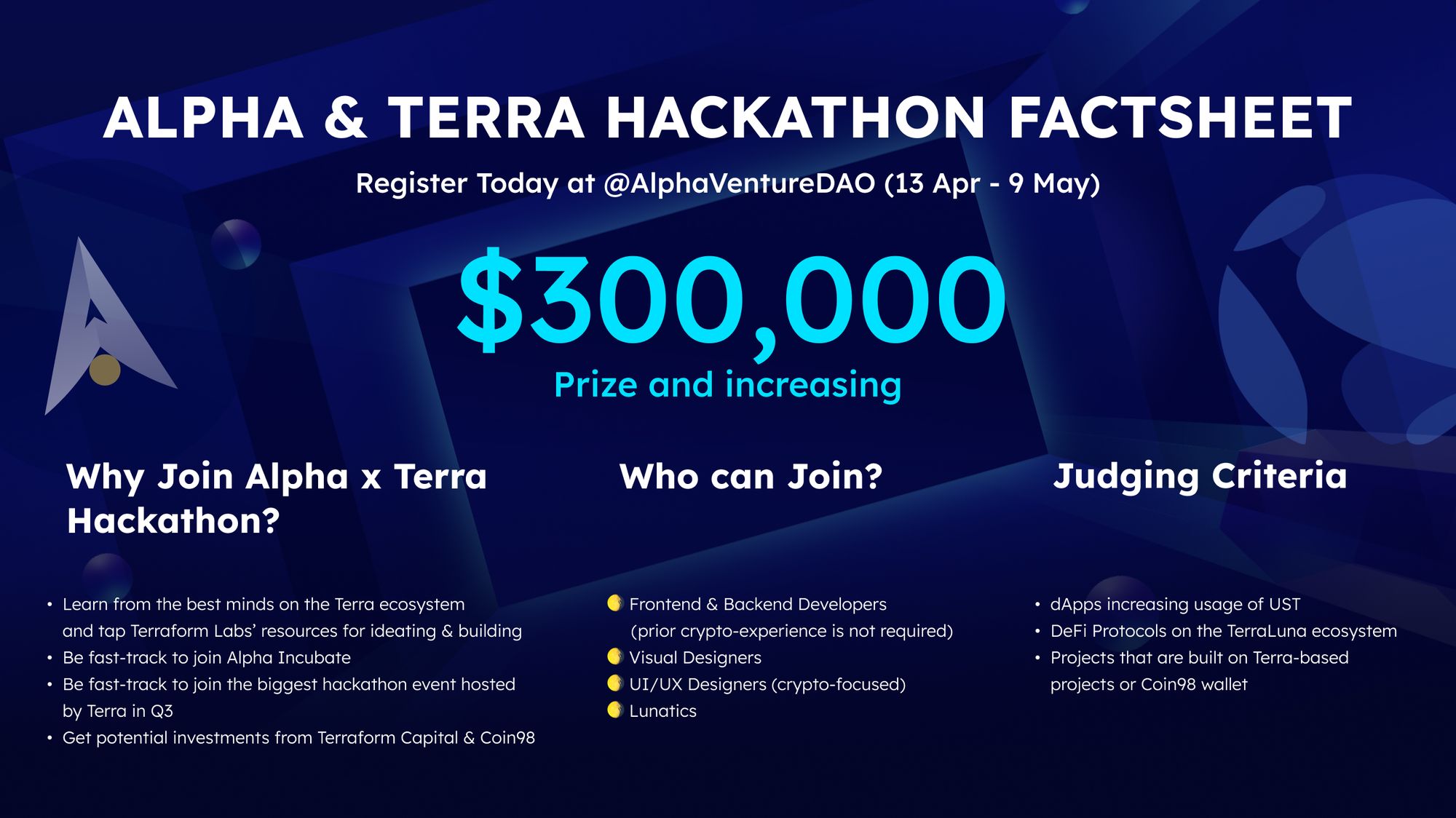 Why You Should Join
👉Chance to win the reward (up to 15 winners in accelerate track and prototype track)
👉Accelerate your growth via useful 10+ workshops and AMAs offered by well-known crypto thought leaders
👉Winners will be considered to get fast track to #AlphaIncubate and funded by Terraform Labs🚀
Here are four simple steps to join

Step 1: Check the timeline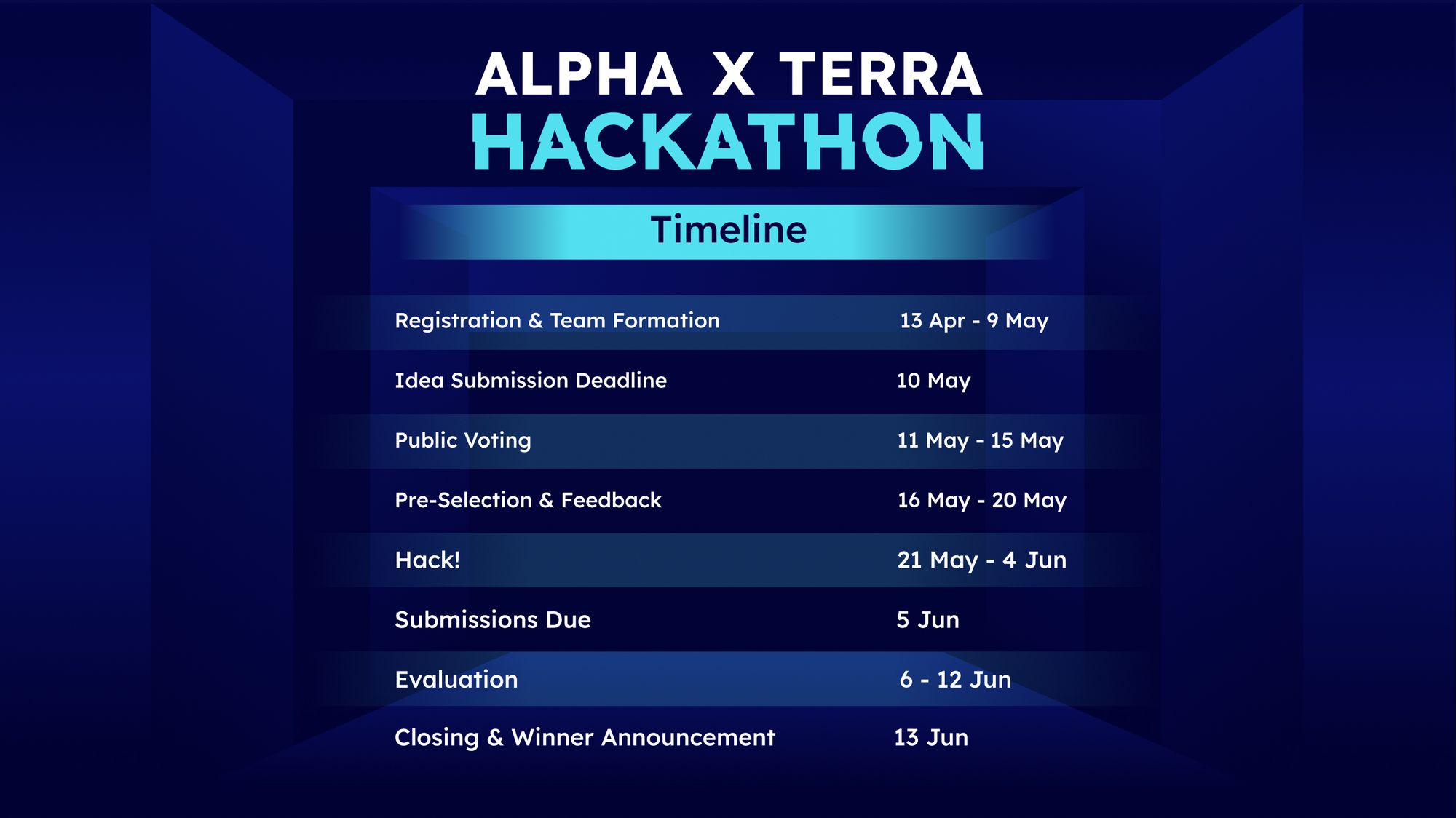 Step 2: Choose the track you want to join (Applicants must choose one track during the Registration period)
1. Prototype Track
Prize: up to 10 projects will win $10K/project
Who's qualified: Applicants don't need to have a team in advance, but can find a team during the Team Formation period. The end goal is for applicants to hack a prototype during the program.
Criteria: Prototype must fit the application criteria set by Terra, Alpha, and partners.
Commitment: Willing to commit 10hrs/week minimum during the 2 weeks of the program.
Why join: Access to dedicated developer focused office hours with Terra, Alpha and partners.
2. Accelerate Track
Prize: up to 5 projects will win $40K/project
Who's qualified: Teams must have an MVP (some code) or fleshed out concepts and existing development talent to participate in this track in order to improve their MVP.
Criteria: Only apply if you are interested in working longer than 2-weeks, and committed for the long term. Most of these projects should have existing proof-of-work and fleshed out concepts, looking to accelerate their efforts and get institutional funding post-program.
Commitment: Willing to commit 10hrs/week minimum during the 2 weeks of the program and committed to growing their project beyond the initial 2 weeks.
Why join: Access to dedicated developer focused office hours with Terra, Alpha and partner projects.
If any winners/projects pass the Alpha Incubate evaluation, they will have the chance to be fasttrack to join Alpha Incubate and be included into Terraform Capital – Terra's venture investment arm for a chance to gain institutional investment and have professional services like auditing subsidized by Terraform Labs (for teams that integrate with Terra platforms).
Register to join the hackathon here before May 9, 2022. Please note that you must form teams by May 9, 2022, at and submit your idea by May 10, 2022, to be shortlisted to join the hacking period.
Join Alpha Discord, and introduce yourself to form a team in #🌖・hackathon-room & #👥・find-team channels.
Sync your calendar with us to get the most updated timeline of this Hackathon here! 📆
Ideate your team's project and submit in the Idea Form

Step 4: Sync your calendar to hear from top-minds in Web3
Starting from April 13th, 2022, till the closing ceremony, June 13th, 2022, this 2-month-long Hackathon will be filled with unforgettable AMAs. Hear from crypto thought leaders, Jason Choi, Darryl Wang, and many more. Moreover, during the hacking period, we also offer classes that are vital to the success of your Dapps, such as "Using oracle", "RPC Infrastructure Workshop", "Tokenomics", and many more. All of these events are available [here]. Down below is the overview of our various phases:
More details below
1. Screening & Judging Criteria
During the "Idea Submission Deadline" phase, we will be screening your teams' ideas. First, in order to pass the evaluation, your project or ideas must fulfill at least one of the following requirements:
Increase usage of UST
DeFi Protocols on the TerraLuna ecosystem
General projects built on Terra

Even though we want to accept all teams who are applying to this Hackathon event, in order to guarantee the quality of each team's final product and the success of the event, not all registered teams will be able to participate in this Hackathon event. This will be based on the screening round before the hacking period starts. Hence, secondly, a team of judges from ALPHA, Terra, and partners will pre-screen and judge winners based on the following criteria:
Novelty (1-3 points)
Fulfill market gaps (1-3 points)
Business model sustainability (1-3 points)
Inclusive and accessible UX/UI  (1-3 points)
Technical/Execution feasibility (1-3 points)
2. Public Voting
After you have formed teams and submitted your ideas to this portal, the community will choose their favorites. Getting a lot of votes doesn't guarantee a winning spot in the hackathon, but it can help. Don't forget to share your projects with your community to increase your chance of winning!
3. Pre-Selection
After the public voting phase, the judges will pre-select teams and notify of their acceptance to the Hackathon in which teams can either accept or deny participation. During this phase, Alpha will ensure teams are focusing on the right thing and aware of how they should tweak their ideas/concepts. The communication will be done primarily on Alpha Discord. The pre-selection will ensure projects have a high chance of winning and ensure projects are building what's needed before actually hacking.
Closing Thoughts
This is the time for you to shine. Bring your ideas into reality with us, in the Alpha x Terra Hackathon 2022! Register Now.
---
About Alpha Venture DAO (Previously Alpha Finance Lab)
A Builders' DAO. We explore and innovate at the fringes of Web3 and drive significant value to Web3 users, and ultimately, alpha returns to the Alpha community.
Join our Telegram/Discord for the latest updates, follow us on Twitter, or read more about us on our Blog and Document!