Incubated Project
Announcing Fuku NFT: Alpha Venture DAO's Incubated Project Bridging NFT and DeFi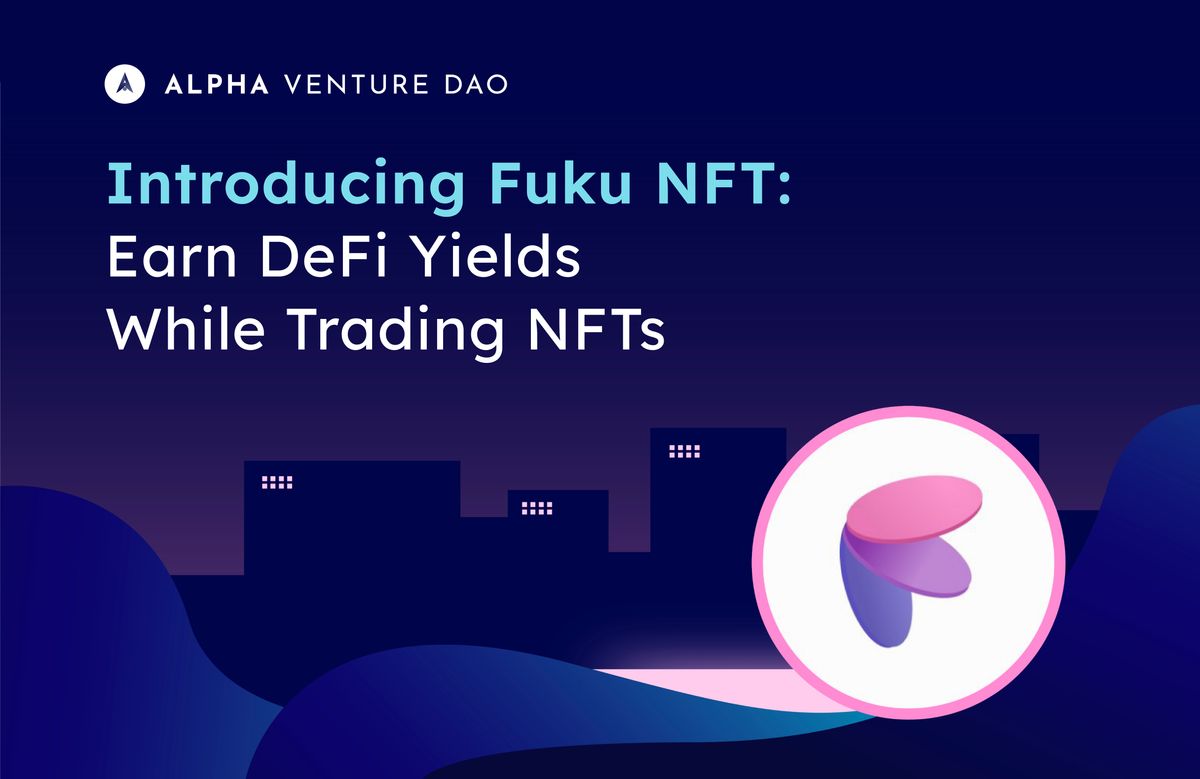 This article was written on April 28, 2022, the information may be changed. Please refer to fuku.exchange for the latest protocol updates and information.
What is Fuku?
Fuku is a project incubated by Alpha Venture DAO that allows users to access DeFi yields or engage in virtually any on-chain activity while trading non-fungible tokens (NFTs). Fuku is a DeFi-connected marketplace that enables NFT buyers to place bids using funds they have deposited in DeFi protocols, presenting the first time ever that users no longer have to forgo DeFi yields to be able to trade NFTs but can instead plug into both ecosystems at the same time. This solves the problem in existing NFT markets where assets used for bidding are locked up as idle assets and are not generating returns. Thus, with Fuku, users trade NFTs while their assets are put to optimal use.
Fuku's incentive mechanisms reward users who leave open bids on NFTs, adding liquidity to the on-chain orderbook. This is not unlike how LPs on popular DEXs like Uniswap get rewards for providing liquidity on ERC20 pairs and close to how traditional exchanges incentivize market makers to add liquidity to their order books. By bringing the already ubiquitous liquidity incentive mechanisms to NFT marketplaces, Fuku hopes to build the deepest liquidity on NFT collections and to enable other decentralized protocols to take advantage of this liquidity.
Fuku is also bringing options to NFTs for the first time. Secure a future price on any NFT and only pay a small premium to the seller in exchange for the right to buy it at this price within a certain amount of time.
NFT traders will welcome the options functionality, the deep liquidity that they can tap into at any time and the incentives of providing liquidity to the on-chain NFT marketplace. Other protocols can also tap into this layer of liquidity to build new products and improve the ecosystem in ways we haven't even thought of yet.
Read here for details on Fuku NFT and follow their Twitter account for updated news!
How it Works
With Fuku, users can deposit their non-yielding assets such as ETH into one of Fuku's supported vaults. Upon launch, Aave, Compound, and Homora V2 ETH lending pools will be supported. When users deposit ETH into Fuku's AAVE vault, for example, Fuku will deposit the ETH with AAVE on behalf of users and credit them with a balance which they can use to bid on NFTs on Fuku's marketplace. Alternatively, users may also choose to deposit their interest-bearing tokens (i.e., aETH from AAVE) directly. In either case, the vaults accrue interest over time, which provides the user with an increasing portfolio balance to bid on NFTs.
Users can submit numerous bids in a single transaction, and multiple bids can be open simultaneously. Each bid can be up to the user's deposited balance. These bids will be valid until one is accepted, or when the user's deposit amount falls below the bid amount.
All bids will be displayed and can be accepted immediately by NFT sellers, providing instant liquidity for the NFT collections. When a bid is accepted, Fuku will withdraw the bidder's funds from the vault, unwind the interest-bearing position to redeem the underlying asset, and distribute it to the seller. Subsequently, the bidder's deposited balance will be updated, and any bids that are above the new deposited balance will be deemed invalid until the bidder
Alpha Incubate x Fuku NFT
NFTs are becoming an increasingly mature market. However, NFT trading venues are primitive. Amongst other problems, bids are locked up as unproductive assets until accepted or withdrawn, collateral is too limiting and there exists no on-chain liquidity repository for NFTs on ETH.  These factors reduce the trading velocity of NFTs due to opportunity costs. We believeFuku is perfectly positioned to address these pain points and fulfill the unaddressed demand of heavy DeFi and NFT investors. We see huge potential for Fuku to ignite widespread adoption of NFTs as collateral by DeFi protocols amongst other composability use cases, as well as giving buyers and sellers increased functionality in making NFT purchases.
This is your chance to contribute to and own another high-quality incubated project of ours! Join our Discord here to stay updated on the activities that you can engage in for this promising project through Alpha Contribute. We are currently working very closely with Fuku to prepare several missions and highly valuable rewards exclusively for our Discord wolf community! Remember! The more you contribute, the more likely you will be shortlisted to join our Alpha Network!
In addition, our ALPHA stakers will also be able to claim benefits from this expansion of our incubator arm with the addition of Fuku by obtaining tokens from the protocol through staking on Alpha Tokenomics. Stay tuned for more details on this!
Closing Thoughts
Alpha Incubate was introduced to ultimately grow the Alpha Universe and bring more value accrual to ALPHA stakers by distributing their tokens to the stakers who support our ecosystem. Along with the Alpha Network, we offer every incubated project with an effective business plan from all dynamic angles, whether it's the product-market fit, tech advice, or even fund-raising strategies. For any teams interested in applying for Alpha Incubator Program check out our application process here.
---
About Alpha Venture DAO (Previously Alpha Finance Lab)
A Builders' DAO. We explore and innovate at the fringes of Web3 and drive significant value to Web3 users, and ultimately, alpha returns to the Alpha community.
Join our Telegram/Discord for the latest updates, follow us on Twitter, or read more about us on our Blog and Document!