Homora V2
How to use Alpha Homora V2 DApp on Avalanche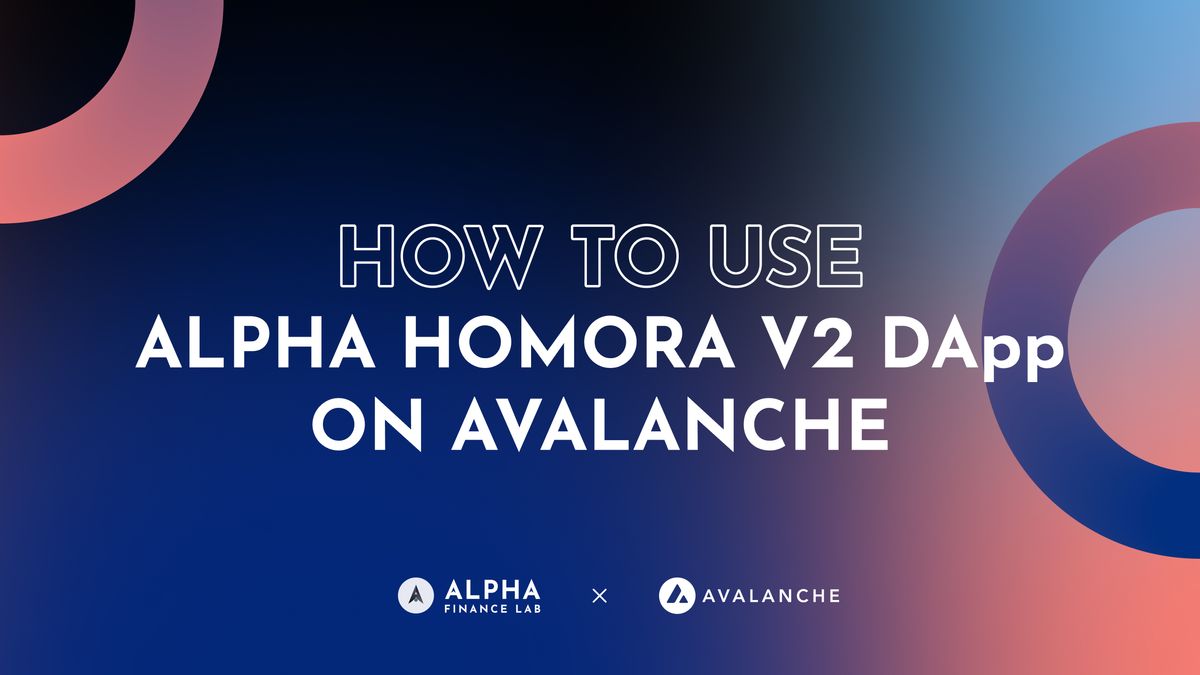 We would like to welcome you to Alpha Homora V2 on Avalanche, the platform that not only redefines what yield farming can be but what it can become.
Alpha Homora V2 has always been a powerful tool for crypto farmers to earn higher farming yields that exceed the max APY or APR set by DEX protocol. Although many users faced obstacles of expensive gas fees, launching Alpha Homora V2 on Avalanche, has opened many doors to various retail users to use our platform and earn higher than ever.
Watch this 5 minutes video on how to Open & Manage Leverage Yield Farming Positions by clicking here:
Leverage Yield Farming
Alpha Homora V2 introduced the leverage yield farming concept to our users on Ethereum. Now we are giving the Avalanche community a taste of our leverage yield farming mechanic. If you don't know what leverage yield farming is, start here.
We have also prepared users with a simple guide on how to use Alpha Homora V2. Please read our guide down below.
But before we go into the guides, let's take a quick look at these numbers when we say high yields…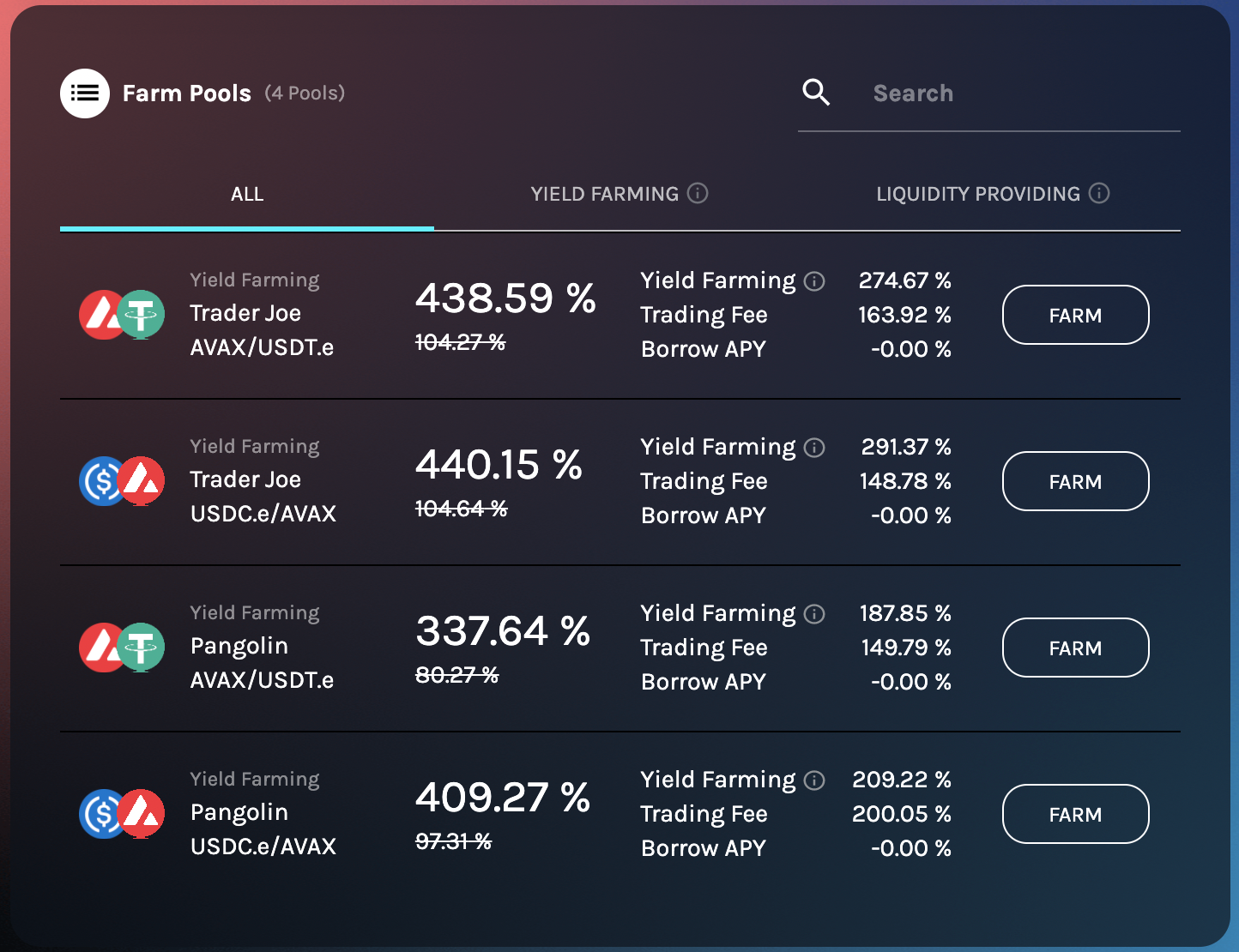 Yes, this means leverage yield farmers get these triple digit APYs when using Alpha Homora V2 on Avalanche! Without further ado, let us walk you through how you can use our product.
Note 1: The screenshot is taken at the time of writing.
Note 2: There are risks involved with leverage yield farming, for more details on the risks see below.
Guide For Leverage Yield Farmers
This guide will be separated into 3 sections:
Opening a leverage yield farming position
Managing leverage yield farming position
Lending
Opening a leverage yield farming position
To open a leverage yield farming position, users need to navigate to the Dashboard page. Next, choose a pool that you are interested in yield farming or liquidity providing. After choosing a pool you want to supply to, you can click "Farm"
Here there are 3 steps users have to go through before users can start providing liquidity/yield farming.
Supply Token
First, choose the number of tokens you want to supply, which you can choose to supply: 1 type of token, LP token, or any combination of the tokens.
Borrow Token
Next, choose the amount of leverage users want on their position. If preferred, users can toggle between Basic farming mode vs. Advanced farming mode. Read more about this function here.
Confirm Strategy
Finally, the UI will prompt users with the strategy users have chosen or the "Position Breakdown". Here users can proceed by approving the token and clicking "confirm".
Managing Leverage Yield Farming Position
There are risks involved with leverage yield farming, which are impermanent loss, liquidation, and price slippage. So we have provided features for our users to manage their position easily. To do this, navigate to the "Your Position" page. For each position you have opened, you can choose to:
Add
By clicking "add" users can add more assets to their leverage yield farming position by increasing the collateral amount to avoid liquidity.
Remove
By clicking "remove" users can remove their assets from their position when the debt ratio is too healthy. To do this, users have to go through 4 steps. First users have to choose the percentage amount users want to remove, and then choose the amount of each asset users want to pay back. Next, users can also choose whether they want their asset to be in LP token or native token. Finally, the last UI will show the summary of users' actions.
Close
By clicking this button, this will close the user's yield farming position, by paying back the loan and giving back the user's asset in native token form.
Harvest
This button will allow users to harvest the yield farmed token rewards or liquidity providing fee rewards. They can then choose to use these rewards to add to their collateral assets.  
Lending
For those who still want to earn yield and bear limited risks, you can use Alpha Homora V2 on Avalanche as lenders. Lenders can lend many assets (e.g. WETH, WBTC, AVAX, USDT, USDC, DAI) on Alpha Homora V2 (Avalanche) to earn from lending interest rate.
Lending interest rate comes from the borrowing interest rate that leveraged yield farmers pay for borrowing the assets from the lending pool to yield farm.
Guide for lenders
To start lending, navigate to the "Earn" page. Here you can see all the assets that users are allowed to lend on Alpha Homora V2. On each token, you can choose to supply your asset to Alpha Homora V2, by clicking on "Supply" or withdraw your assets from it, by clicking on "withdrawal".  
Note: You may not be able to withdraw if liquidity in the lending pool is not enough. This can occur when the asset utilization rate is significantly high. In order to withdraw, either withdraw a smaller proportion or wait until the asset utilization drops.
Iron Bank
Alpha Homora V2 is able to take leverage on many assets without having to bootstrap liquidity by partnering and integrating deeply with Iron Bank or Cream V2 as a source of liquidity.
Read more here.
Closing thought
For a more in depth explanation on Alpha Homora V2 DApp, check out our document here. This launch on Avalanche will not only bring growth to Alpha Homora V2, Alpha Finance Lab, and the Alpha Wolves community, but also bring about a powerful tool to the Avalanche community, a tool that allows users to maximize their yields and capital efficiency while managing the positions easily with the intuitive interface.
---
About Alpha Finance Lab
Alpha Finance Lab is a DeFi Lab, and on a mission to build