June has been such an eventful month here at Alpha. With so much information being shared the past month, we would like to give the Alpha Wolf community our monthly recap on all that has been built in June.
Alpha Homora - Product Usages
At the time of writing, the TVL across all Alpha Homora products is standing at ~$1.19B. This consists of ~$55.9m on V1, ~$1.1B on V2 and ~$81.7m on vBSC.
Alpha Homora V2 has also consistently been able to maintain high lending rates as compared to other lending protocols in the market.
Here is a comparison of the lending rates on V2 with other lending protocols:
As we continue to encourage migration from V1 on Ethereum to V2, we have started to see the TVL in V1 flow over to V2.
Users that are still lending ETH or leverage yield farming on Alpha Homora V1 are encouraged to migrate over to V2 for better lending and farming APY. Specifically, leverage yield farmers on Alpha Homora V2 are gaining ~2x the ALPHA rewards as compared to farming on V1.
A quick comparison showing the APY difference in leveraged yield farming on V1 vs V2:
Here is how farmers can migrate their farming positions from V1 to V2 and how lenders can migrate their ibETH from V1 to ibETHv2.
Alpha Homora - Development & Partnership
In June, we added multiple new features to make the user journey simple yet efficient and had numerous collaborations with our partners.
Basic/Advanced farming mode
We introduced a basic farming mode on Alpha Homora V2, which aims to simplify the farming process by calculating the type and amount of assets borrowed for the users.
We added this feature at the 'Borrow Tokens' stage, which would allow users to select between a basic and advanced farming mode. If the basic mode is selected, the type and amount of asset to borrow will be calculated for the user to minimize price impact from swapping assets on the AMM protocols.
Here is a image showing the basic farming mode on V2:
Farm with Basic farming mode here.
Inactive positions tab feature
We have added a feature to showcase a user's liquidated positions. This would allow users who have open farming positions to know which positions are active and inactive, making it clearer for users.
Alpha Homora V2 x EPNS integration
We also partnered with Ethereum Push Notifications Service (EPNS), to provide users with liquidation notifications on Alpha Homora V2.
Users who subscribe to this notifications channel will receive notifications when their positions are at liquidation risk. This allows users to manage their positions with ease and removes the need to constantly check their farming positions.
Alpha Homora V2 x InsurAce and Nexus Mutual
We are committed to maximizing the security of our products and more importantly, protecting our users through partnering with InsurAce and Nexus Mutual to provide insurance coverage for our users.

Users can now proceed to InsurAce and Nexus Mutual's respective websites to purchase coverage.
Alpha Homora x imToken Wallet
Alpha Homora V2 and vBSC now supports imToken wallet. With this addition, we will be able to tap into a wider network of DeFi, increasing our reach to more users.
Alpha Homora V2 x Spookyswap
Our friends over at Spookyswap provided each early user of Alpha Homora V2 with ~61 BOO tokens, which was ~$200 at that point in time, directly to their wallets on Fantom along with some FTM for gas.

AlphaX
Since the ideation process of the original AlphaX, there have been significant changes to the perpetual swaps and derivatives market.
Instead of launching with what we already had, we took the opportunity to adapt to the ever-changing landscape and redesigned the product, ensuring that it will have significant product-market fit and is simple, user-friendly and optimised for all DeFi users, new and advanced.
The product ideation, fine-tuning for product-market fit, smart contract development, and internal testing have been completed. Currently, the smart contracts are being audited by Consensys.
Alpha Tokenomics
How does Alpha Homora generate protocol fees?
Alpha Homora V2 generate protocol fees by taking 20% (10% on V1 & vBSC) of all borrow interest rates on the protocol. For example, if the borrow interest rate of an asset is at 10%, lenders of that asset will receive a lending interest rate of 8% and the remaining 2% is collected as protocol fees. (9% and 1% on V1 & vBSC)
Fee Accrual and Distribution To Alpha stakers
In additional to Alpha Homora V1 and vBSC, Alpha Homora V2 protocol fees have now started to be distributed to ALPHA stakers. The entire fee accrual is derived from the protocol fees collected across the entire Alpha Homora product suite.
Alpha Homora V2 has generated over ~$943k in fees since its launch in mid-May 2021, which was just over a month ago. With the additional collected protocol fees from V2, Alpha holders can now stake and earn ~13% APY, all of which comes from the collected Alpha Homora protocol fees.
Since the beginning of Alpha Homora V1 in October, vBSC in March and V2 in May, over ~$5.1m in protocol fees have been collected. Applying a 12-month run rate to this number, Alpha Homora products would generate over ~$15.28m in fees on an annualised basis.
Here's a comparison to show where we stand in the market in terms of protocol fees collected:
With ~$15.2m in protocol fees annualised, Alpha ranks 10th on Token Terminal based on protocol revenue generated, standing strong amongst other protocols.
It is worth noting that these fees collected are only from the Alpha Homora product suite and do not include the fees from upcoming projects in the pipeline.
Alpha Staked

The number of ALPHA staked has also been increasing steadily. At the time of writing, over 30% of the circulating supply of Alpha is being staked on Alpha Tokenomics, amounting to ~86.9m ALPHA (~$64.3m). This is definitely a huge milestone for the Alpha Wolf community.
Alpha Tiers
The integration of Alpha Tiers into Alpha Homora V2 is currently in progress. ALPHA stakers will soon be able to unlock higher leverage on V2 depending on the amount of ALPHA staked and their respective tiers.
Alpha x Simp.Love
Holders of 1,000 or more ALPHA and stakers in the Alpha Wolf Pup tier or above were given the opportunity to vote for their favourite Alpha themed NFT by Simp.Love project. 10 lucky winners were airdropped an NFT each!
ALPHA stakers can definitely look forward to more partnerships like these and value accrual from upcoming Alpha products, Alpha Launchpad tokens, and more product-specific features.
Users can stake their ALPHA here.
Alpha Launchpad
In the middle of June, we announced the release of Alpha Launchpad, which was the first and only DeFi incubator program created by builders for builders. Since then, we have been receiving many applications from early stage to late stage DeFi projects.
Alpha Launchpad will attract great talent to DeFi and train this talent pool to innovate and bring value to the space.
ALPHA stakers will also benefit by getting:
A share of incubated projects' tokens
A share of incubated projects' protocol fees
Those using Alpha products will also unlock new DeFi use cases by leveraging the connected building blocks between products of Alpha and those of the incubated projects.
Here are some ways incubated projects can benefit from the launchpad:
Product-market fit: Fine-tune product ideas for the maximum product-market fit
Tech consulting: Technical guidance, smart contract review, and mentorship pre and post launch for the maximum security and tech optimization
Business & growth hacking consulting: Mentor and train the incubated projects on business, marketing, community building, investors relations, and growth hacking tactics to launch and grow successfully
Token economics design: Innovate on tokenomics design to bring maximum utility and value accrual to the tokens.
Fundraising process: Connect and onboard the right top-tier investors based on the nature of the DeFi  platforms and guide the incubated projects throughout the fundraising process
Launch supported by Alpha: Alpha Wolf community will support the incubated projects at launch through providing support such as marketing, PR, and community building
Be a part of the Alpha Universe: Incubated projects will get to leverage a large user base of the Alpha Universe. Alpha Universe is consisted of Alpha products and other products incubated from Alpha Launchpad
Interested teams can check out the application process here.
Alpha Oracle Aggregator
Since the launch of the Alpha Oracle Aggregator in mid may, the aggregator strengthened the security and scalability aspects of Alpha Homora, allowing the protocol to navigate safely through times of volatility and sky-high gas prices.
With increasing demand from DeFi teams looking to alleviate dependencies on a sole oracle solution, we partnered with Band Protocol to connect and support interested DeFi teams to integrate with Band Oracles and on-chain price feeds such as Uniswap and Sushiswap in a permissionless manner via Alpha Oracle Aggregator.
Interested DeFi teams can now reach out to Alpha and get connected to Band Protocol to start scoping out details immediately for a customised oracle solution. Support for customization is currently still in production but once it is ready, the teams that have the details scoped out will be able to integrate immediately.
AMA in the Alpha discord channel
We will have an open Ask-Me-Anything (AMA) event on July 7th, 3:30PM UTC on Alpha discord for the Alpha Wolf community! Come join and get some alpha!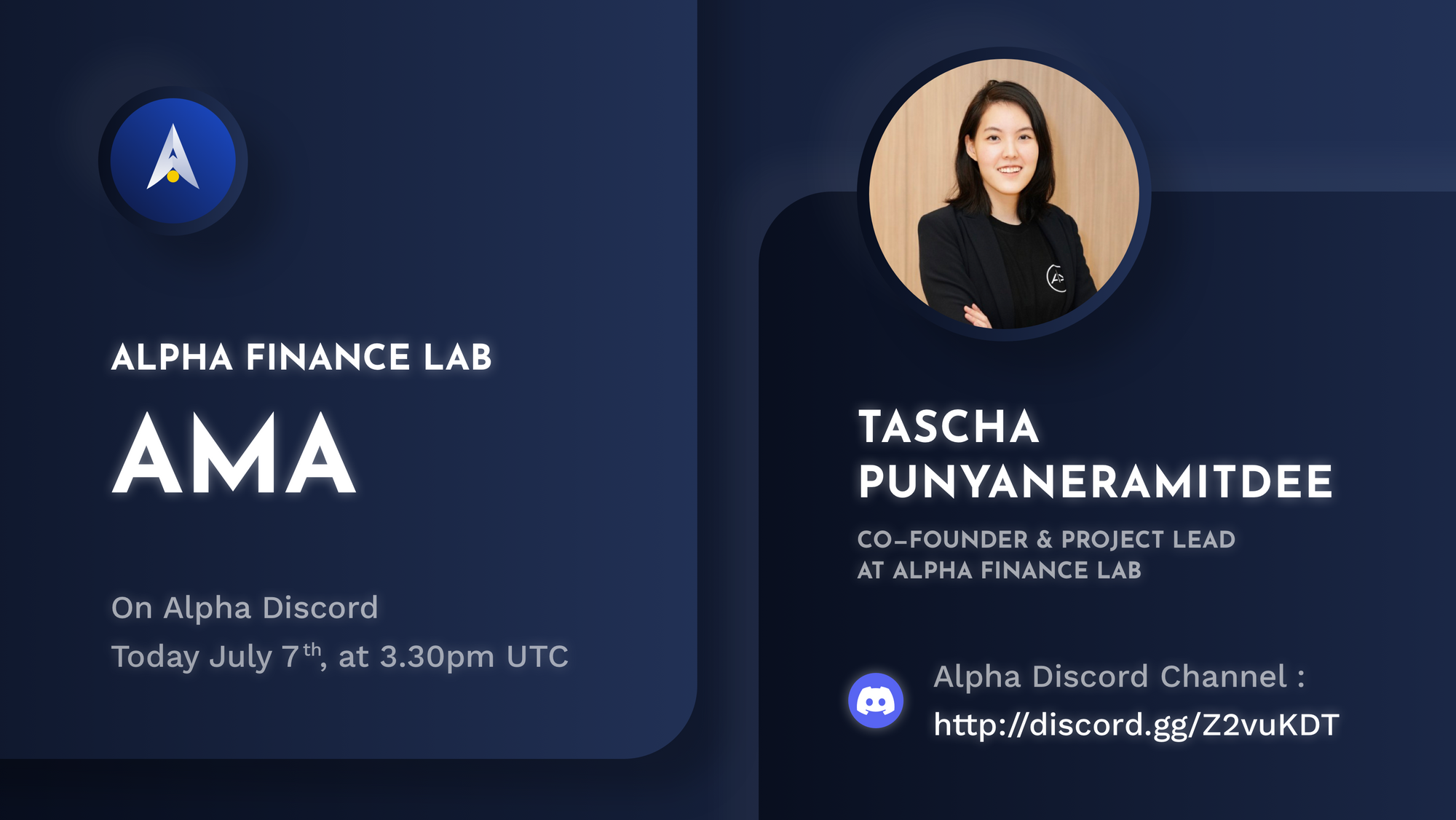 See you all there!
---
About Alpha Finance Lab
Alpha Finance Lab is a DeFi Lab, and on a mission to build Alpha Universe. Alpha Universe includes the Alpha ecosystem, which consists of Alpha products that interoperate to maximize returns while minimizing risks for users, and other ecosystems incubated through the Alpha Launchpad incubator program.
Alpha Homora is Alpha Finance Lab's first product and DeFi's first leveraged yield farming product that also captures the market gap in lending, one of the key pillars of the financial system.
Join our Telegram/Discord for the latest updates, follow us on Twitter, or read more about us on our Blog and Document!