Others
Proposal passed: sALPHA will be distributed as liquidity mining rewards instead of ALPHA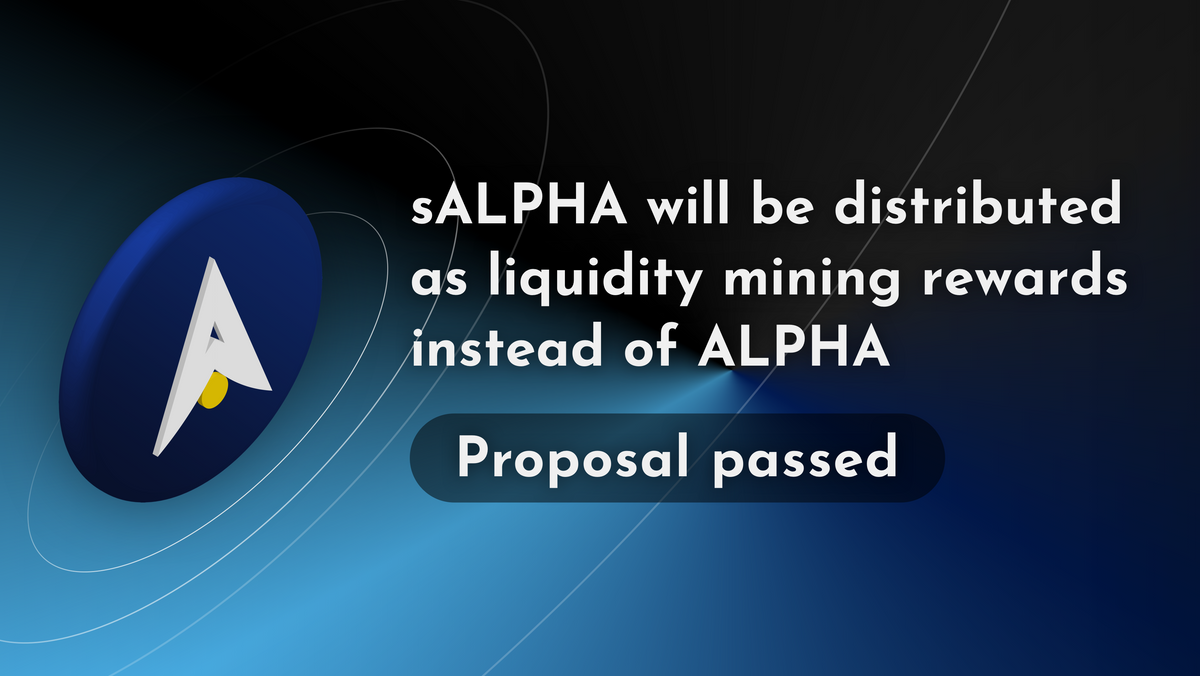 To decentralize our universe even more, Alpha Finance Lab published the first snapshot proposal to the Alpha Wolves community. The proposal includes whether "sALPHA should be distributed as liquidity mining rewards instead of ALPHA on Alpha Homora V1 & V2 on Ethereum". The poll's results have come in, so let's take a closer look at what it means for our next steps.
The voting ended with more than 99.5% in favor of this proposal. This translates to around 62M sALPHA voting power. Hence, the next step is to implement this change by distributing sALPHA as liquidity mining rewards instead of ALPHA for Alpha Homora V1 & V2 on Ethereum users. So by receiving sALPHA, this will represents users' share of staked ALPHA on Alpha Tokenomics.
Recapping the sALPHA Benefits:
By implementing sALPHA as liquidity mining rewards, this means the rewards are accruing MORE staking rewards, multiplying the overall yields for end-users. Staking rewards include
More ALPHA from protocol fees captured from Alpha products
Higher Alpha Tier leading to more leverage on Alpha Homora V2
To add on top of that, users will also receive Alpha Launchpad tokens for projects such as BETA and PSTAKE for staking rewards too.
So Am I affected?
If you are leverage yield farming on Alpha Homora V1 and V2 on Ethereum, the current liquidity mining period (Sep 29 - Oct 13) will be the last period that ALPHA will be distributed as rewards. Therefore, for periods from Oct 13th onwards, sALPHA will be distributed instead. Since the proposal only includes Alpha Homora V1 and V2 on Ethereum users, leverage yield farmers on Alpha Homora V1 on BSC will not be affected by this change.
Eligible user groups on Ethereum will continue to gain liquidity mining rewards when using Alpha Homora. However, when users claim these rewards, the ALPHA rewards will be automatically sent to Alpha Tokenomics to go through an unstaking period there. Hence, to claim the rewards, users will have to go through a traditional unstaking period of 30 days.
Future Plans
As you may know, Alpha Homora V2 is launching on Avalanche shortly, our fundamental goal is to integrate into the whole Avalanche ecosystem as much as possible. Therefore, users will be receiving the chain's native token, AVAX, and other popular tokens like JOE as liquidity mining rewards. By having this goal, we chose not to distribute ALPHA or sALPHA on this chain...yet 🤫
Closing Thoughts
Alpha Finance Lab products and its systems are important for the project to move forward with the blockchain industry. But what is more important is the Alpha Wolves community that governs the destiny of the protocol. So thank you to all who have voted on this proposal. Every vote counts as it becomes the building blocks for decentralizing Alpha Finance Lab and allowing the 🐺 Alpha Wolves community to shoot for the moon together! 🚀
---
About Alpha Finance Lab
Alpha Finance Lab is a DeFi Lab, and on a mission to build