Others
Welcoming AlphaX on Avalanche with the Galactic Battle of the X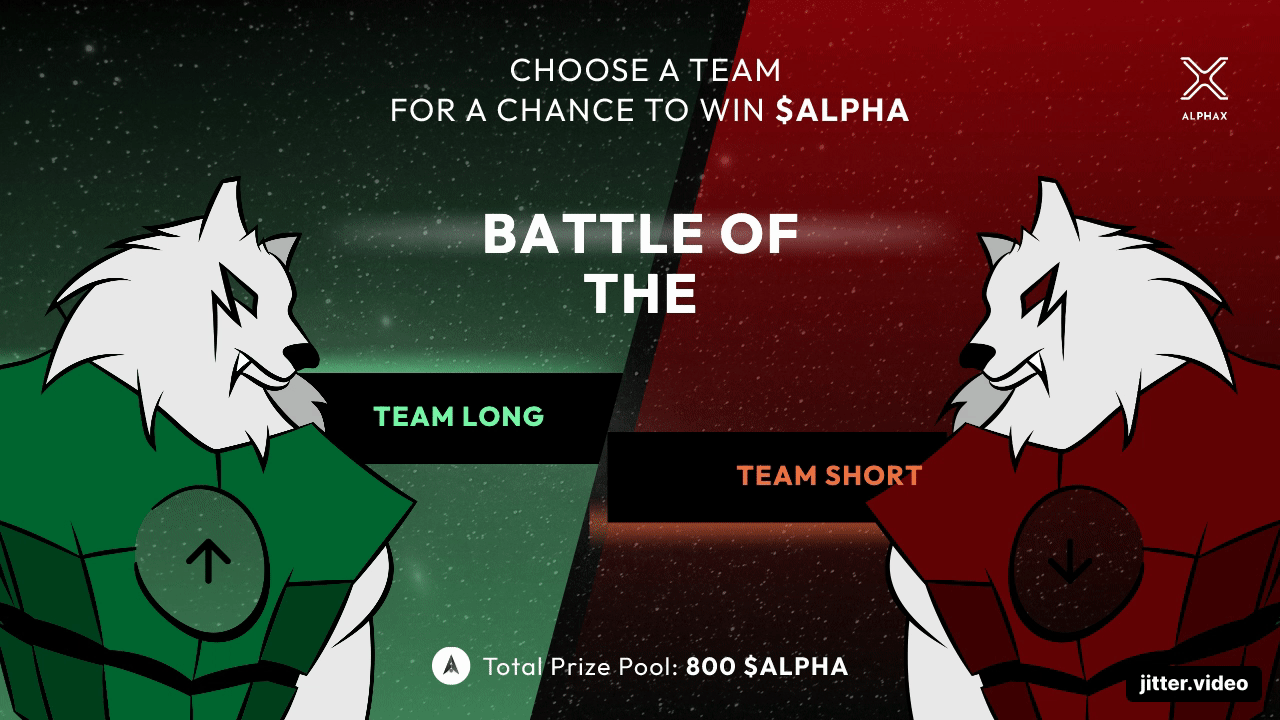 Alpha Finance Lab's 2nd DeFi product, AlphaX, is officially LIVE on Avalanche! Over the past few months, our team has been working hard to improve and iterate Alpha testnet so that we can bring the best on-chain derivatives trading experience to the community.
If you have tried AlphaX testnet and would like to read about the major improvements, you can learn more here.
Being a DeFi-native product, AlphaX introduces a new concept called Strike Token (Long and Short Token) to trade derivatives. Thus, we decided to host a galactic battle between Bearish traders and Bullish traders to see who will be the last standing Wolf warriors to win the prizes that we have prepared!
Now, to welcome our existing Alpha Wolves community and the new Avalanche community to AlphaX, we are bringing X'mas early to everyone with a fun, yet intense fight: Battle of the X!
Battle of the X Campaign
If you have not realized, the X represents AlphaX and the Strike Token (not your (e)X 👀) so we want to see whether there will be more Long warriors or Short warriors on this space battlefield.
This battle will be split into two periods:
First period: Dec 9 2PM UTC to Dec 12 2PM UTC
Second period: Dec 15 2PM UTC to Dec 19 2PM UTC
Once the period ends, we will be closing the comment section to ensure fairness for all participants. As for the prize pool, we have prepared a total of 800 ALPHA to give away to the winners. Let's get into the details on how to participate:
First Period - Choose your X:
By now, you might have probably seen the pools available on AlphaX Market and have an asset in mind that you want to long or short. If you haven't, feel free to read our gitbook for more information on how to get started.
There will be 4 main criteria that participants must follow in order to be eligible for winning. We have prepared images for Team Long and Team Short respectively for participants to showcase their BULLISH or BEARISH spirit. To begin, you will first:
Tag at least 3 friends you would like to see join this campaign under our Twitter Post
Retweet one of the images provided from the Twitter Post (Team Long or Team Short)
Share with us in the retweet which strike token you are holding/want to hold and why
Must include these 3 hashtags: #AlphaX #StrikeToken #BattleOfTheX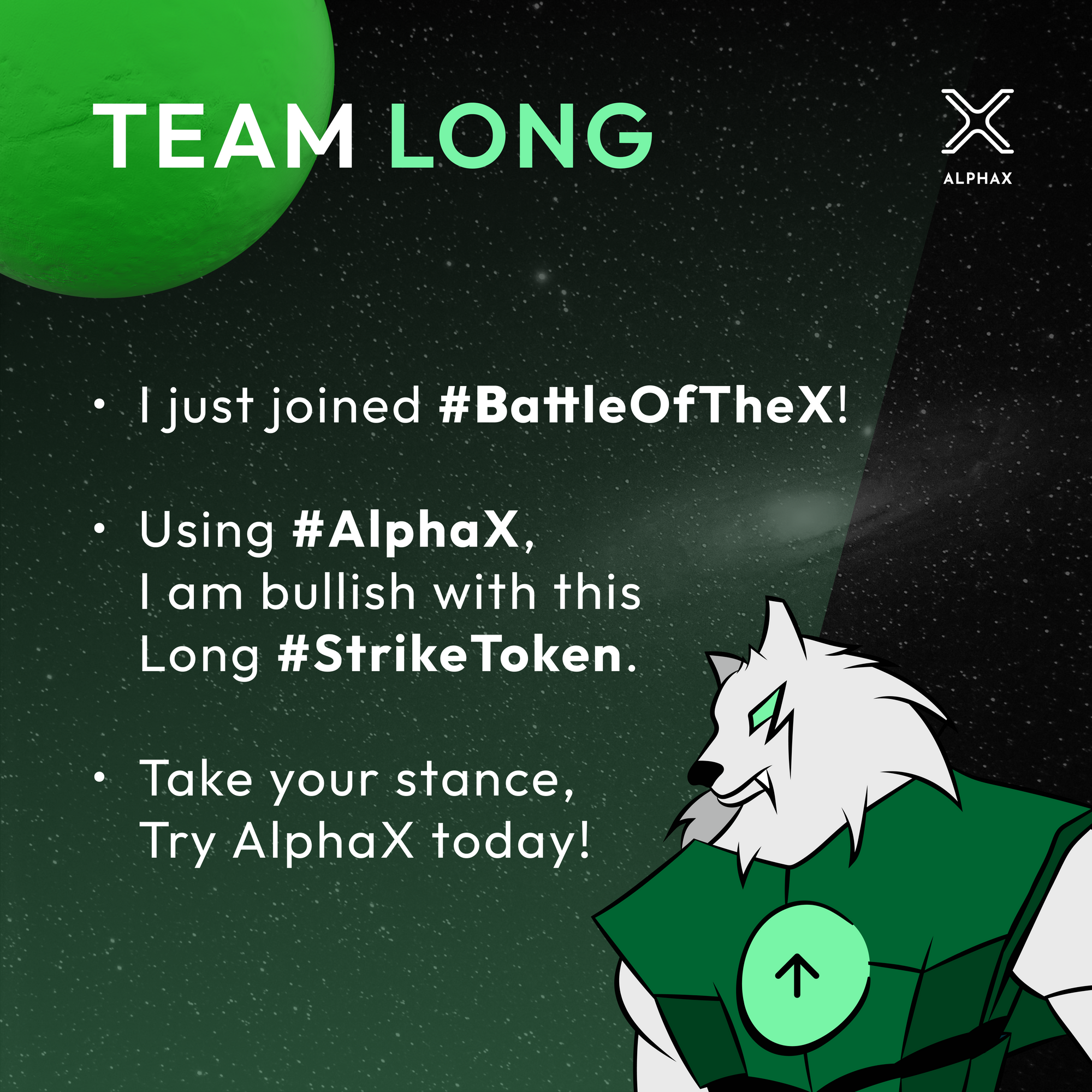 Here is an example after you have tagged 3 friends under our Twitter Post.
For instance, if I am Team Long:
I will retweet the "Team Long" image and say "Using AlphaX to buy AVAX-65 Long Strike Token since I am AVAX OG 👀#AlphaX #StrikeToken #BattleOfTheX"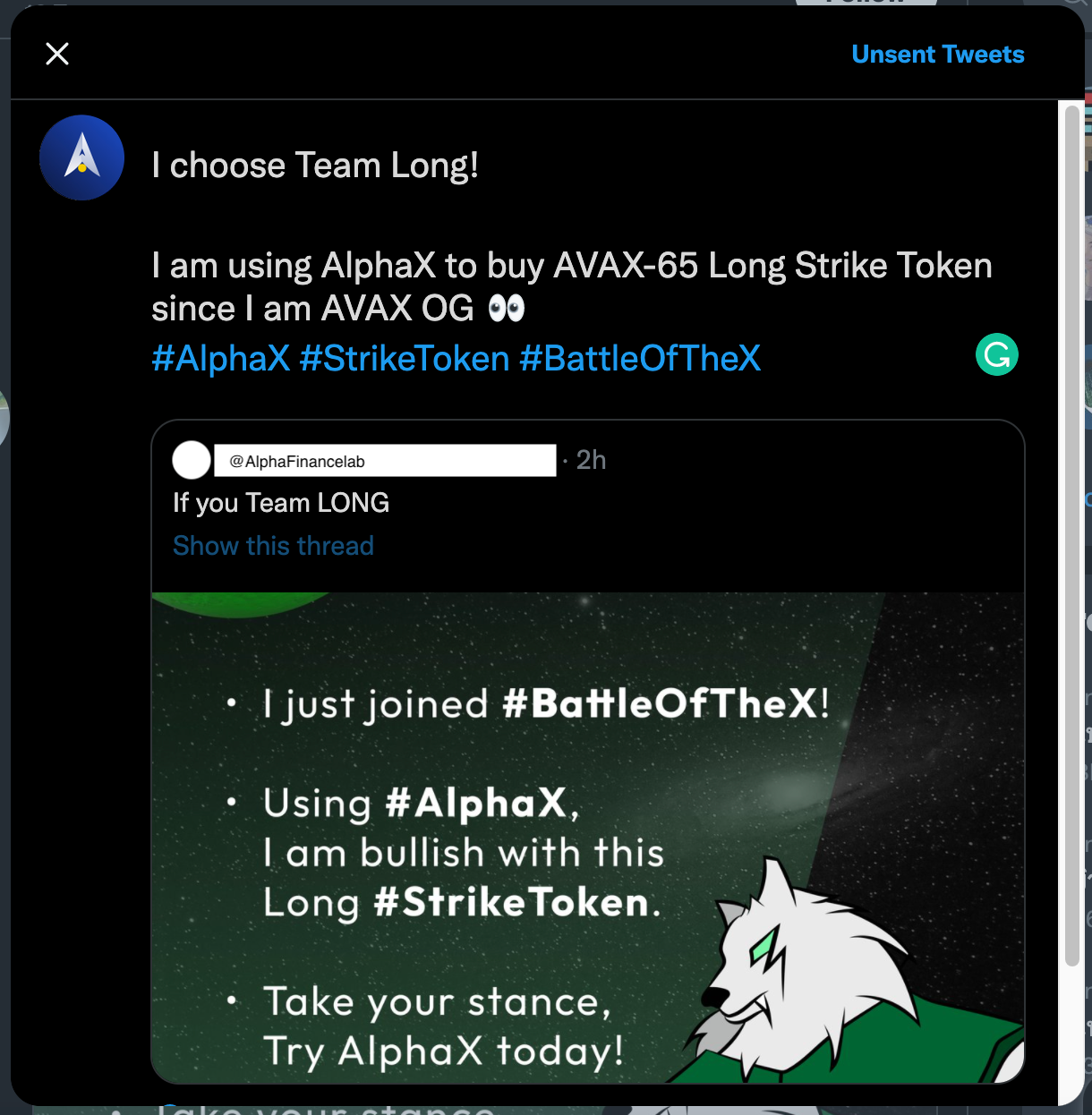 We will pick out 10 random winners to receive 50 ALPHA each after the campaign ends.
Note: In the case that you are bullish on one asset and bearish on another, feel free to retweet and share your other positions as well.
Second Period - Show Your X What You Got: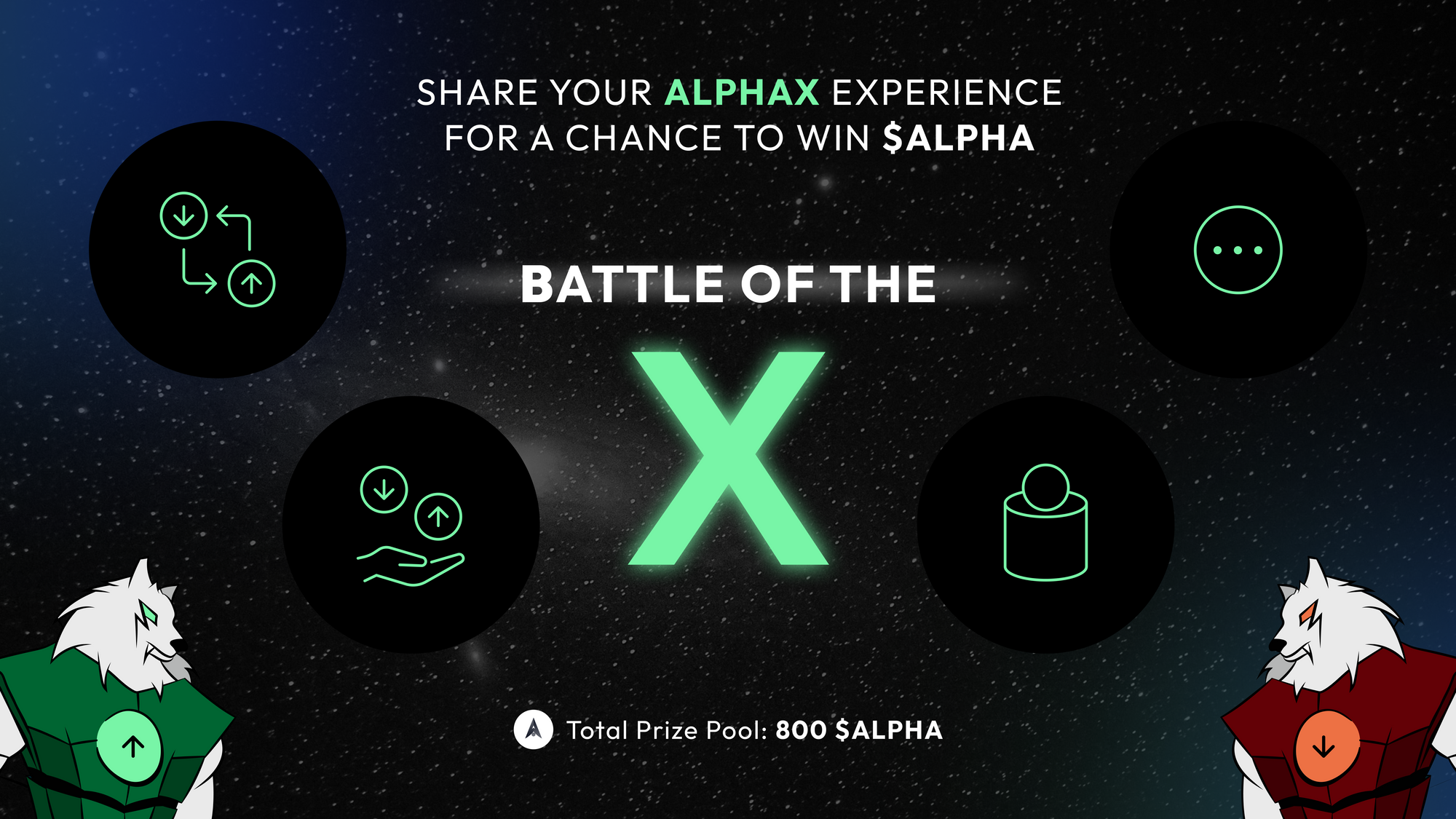 If you missed out on the first period or were still learning how to use AlphaX, fret not! We have prepared a second round. Hopefully by now, you have gotten a chance to understand and use more functions available on AlphaX.
We'd like to hear your experience on how you've been using AlphaX. You can participate and get rewarded just by sharing your opinion about AlphaX!
There are only 3 easy steps that participants must follow in order to be eligible for winning. To begin, you will:
Tag 3 friends under the Twitter post for whom you'd like to see using AlphaX
Share with us how you have been using AlphaX. Some examples could be:
Providing liquidity to which Strike Tokens/USDC pools and the APR you saw
Taking advantage of arbitrage opportunities by with certain AVAX or ETH pairs
Holding or trading Long/Short Strike Tokens because you have a strong bullish or bearish spirit towards a certain asset
or blow our mind with new ways you have found that AlphaX can be used for!
3.   Must include these 3 hashtags: #AlphaX #StrikeToken #BattleOfTheX
We will pick out 4 winners to receive 100 ALPHA each after the campaign ends. Be as creative and thorough as possible! It will be considered when we pick out the winners.
For instance, if I am bullish on AVAX :
I will retweet "I am a firm believer of AVAX and use AlphaX to hold AVAX-65 Long Strike Token. I am certain AVAX price will NEVER go below $65! #AlphaX #StrikeToken #BattleOfTheX"
Looking Forward
With AlphaX, we hope to reimagine derivatives with Strike Tokens and provide the easiest and best trading experience for DeFi users. We are aiming for Strike Tokens on AlphaX to be used as fundamental building blocks for other protocols to build on. The usability of Strike Tokens is limitless and Alpha Team will continue to innovate and find new usability for Strike Tokens.
If you haven't got a chance to use AlphaX, start using it here: https://x.alphafinance.io/
If you are not fully ready yet, you can also try out the paper trade version: https://x-testnet.alphafinance.io/
---
About Alpha Finance Lab
Alpha Finance Lab is a blockchain Lab, and on a mission to build