Incubated Project
48-Hour Countdown to Beta Finance Phase 1 Launch and Start of BETA Lock-up Period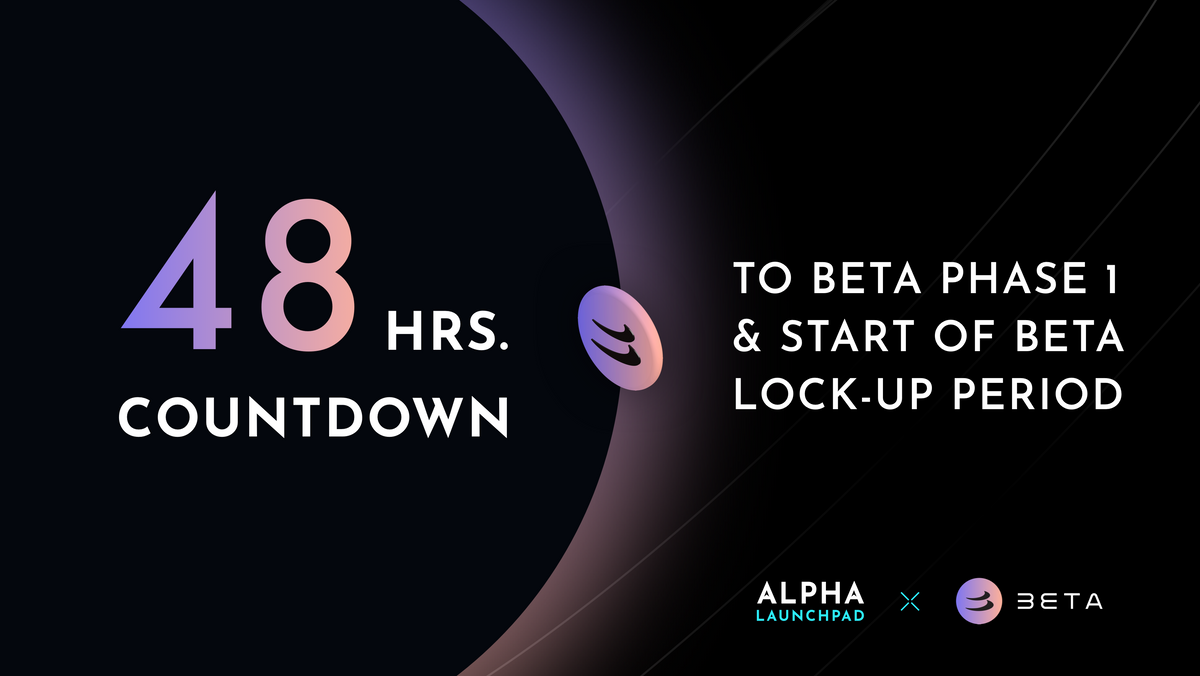 In less than 2 days (Aug 18th, 2pm UTC), Beta Finance's Phase-1 will be launched as well as the start of the BETA lock-up period for ALPHA stakers will begin!
For those who have missed 'alpha', check out our earlier announcements to find out more about Beta Finance's 2-phased launch as well as detailed explanations on the BETA lock-up period for ALPHA stakers.
48-Hour Countdown to Beta Phase-1 Product Launch
We are excited for Beta Finance to have its phase 1 product launch in less than two days! Lenders, borrowers and short sellers can prepare their assets in advance to start interacting with Beta Verified Markets immediately once Beta is launched.
For those who have missed our announcement earlier, Beta Verified Markets are markets that have been evaluated and deemed safe for users to interact with by Beta. Users that interact with these Beta Verified Markets, whether through lending, borrowing, or short selling will be receiving significant BETA rewards, which will be distributed retroactively once the token is launched.
48-Hour Countdown to Lock-Up Period For ALPHA stakers
With the clock counting down, we are excited to share with the Alpha Wolf pack that 50M BETA tokens will be distributed to ALPHA stakers over the course of the entire period. This 50M BETA amounts to a whopping 5% of the total supply of BETA.
Beta Finance is also the first of many projects lined up on Alpha Launchpad. We have onboarded four more quality projects onto Alpha Launchpad, with the fourth one being added late last week.
All of the four Alpha Launchpad projects will also be distributing a portion of their token supply to ALPHA stakers in the future. We will also be announcing the second Alpha Launchpad project this month!
Today, we have also launched the new Alpha Tokenomics site that includes a home page, an updated Staking page which shows BETA tokens distribution, and a Launchpad page. The home page, as shown above, displays the 3 key benefits for staking ALPHA on Alpha Tokenomics.
Earn protocol fees collected from all Alpha products and selected incubated projects
Earn Alpha Launchpad tokens, starting with BETA tokens
Be placed in an Alpha Tier, allowing you to unlock special features on Alpha products
On the Staking page, we also added two new additions: 'Your Distributed Rewards' and 'Total Distributed Rewards'. Your Distributed Rewards shows rewards you have earned in ALPHA and BETA. Total Distributed Rewards shows the total amount of rewards distributed (or to be distributed in BETA's case) to all ALPHA stakers.
Finally, a new Launchpad page is added to highlight all projects launching on Alpha Launchpad, starting with Beta Finance!
Let the 48-hour countdown begin!
---
About Alpha Finance Lab
Alpha Finance Lab is a DeFi Lab, and on a mission to build