Incubated Project
Announcing Allocation Date for PSTAKE and GF Tokens to ALPHA Stakers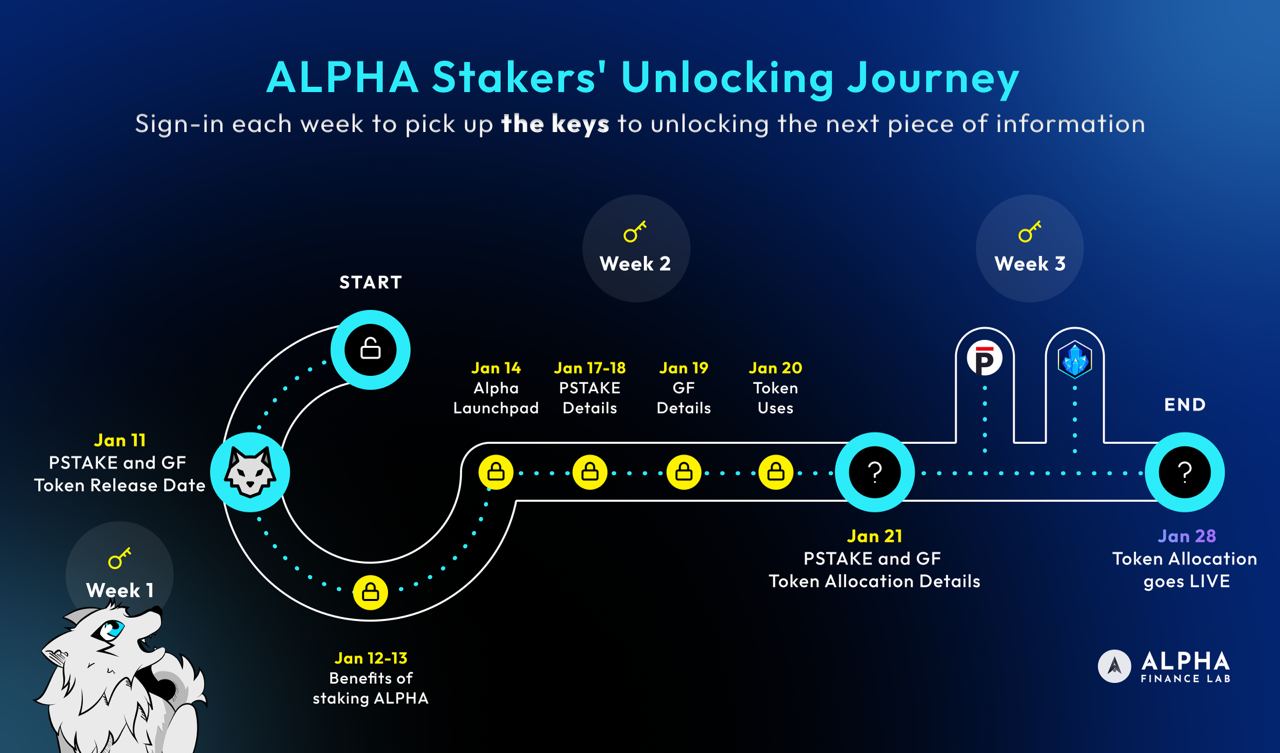 Have you got your hands on ALPHA yet? If not, today is the day because ALPHA holders can now stake ALPHA on Alpha Tokenomics to get access to high quality projects from Alpha Launchpad, such as pSTAKE and GuildFi, by earning your own quality PSTAKE and GF tokens to utilize as staking rewards. Not only that, by staking today you can receive various benefits before others. Continue reading to find out more!
Allocation date will begin starting on January 28th 2022, at 8:00 AM UTC.  
Our Mission
As Alpha Launchpad aims to build key building blocks in the blockchain industry and support the growth of Alpha Universe, each incubated project is also closely tied to the benefits we want to bring to ALPHA stakers.
When we introduced Alpha Tokenomics, we had a very clear vision that Alpha stakers will become an integral part of our community. All the components in the Alpha Universe are built with a mission to build a long-term community that supports the Alpha ecosystem including Alpha Launchpad projects to grow, innovate, and make a permanent footprint in the landscape of blockchain. Join the Alpha Wolves pack today and stake ALPHA to integrate with the Alpha ecosystem, and together we shall fulfill our mission to innovate the blockchain industry.
Benefits for Staking ALPHA Today
Even though the allocation date starts on January 28th 2022, you can enjoy various instant benefits from  the Tokenomics Positive Loop, the Multiplier Mechanism, and BETA Token Allocation.
Tokenomics Positive Loop
We build the Alpha Tokenomics in a sustainable way that creates a positive feedback loop for ALPHA stakers, further elevating the Alpha ecosystem. This begins when you:
1. Stake ALPHA
2. Use Alpha Products as ALPHA stakers
3. Increase the fees accrued on the Alpha Homora protocol
4. Increase the fees proportionally distributed to ALPHA stakers
5. Receive sALPHA as rewards + Automatically stake more ALPHA
6. Earn even more benefits from Alpha ecosystem
7. And repeat.
As this positive feedback loop repeats itself, members of the Alpha Wolf pack are set to maximize yields on their staked ALPHA tokens, which will eventually contribute towards the long-term health of the Alpha ecosystem.
Multiplier Mechanism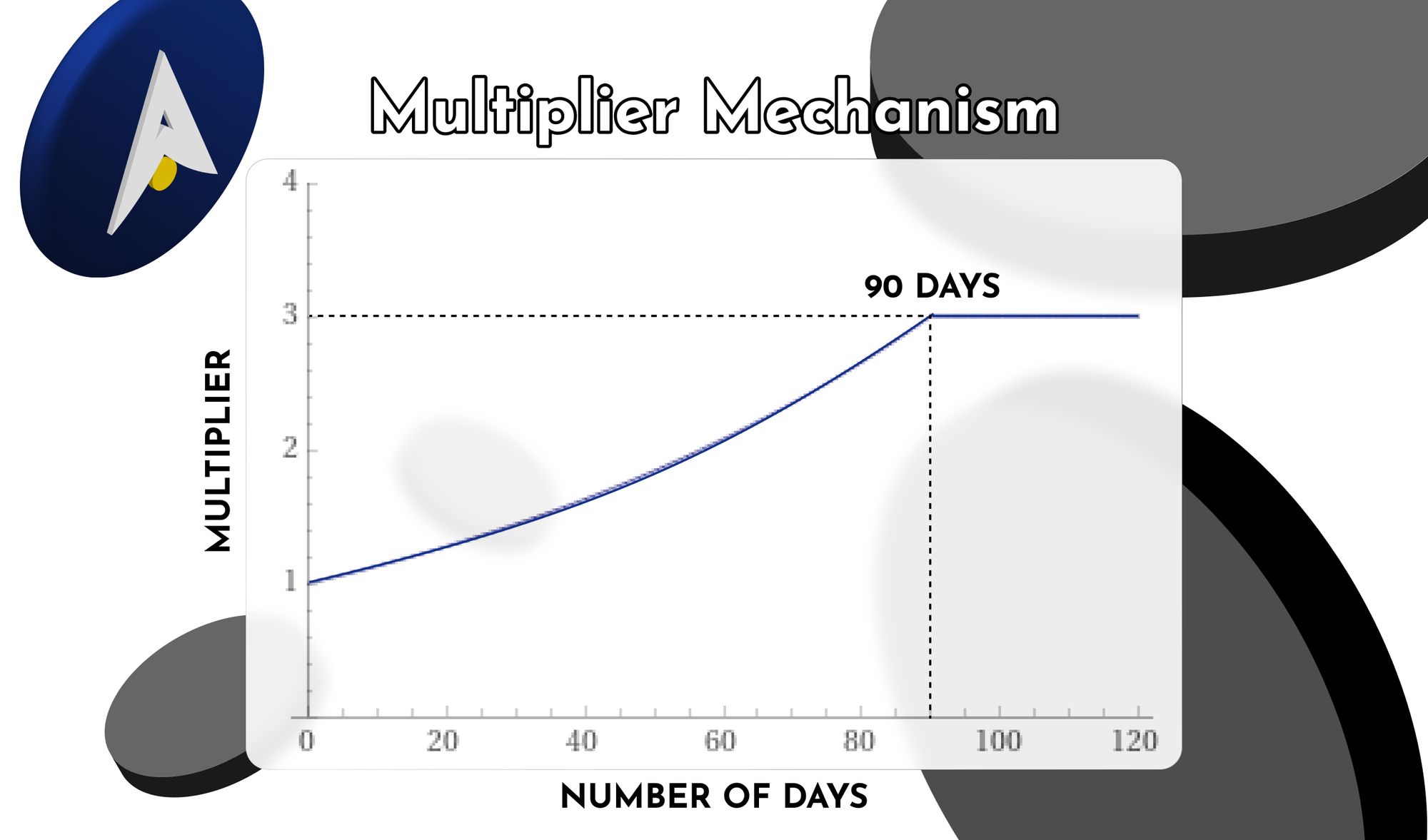 ⚠️ NOTE: The Multiplier mechanism for PSTAKE and GF will begin at 1X on January 28th, 2022, separated from the ALPHA and BETA Multiplier mechanism.
Alpha Tokenomics offers a special kind of staking mechanism to stakers. We have designed a Multiplier mechanism that promises long-term stakers with extra benefits compared to short-term stakers. For instance, if you stake 1000 ALPHA for 90 days, our Multiplier mechanism will instead multiply the amount of ALPHA by 3X (the maximum multiplier variable) and acknowledge it as 3000 staked ALPHA, rather than 1000 staked ALPHA. This is due to the mechanism shown below that takes the amount of time you stake into consideration when calculating your APY. Therefore, if you start staking today, your multiplier for ALPHA will start increasing and yield you more launchpad token rewards. How amazing is that!
⚠️ NOTE: that the final APY shown on your UI is the multiplier averaged from all your ALPHA staked.
⚠️ NOTE: the Multiplier mechanism only applies to current Alpha Launchpad rewards (BETA).
BETA Token Allocation
By staking ALPHA today, you will instantly start accumulating and owning BETA tokens from staking. This will be the perfect time to stake if you plan to receive, own, and get access to 3 high quality Alpha Launchpad tokens from staking, since BETA will soon stop accruing for ALPHA stakers on Valentine's Day (February 14th). Since BETA is also from the Alpha Launchpad tokens, the Multiplier mechanism will be applied to the BETA token allocation as well.    
ALPHA Stakers' Unlocking Journey Campaign
The month of January brings a 3-week long event for ALPHA wolves. Sit tight and buckle up, because during this time we will take you on the journey of traveling into multiple dimensions of the blockchain landscape. From exploring the liquid staking on pSTAKE Finance to entering the portal to the Metaverse with GuildFi. During the first week, you will learn the key elements of staking ALPHA and the launchpad tokens allocation date. Week 2 will give you more insight on the recent updates on pSTAKE Finance and GuildFi, as well as, the usability of PSTAKE and GF tokens once you are in possession of them. Finally, in week 3, we will tell you more in detail about the allocation period details similar to the Beta Finance allocation blog. So stay tuned!  
Closing Thoughts
By the time of writing this, you have around 16 days left until the new APY for GF and PSTAKE tokens will be shown on the Alpha Tokenomics site. Let's count down together for the new ALPHA staking APY and especially to unlock the door to the new dimension of the Alpha Launchpad world with pSTAKE Finance and GuildFi. Be excited! Get your hands on ALPHA today to join the Alpha Wolves pack and integrate with the Alpha ecosystem to fulfill our mission to innovate the blockchain industry. And remember, we shall shoot for the moon together, Alpha Wolves! 🚀🐺
---
About Alpha Finance Lab
Alpha Finance Lab is a blockchain Lab, and on a mission to build Alpha Universe. Alpha Universe includes the Alpha DeFi ecosystem (Alpha Homora, AlphaX), Alpha Metaverse (Alpha Buy Wall, Provably Rare Gems), and Alpha Launchpad (incubator program).
Join our Telegram/Discord for the latest updates, follow us on Twitter, or read more about us on our Blog and Document!