The new Homora UI is here! This is one of Homora V2's biggest revamp as our team has been taking the time to collect feedback from the community, carefully revisit the design and flow of the protocol, and do in depth usability testing to ensure we incorporate the major findings.
Earlier this year, we leaked some details on our UI revamp as part of Homora's upcoming roadmap. Now, it is finally ready to be shared with our Homora users on all chains. This change will apply to the "Farm" action in the Farm Pools page applicable to all the current DEXes and pools with the exception of Uniswap V3 (currently on Optimism and soon on Ethereum). The UI for farming on Uniswap V3 pools will not be impacted by this update as there is a separate UI dedicated to the concentrated liquidity mechanism.
From the feedback we have gathered throughout the months, one of the key improvements we wanted to make was to provide an interface that will allow users to make more informed decisions before opening a position. Thus, we believe that improving this section will greatly help users understand their positions more accurately, bringing a new level of ease to farming through Homora.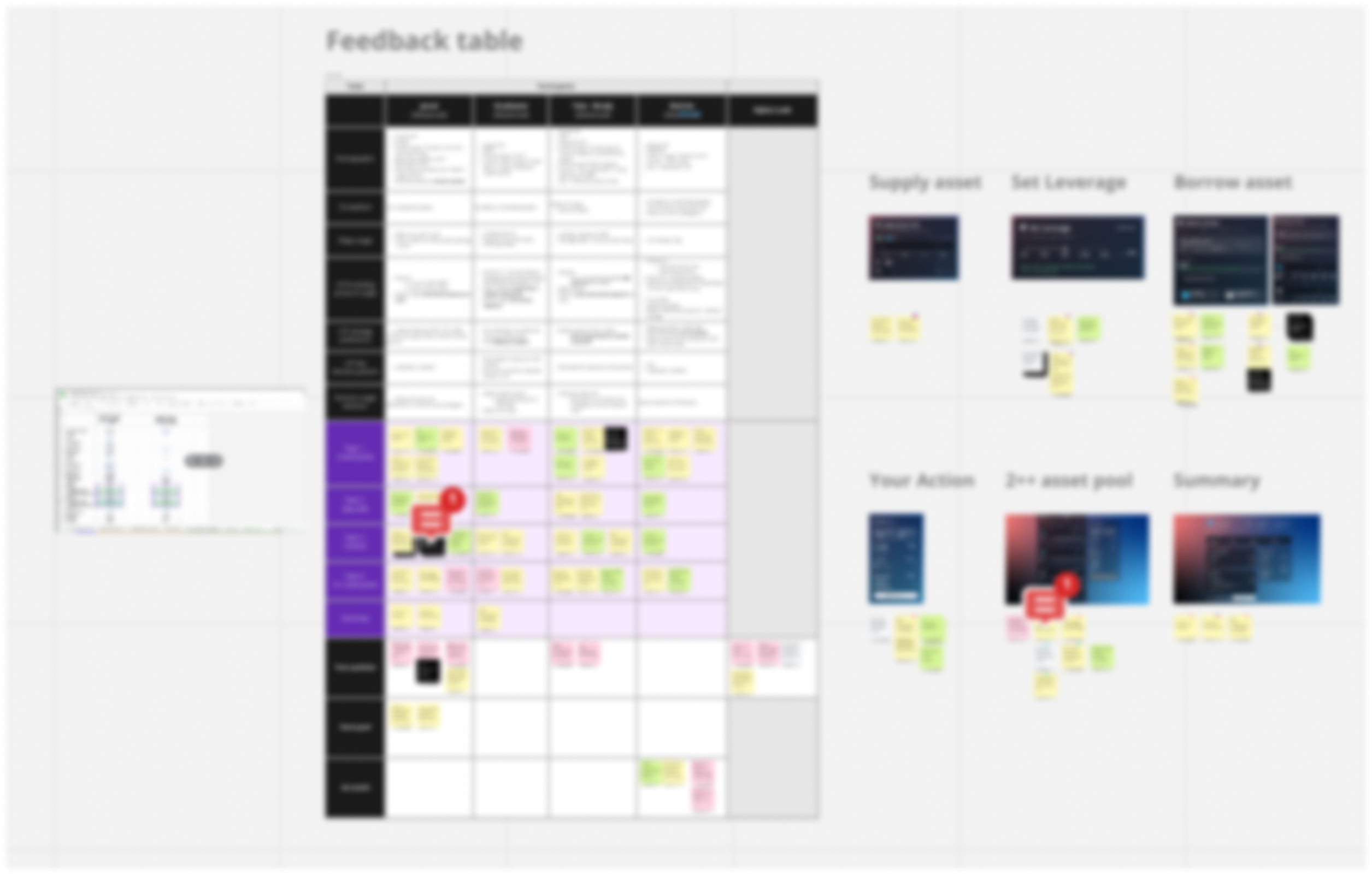 This revamp will bring about 3 main changes for the users:
Changes in the Farm Steps Layout
Additional Feature to Achieve Max APR
More Intuitive UI Design to Improve UX
Changes in the Farm Steps Layout
One of the drawbacks of Homora's previous UI is the inability to check all the details of a user's actions when opening a position. Users would have to complete each step in order to proceed to seeing the details on the next. To resolve this pain point, the new UI now combines all the actions into one page while being able to see the results on each user action on the right. We have added a separate tab on the side for users to aid the users in seeing their actions summary, which will adjust accordingly to the asset supplied/borrowed and leverage level. The tab will be in a fixed position allowing users to see it at all times. This change will allow users to be able to adjust their actions and preview the expected results more easily and no longer have to wait till the final confirmation page like before.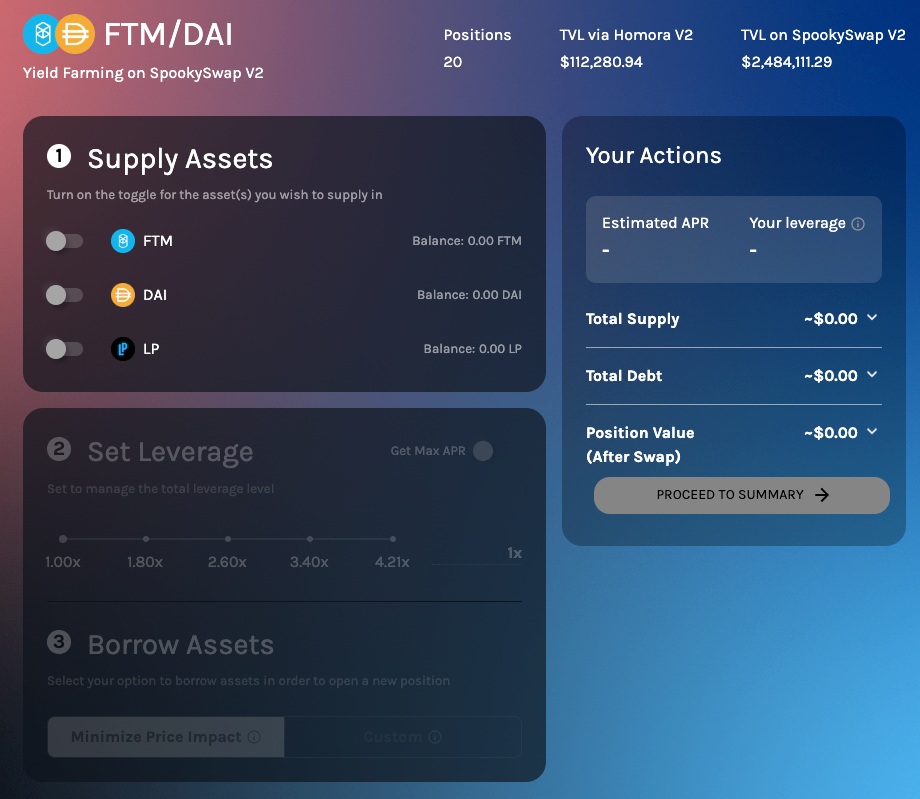 Another point we wanted to emphasize through this revamp is the ability to open a position with just a single asset (without needing multiple assets) on Homora V2 by adding the toggle feature. Users can simply toggle on the asset(s) they would like to supply and Homora will help borrow the additional assets accordingly based on user needs and leverage. This feature also comes with the ability for users to simulate their positions beforehand even without the assets. Even without the amount of assets, users can input any amount to have a quick estimation of expected returns. However, we will display an error message stating that users have insufficient balance and will be unable to confirm before opening an actual position.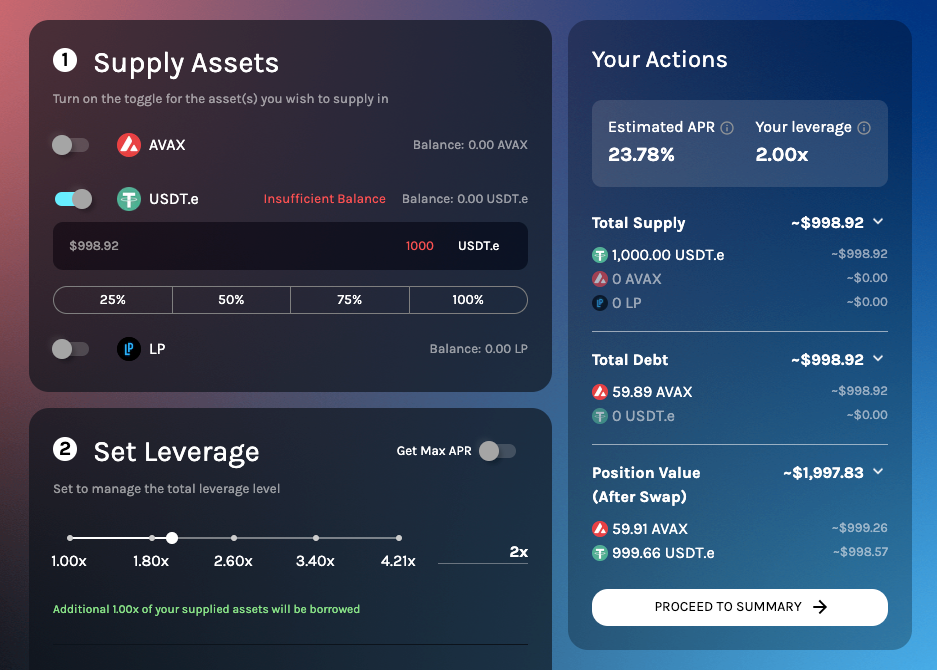 Additional Feature to Achieve Max APR
Homora's ability to achieve higher APR through leveraged position is one of the key highlights of our protocol. However, in the past, many users have raised the concern that they were unable to achieve the high APR as advertised in the farm pool page. We realized the way we calculated the max APR may not be as intuitive to users. Thus, we have implemented a new feature where users can get the max APR as advertised in one-click. This option will let Homora automatically set the optimal leverage level and borrow asset(s) with a lowest interest rate to help maximize your return. For users looking for the highest yield, you can try out this feature and let us know what you think!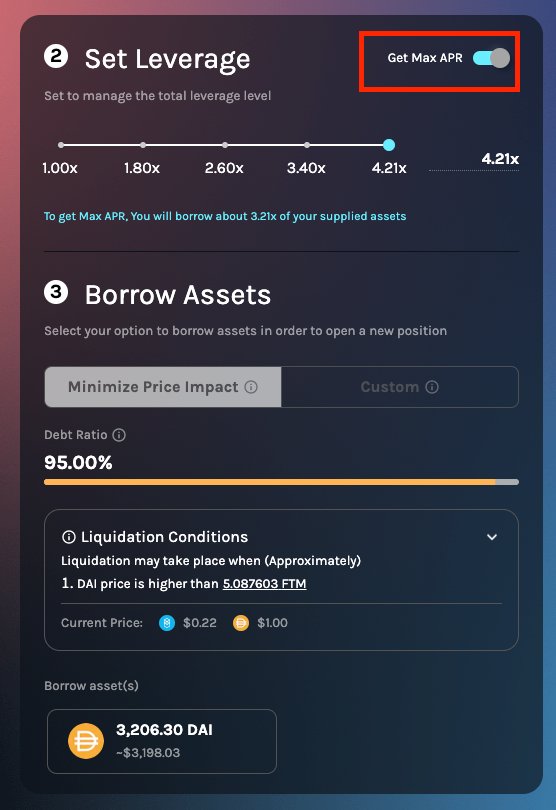 More Intuitive UI Design to Improve UX
Previously, some of the big obstacles users face is the user flow with unclear information on the UI. Thus to improve this, we have adjusted the flow and function logic to better match the desired user action. Some of the key features include an update on the below:
In the previous "Advanced" mode, users need to borrow a combination of assets that sum to 100% in order to achieve the selected leverage. To lessen this confusion, we have readjusted the slider to automatically reflect the borrow ratio left in the respective assets. For example (USDC-ETH), let's say you want to borrow 70% in ETH, Homora will automatically slide to 30% in USDC for you.
Note: This is only applicable to 2 assets pool for now and if only liquidity in underlying pool is enough for borrow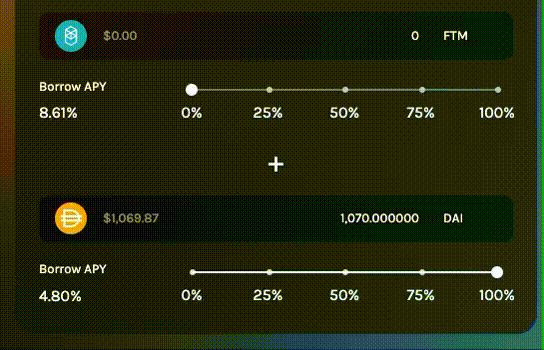 Liquidation details have also been added to help users make more informed decisions. This message will provide an approximation for when liquidation may happen.
Note: Please be aware that the approximated liquidation price is calculated from user's input parameters at the moment of opening the leveraged position and will change over time. Users should only use this as a reference.
Added several tooltips and error messages across the UI to give more details on different key terminology used and clarifications so that users are aware of their actions.
Aside from the major changes, we have also made minor adjustments to make the overall experience even better, such as the ability to now see the current market price in dollars along the UI as reflected from the oracle price and more. Check out our revamp and let us know what else you found!
Moving Forward
Our team is continuously looking for ways to bring the best farming experience possible to all DeFi users. Moving from the Farm Steps UI, we will be working on revamping Your Positions Page next as well additional features to visualize long-short exposure on the position. Externally, we are continuing to work with various protocols to integrate more vaults and strategy options on Homora V2. Additionally, we have opened a dedicated feed-back channel on our Discord so users can help share their thoughts and tell us what else we could further improve next time.
Lastly, we are thankful to our community and users for sticking with us through bull and bear market. As promised, we won't stop BUIDLing and will continue to innovate and improve Homora V2. More exciting launches are coming up, make sure to follow us on Twitter, or join our community to stay up to date to all announcements.
Without further ado, users can now try out the new UI on our Dapp: https://homora-v2.alphaventuredao.io/farm-pools
---
About Alpha Venture DAO (Previously Alpha Finance Lab)
A Builders' DAO. We explore and innovate at the fringes of Web3 and drive significant value to Web3 users, and ultimately, alpha returns to the Alpha community.
Join our Telegram/Discord for the latest updates, follow us on Twitter, or read more about us on our Blog and Document!