Homora V2
Upcoming Roadmap & Changes on Homora V2 (Part 2)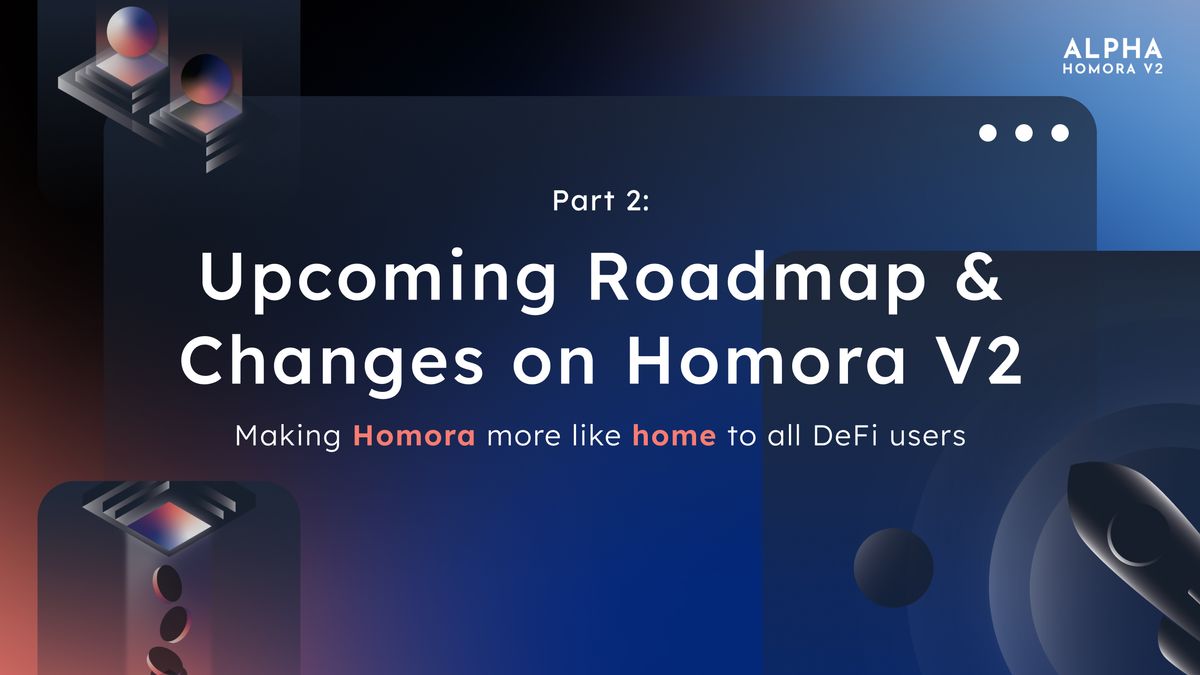 Last week, Alpha team released more details on the upcoming changes on Homora V2 through our Discord session and blog post. To provide a quick recap, Homora V2 will be undergoing changes categorized into 4 main areas: lending, expanding, repositioning, scaling. For a high-level overview of each area, you can refer to the blog post for more details. As for repositioning, we have mentioned that we will be providing more details on the UI/UX work the team is currently putting in. The objective will be to simplify user experience and improve brand positioning in order to become to go-to protocol for leverage yield farming and lending across different chains and potentially L2s. In order to achieve this, one of the key actions will be focusing heavily on the UI/UX revamp of Homora V2 to reduce friction for users, which will be broken down into two main phases:
New Farm Pool Design
New Farm Position Opening Design
Community Feedback
We have received a lot of feedback from the community regarding the information displayed on the farm pool. There seems to be a discrepancy between the advertised APY and the actual APY when users open a position. This is mainly due to the default state of how the UI of the farm pool displays the optimal APR, which often can only be achieved by using the Advance Mode. As a result, the team has made this a priority to ensure that in the future there will be clear and enough information displayed on the farm pool page to help users make better well-informed decisions.
Phase 1: New Design for Farm Pool
There are several new UI changes that will be happening on the "Farm Pools" page. This page will replace the existing "Dashboard" and change the way we display pool-specific information with the ultimate goal to help users see a clearer picture of each farm pool before deciding to open a position. Some of the major changes will include a revamped UI to give a transparent and detailed breakdown of the APR, tied to the relevant leverage. Since Homora V2 does not yet support auto-compounding, the yield farming and ALPHA rewards will be displayed in APR to give the most accurate reflection of the farming scenario. Additional changes will include several new features such as filter and sort functionality to let users find the desired pools or assets to farm more easily.
Phase 2: New Design for Opening Farm Position
In order to let users truly achieve the return closest to the maximum APR as advertised while still providing flexibility for other strategies, the UI of how to open a farm position will also be undergoing major changes. The purpose is to create a smoother user experience that can tailor to users' needs and risk levels. As a result, a lot of work is currently being made to ensure each step will be intuitive, informative, and transparent while remaining concise. We will also be working on adding features that allow borrowers more flexibility in customizing their leverage strategies (more details will follow!) We are also working hard on the logic behind each step to help guide users more easily and minimize error or confusion from the associated actions. Ultimately, we hope these changes will help onboard new users more easily and help users make more informed decisions.
Closing Thoughts
This year, Alpha Team is working hard to tackle as much major community feedback as possible. In the upcoming months, there will be a lot of effort on Homora V2 and we would like to take this opportunity to communicate with transparency on the work we are putting in. It's been an exciting journey to see such high adoption of our product in such a short time. We are also able to see more clearly some limitations and improvement areas that we can work on. Our team will continue to work hard and make Homora V2 more like home for all DeFi users across different chains.
Surprise! Congratulations on making it to the end. We are expanding to FANTOM VERY SOON! Be sure to follow our channels closely to be the first to know!
---
About Alpha Finance Lab
Alpha Finance Lab is a blockchain Lab, and on a mission to build Alpha Universe. Alpha Universe includes the Alpha DeFi ecosystem (Alpha Homora, AlphaX), Alpha Metaverse (Alpha Buy Wall, Provably Rare Gems), and Alpha Launchpad (incubator program).
Join our Telegram/Discord for the latest updates, follow us on Twitter, or read more about us on our Blog and Document!