Introduction
Back in July, we welcomed our first incubated project, Beta Finance, to Alpha Launchpad. With the nature of crypto volatility, Beta Finance identified the market gap for short-selling and created a one-stop short-selling tool as a solution to act as a countering force for offsetting market volatility. In addition to this, they also offer a permissionless money market for holders of any crypto tokens to lend and get high lending APYs in return on Beta.  
We announced the details for BETA distribution 3 months ago and now the lock-up period has finally ended. To recap the BETA allocation to ALPHA stakers, ALPHA stakers will be receiving a total of 50M BETA broken down into 4 claimable periods. The FIRST claimable period will be released on November 23 at 2PM UTC. Alpha stakers can check the details with the new UI on Alpha Tokenomics.
To welcome the Alpha community, Beta has prepared several exciting opportunities to earn even more APR. In this case, ALPHA stakers have 2 yield generating options to park the BETA tokens:
Alpha community is a group of believers of Alpha and Alpha Launchpad projects and equipped with the power to help the products and projects reach its highest potential. This is only the start for ALPHA stakers as more projects are already in the incubating process!

For those of you who want to join, it is still not too late. Get started by staking today, click here.
Where to earn yields on BETA?
For new and existing BETA HODLERs, Beta Finance is providing two yield earning paths with BETA depending on the rewards and risks users would like to be involved in. In short, they are:
BETA/ETH Uniswap V3 Staking Incentive program
- Higher risks with higher rewards
BETA Lending Market
- Lower risks with steady rewards
BETA/ETH Uniswap V3 Staking Incentive program
If you haven't had a chance to check out the 1st incentive program on Uniswap V3, fret not! Beta Finance has announced the 2nd incentive program and you can stake on both programs to earn simultaneously with the same LP token! It only takes 3 simple steps:
Provide liquidity for the BETA/ETH (1% Fee) pool on Uniswap V3
Stake the Uniswap V3 BETA/ETH LP tokens on the Beta Finance DApp
Start earning rewards!
We have also prepared a simple flow chart to help you understand better. If you need a more detailed step-by-step guide, Beta Finance has prepared that on their blog.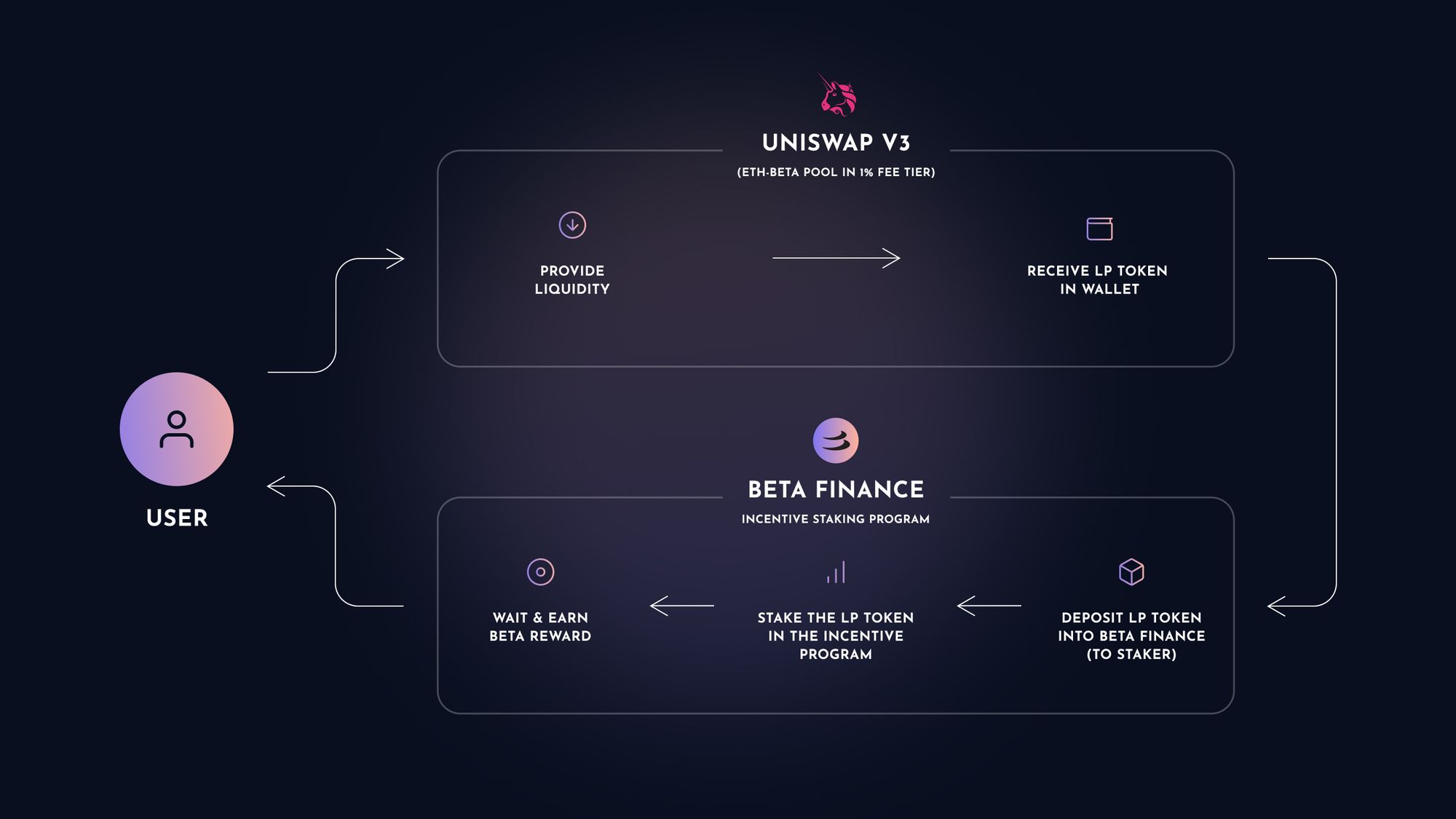 BETA Lending Market
Beta Finance is also launching a new lending market on their DApp for users who would like to participate in low-risk, passive yet reliable yield on their BETA. This option is simple and will require less gas fee compared to the path above.
Lend BETA and earn APY from lending interest rate
Alpha stakers are free to choose which program they would like to participate in but one thing we know for sure is that this is definitely APR that you would not miss. For full detail, read the blog here.
Look at all the things you can do with BETA token allocation!
What Does It Mean to be an Alpha Staker
As a short recap for those who are new to this project, Beta Finance is the first incubated project that came at a time when users cannot short the desired crypto assets of their choice on-chain, making it a highly valuable project that aligns with the vision of Alpha Launchpad. Beta Finance addresses an unsolved market gap in DeFi. With a product offering that is needed and absent in DeF space, we believe this is a critical piece of financial infrastructure to bring about market stability. As Alpha Launchpad aims to build key building blocks in the blockchain industry and support the growth of Alpha Universe, each incubated project is also closely tied to the benefits we want to bring to ALPHA stakers.
When we introduced Alpha Tokenomics, we had a very clear vision that Alpha stakers will become an integral part of our community. All the components in the Alpha Universe are built with a mission to build a long-term community that supports the Alpha ecosystem including Alpha Launchpad projects to grow, innovate, and make a permanent footprint in the landscape of blockchain.
As a part of the Alpha community, you will be exposed to and become a part of high-quality projects with new innovative use cases early on. Ultimately, Alpha community will become a group of people who will help make DeFi/blockchain projects stay and make the full realization of permissionless decentralization come true. By actively engaging with the products, ALPHA stakers will become a part of the strong Web3 Alpha community in the long run and be able to earn more with DeFi money lego. In this case, BETA Finance enables the ALPHA community by offering a new lending market and BETA/ETH Uniswap V3 staking opportunities.
Moving Forward
Our first incubated project, Beta Finance is merely the first building block on Alpha Launchpad to create nuance to the blockchain industry alongside our second and third incubated project: pSTAKE and GuildFi, each with its own strengths and value proposition. Beta Finance has demonstrated its niche in enabling DeFi users to tackle crypto volatility with the short-selling ability. As more and more projects with unique and innovative use cases are incubated under Alpha Launchpad, our goal of becoming Y-Combinator in Blockchain will not be too far away. With that note, it also wouldn't have been possible without the strong support and belief from our Alpha community. But to push this even further, everyone should be actively engaged in order to make DeFi/Blockchain more permanent!
---
About Alpha Finance Lab
Alpha Finance Lab is a blockchain Lab, and on a mission to build