Alpha Summary
How Alpha Network and Our Partners Bring Value to Alpha Incubate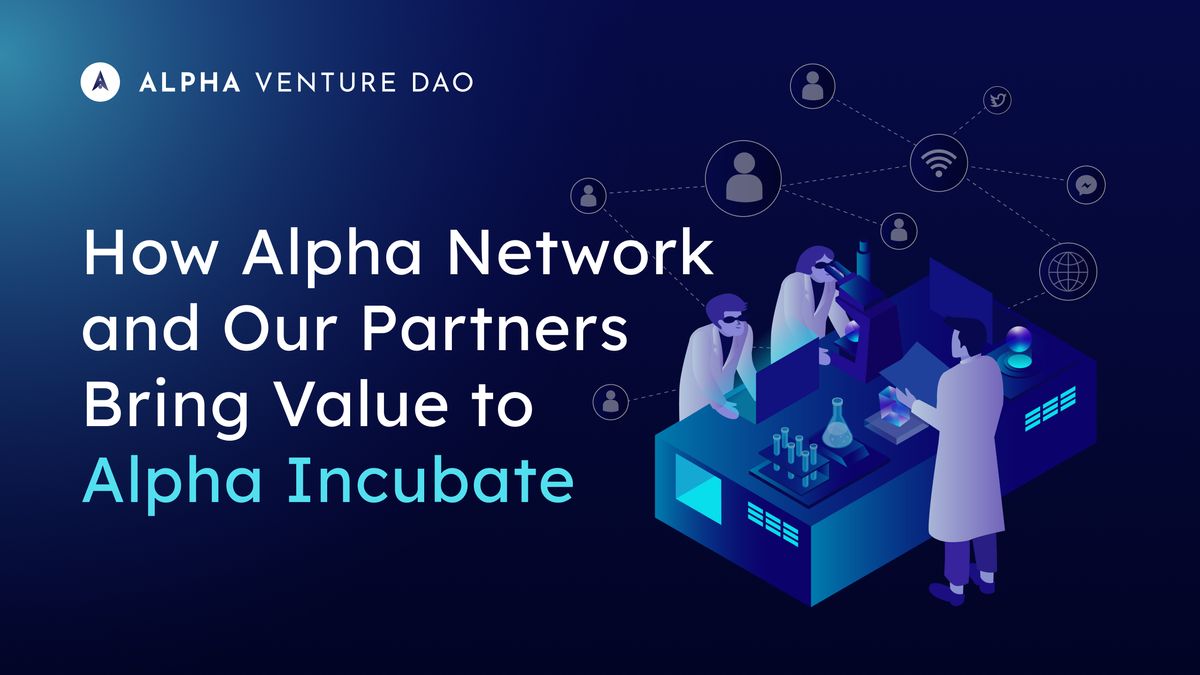 Recap on Alpha Incubate
Alpha Incubate is a one-stop station for builders by builders. Our vision for Alpha Incubate is to create a community of builders that focuses on long-term innovation rather than just speculating and pushes the boundaries of Web3 by creating solutions around real world use cases.
If you have not read our blog on Alpha Venture DAO's incubator arm, see here.
Projects that apply to 'Alpha Incubate', our incubation program, will go through a 'high standard of evaluation process'. This process ensures that the projects incubated by us have a strong product-market fit and bring real value to the Web3 space.
Projects that pass our evaluation process will gain valuable experience by being mentored directly by the Alpha Network, a growing community of top-minds in Web3 that includes Jason Choi, Darryl Wang, John Robert, and many others, as well as receive a variety of benefits such as exclusive technical and infrastructure support from our partners, including Amazon AWS, SlowMist, Terraform Labs, and PeckShield. Today, we'll introduce you to some of Alpha Network's members and partners, and what the Alpha Incubate has to offer.

See full list of Alpha Network and Partners here.
Alpha Network & Our Partners
Alpha Network is a growing community of real value-add networks of stakeholders in Web3 that incubatees can leverage. We vet and curate this network of successful startup founders, operators, company builders, and experienced investors to help advise our incubatees. These members are those who want to contribute their know-how and act as evangelists for our incubatees.
The 8 weeks program that our incubatees will go through consists of weekly masterclasses, mentorship hours, progress review calls, fireside chats, and community events. For more details on how Alpha Network and our partners assist us with this, see here.
Masterclass
Live video sessions taken by Alpha Network & our partners on business fundamentals covering a series of topics such as product, technical, community building, marketing, hiring, tokenomics, fundraising, etc. Incubatees can access the content on Alpha Venture DAO private platform.
Mentorship hours
Alpha team will pair incubatees with their preferred mentors from Alpha Network and our partners. Incubatees can book mentorship hours every week within the program and even after the program.
Fireside chats
Exclusive small group events hosted for incubatees to connect and rub shoulders with industry titans. This is to provide unique access to networking opportunities for incubatees; build relationships between Alpha Venture DAO & eminent people. The topics for the event can be thematic (current industry theme), tactical/strategic (CEO focused), technical (CTO focused).
Here are some of the quotes from the members in the Alpha Network:
"Spartan has had the privilege of supporting and working with the Alpha team from when they started, and through that time, we've seen their team build and incubate exceptionally strong protocols. We're excited about Alpha Venture DAO and look forward to working alongside teams building the future of Web3 in the Alpha Network." - Spartan Capital
"DAOs are arguably the hottest organizations with great potential and impact. We are thrilled to be involved in the Alpha Venture DAO (Alpha Venture DAO), which is a community of Web3-pioneering individuals and builders with a strong desire to shape the Web3 future. With the Alpha Venture DAO's mission to reinvent how dApps are built, contributed, and owned, we greatly look forward to contributing our security insights and leveraging our years of experience and knowledge to bolster the security of the entire ecosystem." - Xuxian Jiang, Founder and CEO, Peckshield
"Serum is excited to contribute to the Alpha Network's accelerator program. The program will be instrumental to support the formation stages of Crypto & Web3 startups. With over 100 ecosystem projects and growing on Serum's ecosystem, there will be lots of opportunities to share resources to best support founders." - Michelle, Core Contributor, Serum
"I'm thrilled to be part of the Alpha Network to support and nurture web3 DApp builders who are aspired to solve real world problems" - Bette Chen, Co-Founder, Acala Network
Alpha Incubate's Program Curriculum
Here's a sneak peek inside the Alpha Incubate experience, exclusively curated by the Alpha Core team, Alpha Network, and Partners for our incubatees. There are two tracks in the program for projects at various stages: (i) Build track and (ii) Launch track. We listed below the topics that will be covered by each track:
Build Track:
Product discovery
Product Development
Technical Scalability
Tokenomics
Product security & audit
Hiring
Fundraising strategy
Pitch deck essentials
Launch Track:
Go-to market strategy for your product
Positioning and communicating your vision
Community building
Tokenomics
Token launch
Hiring
Fundraising strategy
Pitch deck essentials
Closing Thoughts
The Alpha Incubate is the perfect place for Web3 builders to innovate and strengthen the blockchain ecosystem. There's no better place to build than among experienced builders and investors. With the help of the Alpha Network and our partners, our incubated projects will achieve their best quality and thereby expand the Web3 frontiers in an effective and efficient way towards long-term growth.
Whether you're building or launching a project, you're welcome to join and tap into this extensive guidance from the industry experts, unique access to users, and liquidity from day one like nowhere else.
Don't wait any longer. Apply here and turn your project into a rocketship with Alpha Venture DAO now!
---
About Alpha Venture DAO (Previously Alpha Finance Lab)
A Builders' DAO. We explore and innovate at the fringes of Web3 and drive significant value to Web3 users, and ultimately, alpha returns to the Alpha community.
Join our Telegram/Discord for the latest updates, follow us on Twitter, or read more about us on our Blog and Document!