Others
Introducing 3 Newly Added NFT Collections on Alpha Buy Wall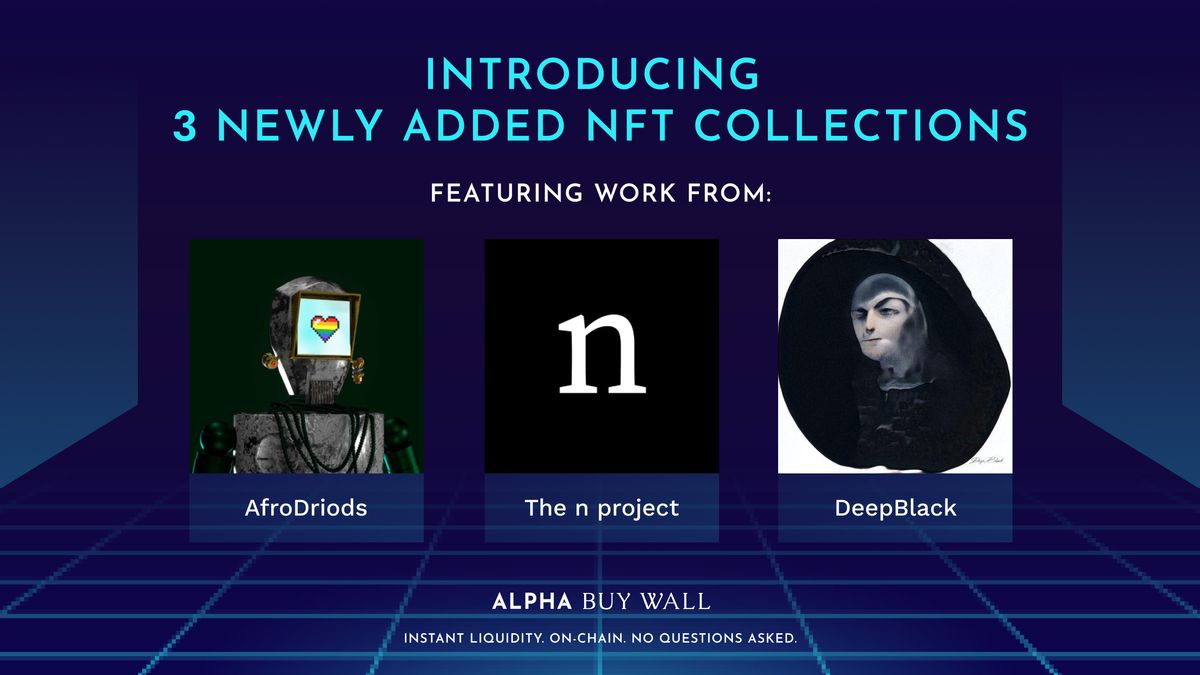 Introduction
This week, Alpha Finance Lab has announced our 3rd incubated project, GuildFi, on Alpha Launchpad, making a clearer stance on our mission to expand use cases in the Metaverse as well. If you haven't got a chance to read about it, you can do so here.
Back in September, we began our first journey to Metaverse with Alpha Buy Wall and Provably Rare Gem. We see the metaverse evolving in a decentralized and transparent way with NFTs being one of the fundamental building blocks. To that end, we have an exciting new update regarding this topic happening on Alpha Buy Wall. For those of you who are new to our NFT bidding platform, here's a quick recap.
What is Alpha Buy Wall
Alpha Buy Wall is a platform that provides instant liquidity to your NFT assets utilizing a smart contract that allows any users to bid for any NFT of a particular collection, essentially providing a price floor for that NFT collection with 6 key features:
NFT Price floor: Due to the nature of Alpha Buy Wall, each NFT collection will have its own price floor (Current Highest Bid).
Instant Liquidity: Once there are bids on that specific NFT collection, sellers can access instant liquidity when they choose to sell their NFT at the highest bidding price. This is similar to how Market Sell works in normal markets.
No Slippage: Sellers will receive the highest bid amount without any slippage.
On-chain Orderbook: The order book is completely on-chain, providing transparency and a fair market for all users.
No fee: Bidders and sellers don't have to pay any fee apart from the gas fee.
No fake NFT: Because Alpha Buy Wall contract is linked to the address of the NFT collection, bidders can guarantee they will receive NFTs from their desired collection on Alpha Buy Wall if their bids are matched.
For more details on Alpha Buy Wall or how to use the platform as a seller or bidder, feel free to check out our previous blog post.
Introducing 3 Newly Added NFT Collections
We are excited to add three new NFT collections from AfroDroids, DeepBlack, and The n project to our platform.
Each artist's NFT is amazingly unique with very different style. Here's a short introduction. Be sure to check them out!
Afrodroids is a collection of 12,117 AfroDroids (half human and half Droids) who will replace humans in the year 3045. They're human-intelligent machines created by a secret group of scientists known as "The W.A" to survive global warming and turn the world around. This collection sold out in 11 mins.
Find out more about AfroDroids from their website: https://www.afrodroids.io or https://twitter.com/AfroDroids
DeepBlack is an AI artist who created and minted 3073 artworks in 2019 without any human interaction.
Find out more about DeepBlack's work on Twitter: https://twitter.com/BitairtI

The n project is a randomized generated numbers stored on chain that allows anyone to freely use n in any way they want.
Find out more about The n project on Twitter: https://twitter.com/the_n_project_
Closing Thoughts
Though Alpha Finance Lab started out as a DeFi lab when the main use case of blockchain technology revolved around financial applications, the blockchain industry did not stop there. That is why we will not limit ourselves to only innovating in the DeFi space, but will move together with the broader blockchain industry to build, innovate, and disrupt other industry segments that blockchain technology touches upon, including in the metaverse, NFT, and GameFi.
Sell / Bid NFT on Alpha Buy Wall today: https://buy-wall.alphafinance.io/ 👈
---
About Alpha Finance Lab
Alpha Finance Lab is a blockchain Lab, and on a mission to build