Read this article also in:
English - Thai - Russian - Indonesian
Greetings Alpha Wolves! This month was a hectic month for the crypto community. For anyone out there who is suffering due to the market situation, please be persistent and never give up. Despite this, we want to assure you that no matter what the current market situation is, Alpha Venture DAO will never stop building and operating as efficiently as always. With this, let's see what we have achieved in June from our 3 arms, Alpha Build, Alpha Incubate, and Alpha Contribute.
Alpha Build
With the crypto market slowing down, our team has taken this time to go back to work improving the fundamentals and prepare ourselves for the next wave.
Homora
Maintenance & Improvements
This month, we have announced a delisting process to protect users from potential hacks through price manipulation. This will impact both pools and lending assets. After the UST-depegging incident, our team added more security measures to limit risk exposure to farmers who may be impacted should cases like these happen again.  
In the meantime, Homora is still conducting user research to collect insightful comments for improvements. The team also built several new tools to help make Homora more accessible.
Linktree: We have created a master link where users can access all the frequently used links more easily. Remember to bookmark the link!
Notion: We wanted to try and compile various resources so users of any experience can understand Homora and know where to find friendlier information. If Linktree is the master link for links, then Notion is the master link for resources!
Feedback: It's not as easy in DeFi to reach out to users. Thus we have created several channels for users to give anonymous general feedback or voice product requests.
*Note: Currently, we are still exploring other ways to more effectively capture voices from users effectively and safely.
Updates & New Development
For Homora users who are farming on Avalanche, Trader Joe has lowered their $JOE emissions thus removing yield farming rewards for several pools listed on Homora. Moving forward, users can either check the currently impacted pools here or make sure to double check the details under the underlying pool before farming as some pools are no longer giving yield farming rewards. Alternatively, users can look into Pangolin pools to farm instead.
This bear market has been tougher and longer compared to the past, but we are here for the long term and will continue to BUIDL on. Given the situation, the team from Homora shared a few words on Alpha's builder mindset to let the community know that we are not going anywhere.
Whether it be bear or bull, Homora doesn't stop building. For Homora V2 on Fantom, we launched our integration with Beethoven X and brought new yield opportunities for users. Homora also had a Twitter Space with Beethoven X and FTM Alert to talk more about this partnership. We will be uploading the session to our Youtube channel soon.
Alpha Leak
For Homora V2, we are expanding to Optimism! (did you get our hints across our channels?) If you want to know the exact launch date, be sure to follow Homora's Twitter closely.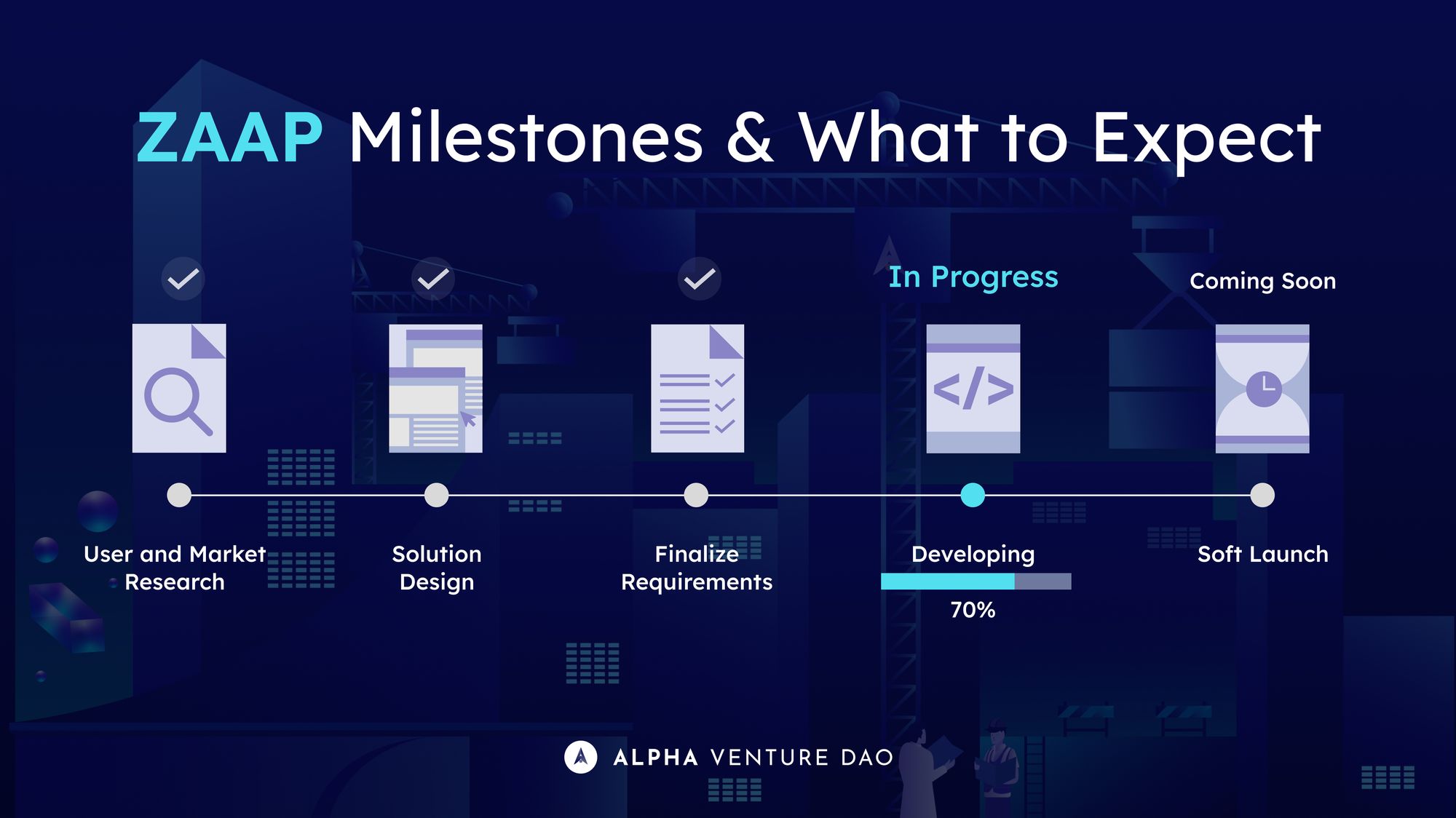 For Alpha Build, we have more concrete news on what the new product will look like. You can read more details here. This product will bridge traditional artists to the world of blockchain, becoming the perfect NFT toolkit & platform for any artists, art dealers, art agencies and art galleries.
Alpha Incubate
After receiving feedback from builders regarding Alpha Incubate, we've extended our application deadline by 2 weeks to give builders more time to prepare for our program. We held several AMA sessions with different projects prior to the application deadline to boost awareness of our program and ensure builders don't miss this fantastic opportunity. Listen to them down below.
Polygon and Alpha Venture DAO Join Hands to Support Web3 Builders: Polygon's theme this month was #BUIDLtheDIP. Hence, together we organized a session to share how we plan to support web3 projects and builders from any chain, especially in this market condition. We had a great time talking with the team and a shout out to Sandeep Nailwal, Co-Founder of Polygon, for joining us to make the discussion even more fruitful.

Expanding the Web3.0 landscape with Alpha Venture DAO: Another very successful talk given by Tascha, our Project Lead and Co-Founder, with Crypto.com. Check out to hear from Tascha her plans for Alpha Venture DAO and a sneak peek of what we're currently working on. Short on time? No worries, we've cut it into short highlight videos for you:
Kudos to our Incubation team, we successfully ended the application process for Alpha Incubate, receiving over 120 applications in total. Well done!!🎉
Lastly from Alpha Incubate, after a long locking period, we've finally announced the first batch of GF token allocation from our incubated project GuildFi along with PSTAKE third batch allocation from pStake Finance! Cheers to our lovely ALPHA stakers!
FOMO? Stake your ALPHA here now to get your hands on the next batch!
Alpha Academy
This month we published another podcast episode with Aishwary Gupta, DeFi Strategy and Marketing at Polygon discussing building community for your project and marketing strategies in crypto. Check it out now to get marketing tips straight from the expert!👇
Subscribe our Youtube Channel to stay updated with our 'Company Building' podcast series and stay tuned for our next episode with SpookySwap on 'The Importance of UX/UI in DeFi'.
Alpha Contribute
We have come to a close for the TiTi Protocol Alpha Contribute Program. With over 300 applicants, we have seen many amazing works published by our community members. But the end is always the beginning of something else. We are adding more features to the Alpha Contribute program. This new structure offers community members the opportunity to experience building in the web 3.0 landscape and earn income while doing so.

These are the benefits you can receive by becoming a member of the Alpha Contribute program

1. The experience of getting their hands on various Web 3.0 protocols and different utilities for blockchain.
2. Rewards for learning. Alpha Venture DAO is one of the few protocols that offer rewards for you to learn, grow, and experience building in the blockchain space.
3. Grow your profile, as we take no credit in your work, your name will be placed on the project giving true ownership to you.
4. Rewards that range from stablecoins, governance tokens, and even private sale rounds (Whitelist) from our incubated projects (depending upon task).
5. Relationship with other like-minded people in your expertise area. When you work on a big project, you will have to work alongside other contributors. This is a chance for you to make new friends and form connections in the blockchain industry.
To learn more about the Alpha Contribute Program, get started here.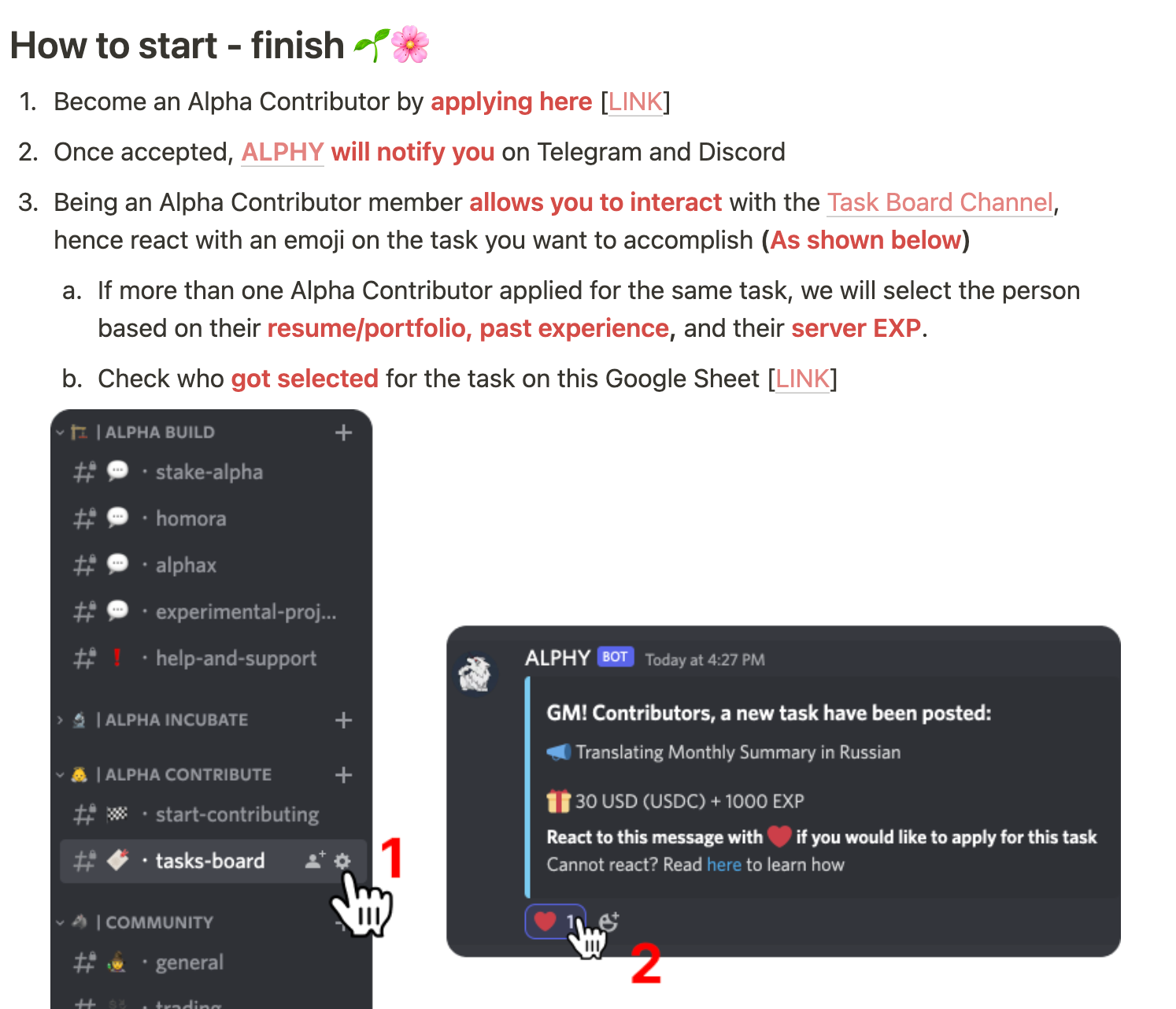 We are recruiting new members for the Alpha Contribute program!
Send us your resume/portfolio and your past experience. Once accepted to the program, you will receive all the benefits mentioned above, and can start working on various projects we offer. Are you ready to expand the boundary of Web 3.0? Apply now!
Bonus read
Apart from the updates from our 3 arms, below are additional reads you may find interesting!
KBW2022
Tascha, our co-founder, is talking at the Korea Blockchain Week 2022 (#KBW2022) event. Calling out to all Alpha Wolves in Korea for a meet up. If you are there, tell her in the comments!

Crypto.com
Recently, we have been joining a call with Crypto.com to expand the visibility of our protocol to the crypto.com users. If you want to learn more about our protocol, listen to Tashca here.

We are Hiring
Alpha Venture DAO is expanding! We are hiring for a Senior Marketing Associate to join our team. Apply now!.
Ask Us Anything [July 8th, at 12PM-1PM UTC]
Do you have any questions for us or regarding anything on this monthly summary? Ask us on our Discord, Office Hours channel. We are having a Q & A on July 8th, at 12PM-1PM UTC. Don't worry if you cannot make it during this time, just leave your questions there beforehand and we will make sure they get answered. See below to learn how to input your questions with 3 easy steps.
We will continue to have this office hours every month after every Monthly Summary. This is a way for us to be more transparent and offer our community more visibility in what we are doing.

This brings us to the end of this monthly summary. Please stay safe, and let's pass through this bear market together. See you again next month and never stop building!
---
About Alpha Venture DAO (Previously Alpha Finance Lab)
A Builders' DAO. We explore and innovate at the fringes of Web3 and drive significant value to Web3 users, and ultimately, alpha returns to the Alpha community.
Join our Telegram/Discord for the latest updates, follow us on Twitter, or read more about us on our Blog and Document!