ZAAP
Introducing Our Newest In-house Product - ZAAP, "Swiss Army Knife" for NFT Projects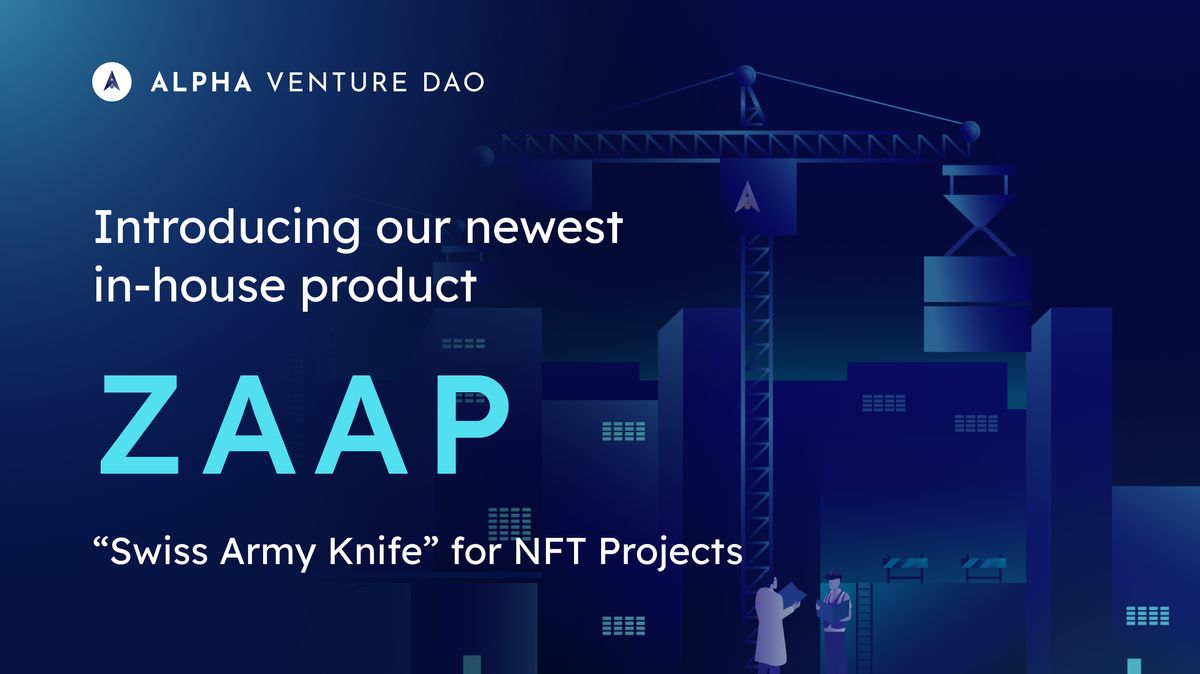 In our previous first-look on ZAPP from our May Monthly Summary, we are back with some  updates just so you can learn more about what this product is about.
Introducing ZAAP, the perfect NFT toolkit & platform for any artists, art dealers, art agencies and art galleries.
More Than Just a Launchpad
Despite our team expertise as DeFi builders and project incubators, we have to admit that we love NFTs. Our team from the Alpha Build arm, have been looking into the NFT market and exploring any key opportunities to capture.
As a result of our research, we discovered that there is a huge demand to enter the NFT space from a variety of people, not only from web3/crypto space but also from the current players in the traditional art market. We immediately recognize big obstacles that prevent them from entering the NFT market. These hurdles are roughly 3 main points: lack of technical knowledge, difficulties understanding crypto audiences and difficulties maintaining and troubleshooting during and post launch.
Despite many NFT launchpads on many chains helping projects and artists to launch NFT collections, we think that they are not enough. Providing solely technical support in a form of launch tool is crucial, yet still overlooking other business aspects necessary for a successful launch. Hence, we decided to create four core features to ZAAP for a more complete experience.
A Complete Solution for NFT Launch
We believe that these four main features will cover all user needs to manage on-chain sales. ZAAP will include:
No-Code NFT Launch Tool - launch a full NFT art collection of pretty much any size starting with only digital art files
Collection Launch Analytics - check the overall launch performance gain insights on how the launch has gone using comprehensive analytics
NFT Market Insights - aggregate key market insights to help strategize the launch
ZAAP Support -  provide everything a project needs from technical support to NFT consult session from our crypto veterans
More details for each feature will be followed. Please stay tuned.
If you are interested in ZAAP
Our product is still under development but the beta version is coming soon. If you are working with digital art (such as artists, art dealers, art agencies or art galleries) who are interested in NFTs, please contact us. We would love to chat with you and show you how you can easily tokenize your digital art and enter the world of blockchain. Let's collaborate and build the future of the NFT market together. Please contact us via contact@zaap.art.
---
About Alpha Venture DAO (Previously Alpha Finance Lab)
A Builders' DAO. We explore and innovate at the fringes of Web3 and drive significant value to Web3 users, and ultimately, alpha returns to the Alpha community.
Join our Telegram/Discord for the latest updates, follow us on Twitter, or read more about us on our Blog and Document!