Read this article also in:
English - ภาษาไทย

GM Alpha Wolves! It's time for the monthly update! Since the last monthly update, we've been building so much infrastructure, expanding our network, and executing multiple plans that made us achieve many targets. Just to give a summary, these essentially include, new product development, the latest Alpha incubating projects (TiTi Protocol & Fuku NFT), rebranding the company and its mission, launching Alpha Academy, and so much more!
With all that being said, let's rewind to see what we've achieved as an Alpha Wolves community. I promise you will be amazed by how far we've come! ;)
We've recently introduced our 4th and 5th incubating projects, TiTi Protocol and Fuku NFT. These two projects will soon be launching their protocols on the market and ultimately return value to ALPHA stakers.
Moreover, we also had multiple extremely successful talk sessions with the Alpha Networks to educate the public more about the Web 3.0 industry landscape. Listen to them down below:
Alpha Academy
We've launched multiple content both blog and video to educate our community members on various crypto topics. We've already published 4 content in total, take a look:
Company Building Guide
1. Things I Wish I Knew When Starting a Crypto Company [Part 1]
2. Things I Wish I Knew When Starting a Crypto Company [Part 2]
3. Starting a Crypto Project vs Start-ups [Tech Edition]
Research Article
4. MEV Analysis 101
Meanwhile, on our incubation side, we have received over 90 applications for Alpha Incubate. Now it's your turn! If you're a Web 3.0 builder, we want to meet you!
The application deadline has been extended to Friday, 10th June at 11:59 PM UTC. Apply here!
In addition, this month, we've also introduced you to the growing community of Alpha Network and our Partners who will be assisting our incubatees on their journey to bring new Web 3.0 innovations. Watch this short video to see who they are!
Eligible builders who pass into the program will have the chance to attend a high-quality curriculum that trains them to become qualified Web 3.0 founders. Check out a sneak peek at our program structure here.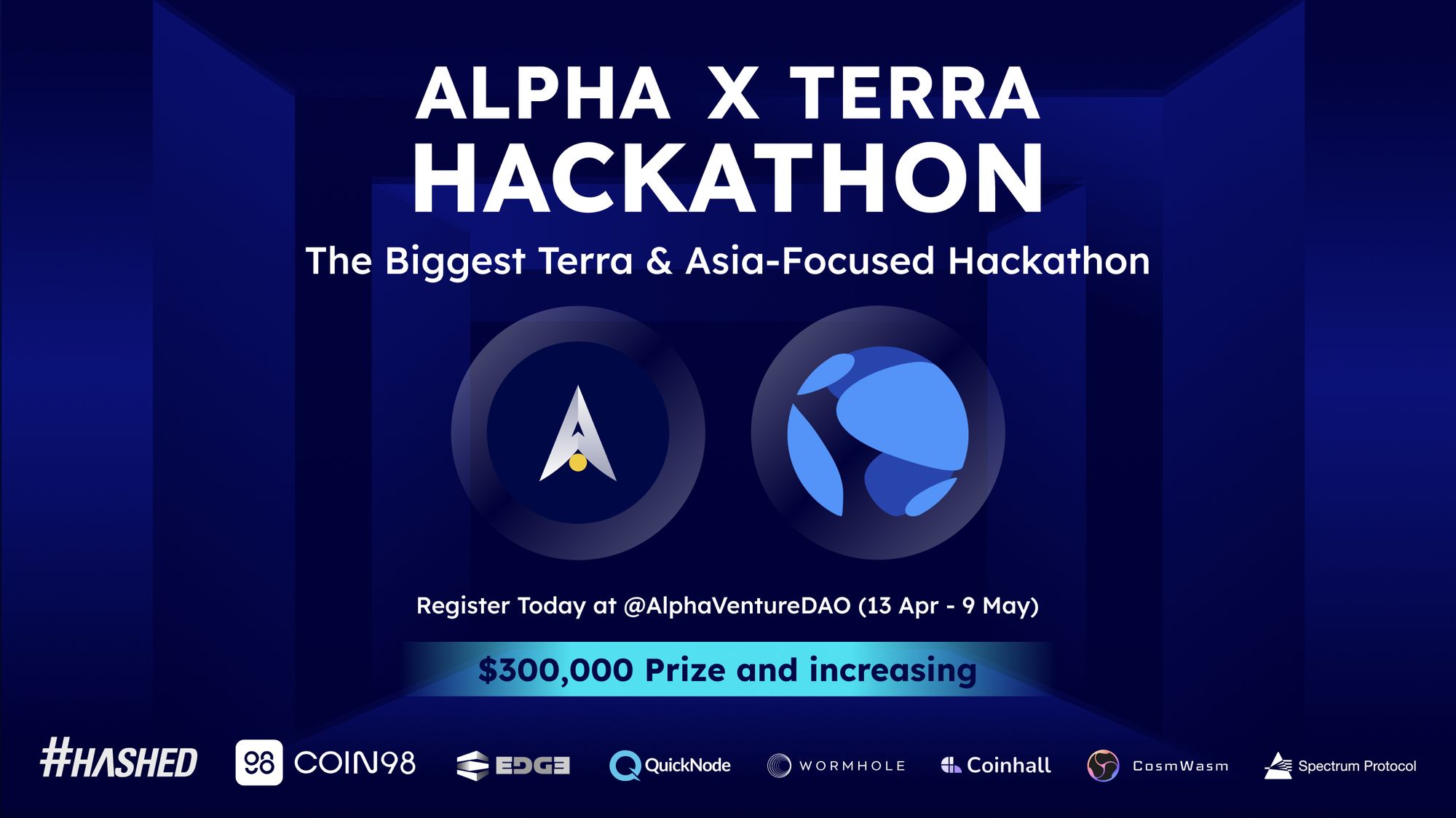 Having a goal of promoting builders to establish their own project, we partnered with Terraform Labs, Hashed, and Coin98 to create our hackathon event (started on April 13th) with a total prize pool of $300,000 USD, in which we had received more than 285 registered participants and ~60 idea submissions. What's unique about this event is how the participating teams can get the chance to be fast-track to the Alpha Incubation program as well as be funded by the Terraform Labs.
Unfortunately, as Terraform Labs was the main partner for this event, due to the recent incident with the Terra ecosystem, this hackathon was canceled along with the subsequent workshops and events.
"The Alpha Team, along with other sponsors (Terra, Hashed, and Coin98), deeply apologize for having to make this tough decision and hope that you can understand our decision. We sincerely appreciate all of your effort that you have put into the Alpha x Terra Hackathon and hope that you will continue building to bring your innovation into reality." - Alpha Venture DAO
Alpha Hackathon Sessions
1. HACK with ALPHA VENTURE DAO x TerraForm Labs with Natalie, Head of Ecosystem at Terraform Labs and Tascha, Project Lead from Alpha Venture DAO

2. User Research by Edward Tan from #Hashed
Alpha Venture DAO joined Beta Finance with a minimum liquidity-providing strategy. This will help Beta Finance to become more sustainable in the long term, and hold the ability to guarantee liquidity to their users at all times. This treasury will also represent our strong belief in becoming a stakeholder in projects in the Web3 ecosystem. The Alpha Team will continue to support our incubated projects at all stages of their development, regardless of how far they have grown.
PSTAKE 2nd Batch Token Allocation
The last update from May is on the Staking side of our ecosystem. On May 27th, ALPHA stakers will have received the 2nd batch of PSTAKE token allocation, which is 25% of the total allocation (~2 million tokens). Start staking your ALPHA today to receive other batches of our incubated projects!
Alpha Build

Homora
Firstly on our build side, Homora has been growing its first Twitter account (created in March) for Homora's users to keep in touch with the new updates. Learn more about what else this Twitter account can provide you here. In addition, we also had the first AMA session on Twitter Spaces with Weave Financial, a tool to help simplify the process of yield farming. With all that being said, the Homora Twitter account has now reached 13K followers in just less than a month! Have you followed it yet?
Lastly, Homora made another big step by expanding into a new blockchain network, Fantom, to become closer to being a chain-agnostic protocol. We also introduced new listings that include lending for MIM token and two new pools MIM/USDC and FTM/USDC. Check it out now!
Read here to see what else we have in store for Homora.
What's Next With Homora?
The Homora team is looking for new integrations with a new DEX on Fantom, Beethoven. We have been investing enormous time in testing its security and liquidity to support our users on the Homora. On the other hand, the team is also looking to expand to a new chain. Which chain should that be? Tell us on our Discord server!
In March we also rewarded whitehat and the Immunefi community, as they helped detect bugs on our in-house product. As we put our users' security as our number one priority, we are working closely with quality whitehats in our ecosystem to scale security and the building process further. Read more about it here.
Connecting Real-World Artists with Blockchain Technology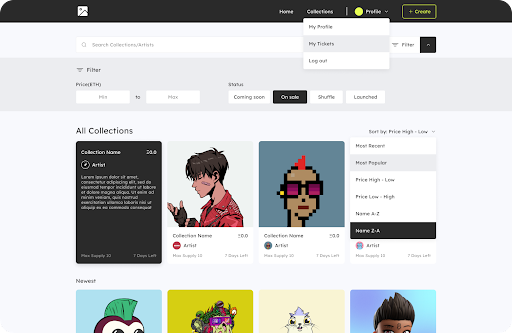 As many members of our community wanted to learn more about the products or infrastructure we are currently building. Below is a sneak peek of our new product.
As the NFT industry is here to stay, Alpha Venture DAO is brewing a new in-house product within this landscape. This product will connect real-world artists to the blockchain industry. More updates will be followed in the upcoming months. Stay tuned!
This program introduces a way for our community members to become closer to our current incubating projects. The process allows members to contribute to these projects and receive rewards in the form of token allocation or whitelist (owning incubating projects' tokens early on). Contributors can receive these rewards by completing various tasks that vary in difficulty, such as creating marketing content to reviewing codes. Start contributing meaningfully to our incubating projects today by contributing with TiTi Protocol.
That's it for this monthly update! See you next month!
---
About Alpha Venture DAO (Previously Alpha Finance Lab)
A Builders' DAO. We explore and innovate at the fringes of Web3 and drive significant value to Web3 users, and ultimately, alpha returns to the Alpha community.
Join our Telegram/Discord for the latest updates, follow us on Twitter, or read more about us on our Blog and Document!